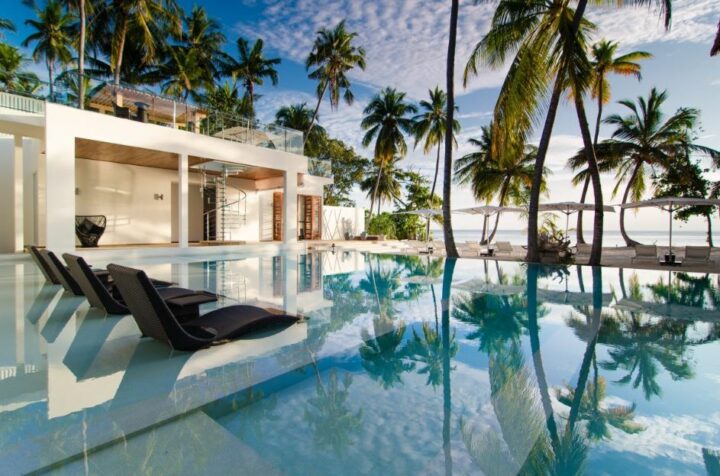 Amilla Fushi and Finolhu prepare for Eid al-Fitr festivities
Amilla Fushi and its sister resort Finolhu are welcoming guests to celebrate the upcoming Eid al-Fitr holidays with loved ones at their luxurious island getaways. A variety of packages and promotions have been offered to fully bask in the holiday.
Amilla Fushi tailors a delightful set of activities ranging from a set of Eid Dining Specials, Eid water sports, Dolphin cruise with Boduberu and ILA Hammam treatment.
According to The Small Maldives Island Co. (TSMIC) – operator of the two properties – the Eid Dining special, will be held on June 25 with the taste of North Africa by chef Nadedja at the Mystique Garden followed by an exciting Maldivian night with an Arabic twist on June 26 that starts off with a Buffet Style dinner at the Baazaar following performances by a Tanoura Dancer, Boduberu and a Belly Dancer. The Eid Dining Special is to be concluded on June 27 with an Arabian Lunch buffet.
Amilla Fushi also launches three water sports packages offering guests the chance to 'dance with the waters'. Families have been invited to participate in wakeboarding, knee boarding, water toys and much more with the Family Bonanza package or enjoy a bird's eye view of the archipelago flying 100s of metres above the sky whilst either parasailing, on a solo flight or on a tandem flight, said TSMIC.
In addition to this, guests can also opt to cruise the ocean to Maldivian traditional music Boduberu whilst spotting playful dolphins jumping in and out of the water on the Dolphin Cruise.
Finally for guests looking to relax, the 'Ila Hammam Treatment' is a 90-minute purifying and softening ritual which incorporates black soap and kessa glove scrubs, followed by an Argan seed scrub and a Rhassoul clay cover for the whole body before a soothing rose milk is poured over the body to provide it with a full wash of nutrients.
At the sister resort Finolhu, a similar set of activities have also been planned and offers a variety of hub excursion packages, massages at the Cove Club, Special Eid lunch, Boduberu show and a traditional Bodumas parade with a Boduberu dance.
According to TSMIC, Finolhu offers guests the opportunity to celebrate Eid with a private sunset cruise in true Maldivian style with a cruise on board a traditional Dhoni, race against dawn and capture the spoils of the reef as the sun rises with a private sunrise or sunset fishing, Discover Scuba with a private session and or take part in the I get around – local village experience – where guests can soak up true Maldivian culture at a local island.
The Cove Club packages include a variety of massage packages to pamper yourself with including a B.F.F Club package, full body massage, face massage and facial or a foot massage with a mini pedicure.
On June 26, Finolhu will celebrate Eid with a live Kitchen at the Baa Baa Beach Diner and later in the evening a Boduberu show is set to liven the atmosphere, said TSMIC. Finally, on June 27, Eid celebration will conclude with a traditional Bodumas Parade accompanied with Boduberu dances.
Eid al-Fitr is an important religious holiday celebrated by Muslims worldwide that marks the end of Ramadan, the Islamic holy month of fasting. Traditionally, Eid al-Fitr is celebrated for three days and is an official holiday in all Muslim-majority countries.