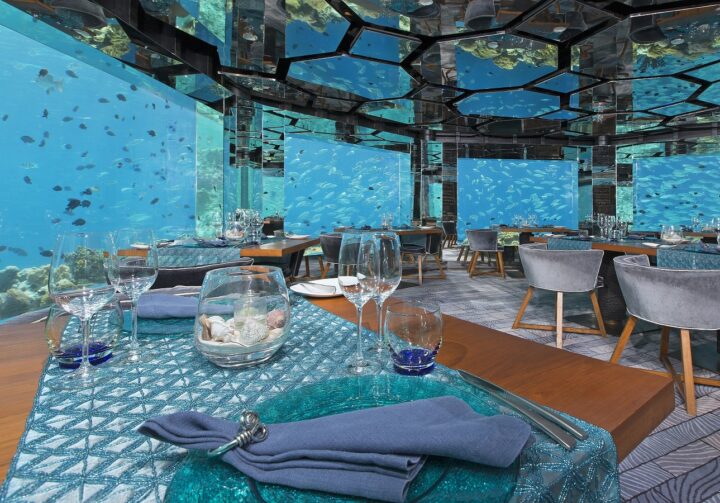 Kihavah Wins – Wine Excellence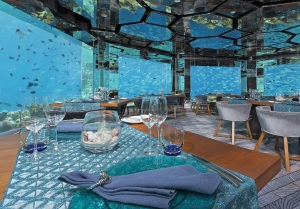 September 2014: Anantara Kihavah Villa's acclaimed underwater restaurant; Sea has received the prestigious three star accolade from World of Fine Wines Magazine. In the publication's World's Best Wine Lists, over 4,000 restaurants from around the globe were considered for the awards. The judges awarded just 750 restaurants a one, two, or three-star award, with only 225 wine lists making it into the top three-star category.
The World of Fine Wines comments "When it comes to views, few restaurants can match Sea at Anantara Kihavah Villas.Sea's reputation as one of the region's best restaurants is based on more than its spectacular surroundings, however. Along with a menu of international dishes, it also has access to a World's Best Wine Lists."
Compiled with flair by the resort's Senior Wine Guru, Nilesh Bootun, the 300-bin wine list matches the restaurant's food and character. It offers both the old and the rare (1966 Château Mouton-Rothschild) and the new and unusual (Yazgan Mahra Emir/Sultaniye, Eastern Anatolia, Turkey 2011), and with an extensive choice from Old and New World wines.
The win reflects the team at the resort's ability to create beautiful food perfectly harmonised with wine. The team are constantly searching for new and exciting wines to add to our list, even well-loved classics and vintages not usually found on wine lists in major restaurants in big cities.
Anantara Kihavah Villas provides a stylish haven just 35 minutes by seaplane from Male.