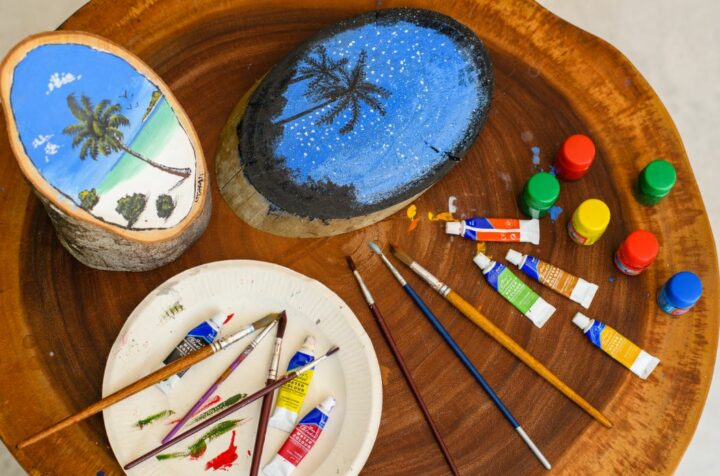 Art & self expression at Fairmont Maldives Sirru Fen Fushi
With a variety of fun and engaging art-based activities and facilities available, the Art Studio at Fairmont Maldives Sirru Fen Fushi encourages guests of all ages to express themselves and get creative in their own utopia on the island. With all of the tools and materials personally prepared by the staff for visitors to learn to paint, sculpt or draw, art-enthused explorers can enjoy coconut, canvas, wood and stone painting, and even learn how to make their own clay or wood sculptures, guided by the island's resident artist, right in paradise.
Maldivian culture is renowned for its richness in its authentic use of nature in artistry and tradition, such as mat weaving, wood carving, clay art and pottery. Personalised crafting activities are also available, whereby creative guests can mould something special to take home to remind them of their experience at Fairmont Maldives Sirru Fen Fushi.
From designing a dream catcher, weaving genuine Maldivian rugs and coral painting to making jewellery from seashells and coconuts, there is always something to enthuse the artist in every traveller. That is not to say that the exquisite one of a kind scenery is not awe-inspiring enough, to begin with. Looking over the enticing and breath-taking view of the island's lush flora and fauna bursting with its greenery to the colourful disposition of the art studio will have the guests' creative and innovative juices flowing.
The Art Studio at Fairmont Maldives Sirru Fen Fushi was inspired by the local culture and tradition of the country, as well as the rustic chic concept of the island. The overall objective of the art studio was to introduce one of finest art studios in the Maldives which is culturally connected to the people as well as the environment, with emphasis on local art such as wood carving, pottery making and using local mat weaving machines and 'Hurugatha' machines to craft traditional Maldivian outfits. The studio is tented, just like the Tented Villas that provide safari-style outdoor living the luxurious way, giving it a feeling of harmony, space, and room for exploration.
Located in Shaviyani Atoll, Fairmont Maldives Sirru Fen Fushi is accessible by a 50-minute scenic seaplane flight directly to the resort. The all-villa resort is ideal for couples or families, and features overwater private pool villas as well as luxury safari-style tented villas nestled in the islands lush interior jungle.