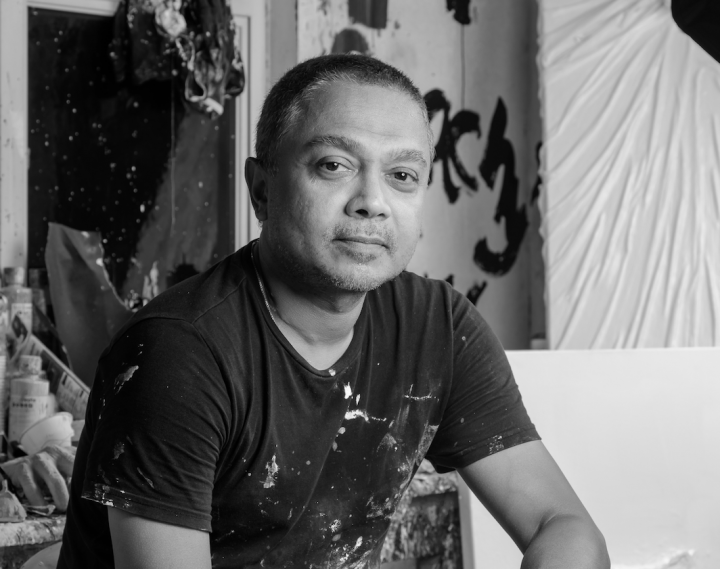 Artist Baachy Explores the Mystery of the Colour White
Ahmed Azmee, most commonly known as Baachy, is a Maldivian artist who works with mixed-media and pushes the boundaries of self-expression. With the intention of reflecting his feelings in contexts of the outside world, Baachy employs a bold and fluid approach to producing art. Typically donning a black t-shirt, Baachy works for hours on end, and the aftermath leaves him covered in paint. That being said, he also puts significant effort into artistic research outside of the studio. Baachy does not limit himself to one genre, and uses his imagination to embrace inspirations. In his words: "Everything around us has beauty, but only a few of us see it".
Featured Image: Baachy at ENIGMA exhibition, National Art Gallery of Maldives, 2018
From a young age, art has been close to his heart. After realizing its potential as a means of expression, Baachy began teaching himself various mediums. His first solo exhibition, "ENIGMA" was held in 2017 at the LeCute Store in Malé, Maldives. The exhibition featured a kaleidoscope of colors through acrylic paintings and fluid art. This collection was his debut as an up-and-coming artist, leading to another "ENIGMA" exhibition at the National Art Gallery in 2018. He sold a majority of the 180+ artworks on display.
Although Baachy's collections have largely portrayed vibrant colors, his latest exhibition "HUDHU" held at Art Gallery Malé in 2022 showcased exquisite artworks made entirely in white. As it steps away from his typical repertoire, the daring endeavor acts as a testimonial to his range as an artist, and prominence in the Maldivian art scene. In Dhivehi, hudhu means "white", and in color symbolism, white is often used to represent purity and innocence. It is a color associated with simplicity and perfection–instilling hope and clarity by refreshing the mind.
Featured Image: HUDHU Exhibition, Art Gallery Malé, 2022
White also promotes open-mindedness and self-reflection, which Baachy himself adopts as an artist. The concept behind the color palette is to show different representations of white in different aspects of life, and is featured across all 12 sculptured art pieces. Although Baachy faced some questions when he initially expressed the idea for a fully white exhibition, the use of mixed media brought his visions to life.
While Baachy has no singular philosophy towards art, he believes that researching new mediums and techniques reflects one's growth as an artist. He views talent as a limitless source and acknowledges this approach as a driving force for the success of "HUDHU". The symbolism behind the concept offers a profound message, and viewers could resonate with the beauty, pain and mystery behind the artworks. The display ranged from childhood memories that evoked pure bliss, to mental health awareness, and the delicate details of the Earth's moon.
According to Baachy, one of the most significant pieces is the artwork titled "The Scar That Brought Life Into The World." It is a sculpture of a woman with a c-section war scar. It highlights the bravery and sacrifice that mothers go through to bring new life, and advocates for breaking the stigma surrounding the scar. The depth and dimensions that were created in monochrome resulted in a hauntingly beautiful and unique exhibition.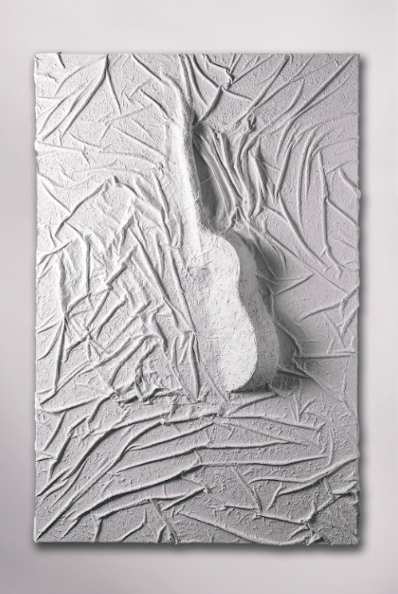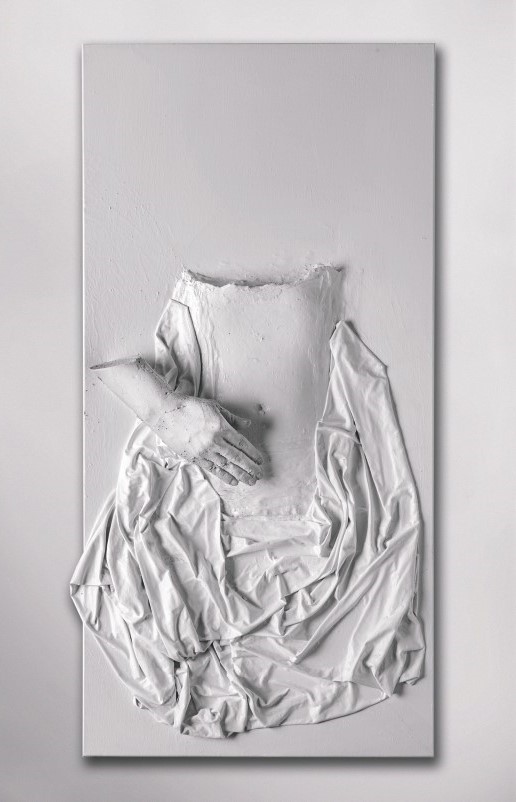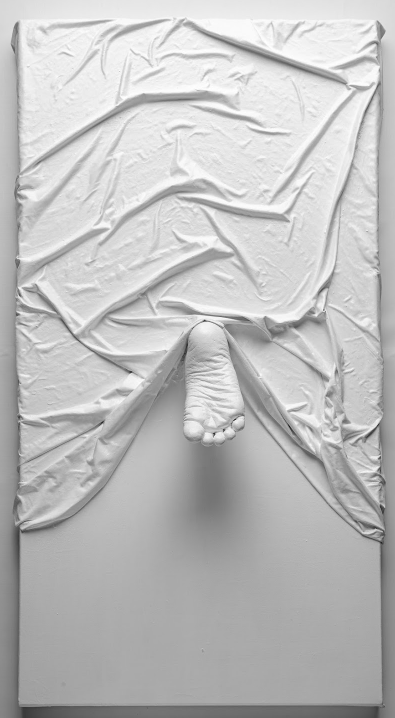 Featured Images: Selections from HUDHU Exhibition
Between his first venture of "ENIGMA" and the "HUDHU" exhibition, Baachy has achieved several milestones. Baachy dreamed of opening an art shop. From one artist to another, he wished to build a space that provides the best materials for artists of all levels. In 2021, he fulfilled this dream by opening "MUSE".
Another major milestone was an exhibition held by "MUSE" in 2022, called "Through the Eyes of Van Gogh". This exhibition was dedicated to showcasing various versions of Van Gogh paintings, and became one of the most notable exhibitions in the history of the Maldivian art scene. It drew in over 300 applicants, both locally and internationally. The exhibition was extended for two weeks beyond the intended 5 days because of its popularity.
Baachy has worked with many resorts in the Maldives. In recognition of his achievements and journey as an artist, Baachy extends his deepest gratitude to his family and friends. Particularly to his wife and kids for their constant support and understanding. Through the triumphs and trials of life, Baachy continues to reflect his emotions through art, and in the future hopes to take part in exhibitions abroad, for more eyes to see his visions and dreams.