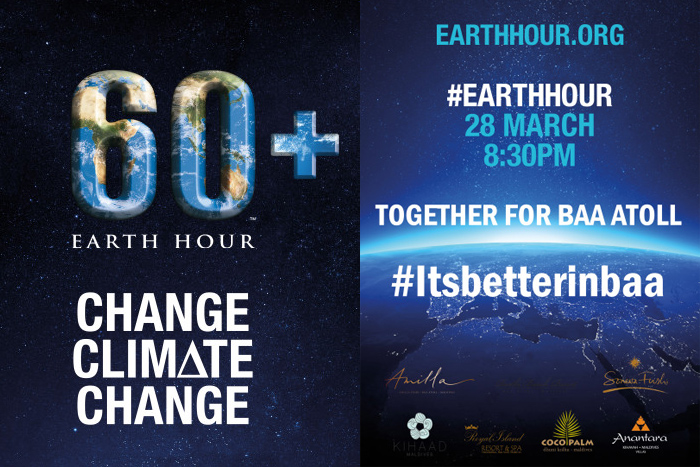 Baa atoll unites for Earth Hour

The luxury resort Amilla Fushi in Baa atoll launched an atoll-wide environmental campaign in support of this year's Earth Hour on March 28.
The campaign initiated by Amilla Fushi saw 21 islands and resorts come together to light up a small torch, bonfire, or laser in succession, the resort explained in a press release, noting that the event was reminiscent of fire signals passed between islands decades ago.
"The "#ItsBetterinBaa" campaign is inspired by the high presence of environmental initiatives such as recycling, planting of coral, strictly enforced protection of marine life and so forth that are held in Baa atoll and this is the first ever atoll-wide celebration with a dedication to our unique designation as a UNESCO Biosphere Reserve," the press release stated.
Baa Atoll is home to some of the richest waters in the Maldives and unique locations such as Hanifaru Bay, a marine protected area that has become one of the world's largest manta ray feeding aggregation destinations. The area also attracts whale sharks during the south-west monsoon season.
The eight resorts in the atoll that participated in the initiative by lighting up a laser beam or small bonfire were Anantara Kihavah Villas, Four Seasons Landaa Giraavaru, Reethi Beach, Kihaad Maldives, Royal Island Resort & Spa, Soneva Fushi, and Coco Palm Dhuni Kolhu.
All 13 inhabited islands in Baa atoll also joined the Earth Hour campaign by lighting their own fires or torches. The inhabited islands have a combined population of over 11,000.
Amilla Fushi suggested that the "#ItsBetterinBaa campaign was "a celebration of culture and heritage as well as a celebration of environmental initiatives and bringing communities and corporations together in an effort to recognise the plight of low lying countries and the world at large."
The World Wildlife Fund created Earth Hour in 2007 and the global annual activity has since become the largest movement for the planet, spanning 7,000 cities as well as 162 countries and territories.
Amilla Fushi meanwhile promoted the campaign on social media platforms such as Facebook, Twitter, and Instagram.
The resort's guests were encouraged to support the cause by turning off their lights at 8:30pm whilst staff explained the purpose of the global initiative.
A number of other resorts in the Maldives also participated in Earth Hour last night by switching off their lights for one hour, including W Retreat & Spa, Sheraton Maldives, and Jumeirah Vittaveli.