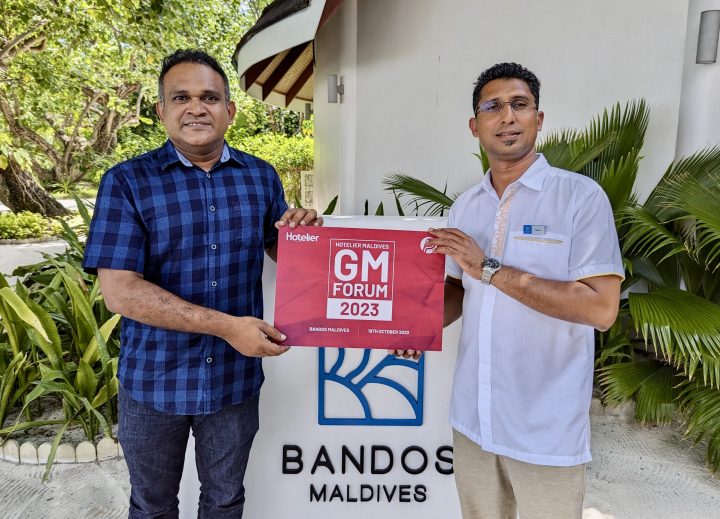 Bandos Maldives named as Host Partner for Hotelier Maldives GM Forum 2023
Hotelier Maldives, the leading tourism and hospitality publication in Maldives, today announced the signing of Bandos Maldives as the Host Partner for the 2023 General Managers (GM) Forum. The much-anticipated event is slated to take place on October 19, 2023, amidst the idyllic surroundings of Bandos Maldives resort, bringing together influential leaders, industry experts, and innovators from the global hospitality landscape.
As the Host Partner for the 2023 GM Forum, Bandos Maldives will provide its state-of-the-art conference facilities to serve as the perfect backdrop for engaging discussions, networking, and idea-sharing. The resort's hallmark Maldivian hospitality will add an extra layer of warmth and authenticity to the event, ensuring an unforgettable experience for all attendees.
Ismail Rasheed, General Manager of Bandos Maldives, expressed his excitement about the partnership: "It is an honour for Bandos Maldives to be chosen as the Host Partner for the prestigious 2023 GM Forum. We are eagerly looking forward to opening our doors to leaders and visionaries in the hospitality industry and providing them an exceptional setting with our best hospitality in the 'Island of Hospitality'."
The GM Forum, since its inauguration in 2016, has been a dedicated platform for over 100 general managers and hoteliers to gather, discuss industry-related problems, exchange ideas, and propose solutions. Now in its seventh edition, the theme for this year's forum is 'Innovation and Technology for Sustainability'. This theme reflects the rise in new technologies, the fast-paced changes in the world, and the increasing number of eco-conscious travellers. It also aligns with the 'Tourism for Good' concept, emphasising the role of the hospitality industry in promoting sustainable practices.
Ali Naafiz, Editor of Hotelier Maldives, commented on the partnership: "Bandos Maldives, renowned for its impeccable service and stunning location, is a natural choice as the Host Partner for the 2023 GM Forum. Their commitment to hospitality excellence perfectly aligns with the forum's objectives of fostering collaboration and showcasing the best of the industry."
As the Host Partner, Bandos Maldives is poised to play a pivotal role in shaping the ambiance of the 2023 GM Forum. Delegates can expect an extraordinary blend of business and leisure, with discussions taking place in an environment that embodies the true essence of the Maldives.