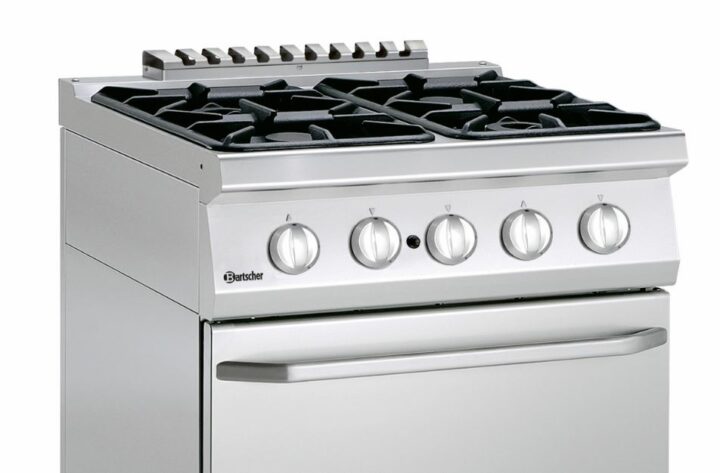 Bartscher: the leading supplier of catering equipment
The Bartscher brand is one of the leading companies in the European commercial kitchen industry. The product range includes a large selection of professional appliances, practical kitchen aids and innovative product solutions: anything that a modern commercial kitchen needs to work efficiently.
The Bartscher product range includes the 900 Master series with it's high-quality and solid stainless steel version in CNS 18/10, which is the ideal choice for modern professional kitchens with high standards.
Some of the products in the 900 Masters series includes the gas stove with two, four and six burners – which also comes with and without gas ovens, electric stoves with ovens, pasta cookers, induction stoves, electric multi-fryers, ceramic glass stoves, electric griddle plates, electric deep fryers, etc.
Thanks to its modular design, the functional equipment, the 900 mm construction depth and the many practical features, it is ideally suited for large production capacities. The products are first-rate, flexible and delivers high-performance.
Since it was founded in 1876, Bartscher has become a full range supplier for commercial kitchens. Bartscher brand appliances are available in a large number of countries around the globe via authorised retail partners.
Bartscher products are marketed and distributed in the Maldives by Astrabon Maldives—one of the leading hotel and resort suppliers that are well-known for providing high-quality kitchenware and F&B related products to the resorts throughout the Maldives. In order to maintain product quality, Astrabon selects goods from some of the finest manufacturers in the world. The company's product portfolio includes F&B related products such as glassware, tableware, flatware, pastry ware and kitchenware.
Astrabon is also the exclusive distributor of a number of top European brands. Brands in Astrabon's product portfolio include Pujadas, Bartuff, Bartscher, Athena, BUNN, BETIS, Gural Porselen, deBUYER, Neumaerker, Durobor, OZTI, GIESSER, Pasabahce, JAY Cutlery, Robot Coupe, LAV Glassware, Santos, Zebra, VAROL Textile, etc.
However, the company's supplies do not end with just the F&B products. Astrabon also provides room appliances and products related to housekeeping. To learn more about the products on offer at Astrabon, please visit astrabon.net.