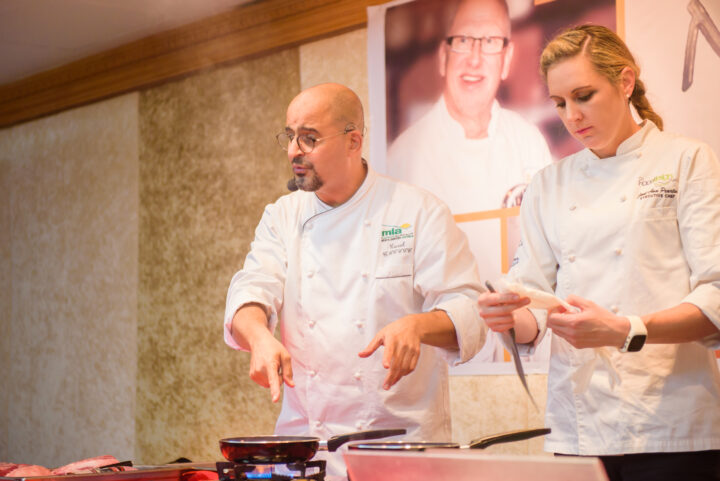 BBM and Hotel Asia hosts culinary masterclass with chef Gert Klötzke
A culinary masterclass with veteran Swedish chef Gert Klötzke took place at the Hulhule Island Hotel on Thursday, 1 September ahead of the upcoming Hotel Asia Exhibition and Culinary Challenge.
Over 120 chefs from 42 resorts attended the class, which began with a briefing session by veteran chef and project director of the Hotel Asia International Culinary Challenge, Alan Palmer, who also introduced Klötzke and some chefs on this year's panel of judges.
"Fourteen years ago, in 2002, we organised the first Hotel Asia Culinary Challenge. We had 14 entrants and at present we have 516," he said.
"Next year, we'll have to extend the event for five days, and have the culinary competition on the first two days, which is a good sign."
The best chef and the best Maldivian chef will be sent to Hong Kong to compete next year, he added.
The masterclass was hosted by Bestbuy Maldives (BBM) and Maldives Exhibition and Conference Services (MECS).
The Hotel Asia International Culinary Challenge is due to take place from 4 to 7 September at the Dharubaaruge' convention centre in Male' with a record number of entrants this year.
"We have over 520 entrants for different categories, that's more than 300 or more chefs competing," said Palmer.
"This is what we do. It's nice to see people who have competed ten years ago, and how far they've come. It's part of their development. I know hundreds of chefs who had competed years ago in different competitions and some of them are world-famous chefs now."
Addressing the participants, Rohan Fernandopulle, one of the judges and President of Bocuse d'Or – Sri Lanka, said he is returning as a judge for the fifth competition.
"Year on year, I have seen tremendous improvement which means that the culinary industry in the Maldives is going in the upwards direction," he said.
"Last year, I saw the best chef competing in Food Asia in Singapore and winning a couple of medals, which means that the chefs here are at the international standard."
Chef Jodi-Ann Pearton shared a piece of advice that was given to her by her mentor, chef Billy Gallagher.
"When I first started competing he said to me that one thing about competitions is that it's the only place you are allowed to steal. You can steal knowledge," she said.
"You can look around, take concepts from one another, learn, and take that knowledge, improve on it and help one another to better your skills. So do that. Take the opportunity to learn and go back to your kitchens and help your colleagues get better at their skills."
Competitions are also the perfect place to meet people, network and make friends.
"This industry is an incredibly small place. And as you go out in the world, out into competitions, you are always bound to run into the same people. So utilise the opportunity to make really good friends. As you carry on in your career, you will see how beneficial it is to network," she continued.
"So work really hard, do your best and go out there to win Gold. I hope you all do extremely well. Do the very best you can and please taste our food. Don't forget the salt and pepper guys."
Chef Gert Klötzke meanwhile gave instructions on 'How to prepare for culinary competitions.' He highlighted the areas where chefs lose points such as unhygienic handling and wastage of food.
Klötzke also stressed the importance of presentation and creating harmony between the ingredients when preparing a dish.
"It's fantastic to be here in the Maldives. I've been to many countries, Mauritius, the Seychelles and so on, but this place is really nice, so calm and peaceful. I wish I could come back for longer next time," he said.
"Make sure you do everything right. Pay attention to hygiene and the mise en place. This is already 30 per cent of your total points so if you pay attention to these, you can't lose any and it won't be hard to win a Gold."
Chef Tarek Ibrahim gave information on things to consider while preparing meat, and demonstrated how to make the perfect steak and how to cook with different cuts of lamb.
The perfect steak is a new category introduced this year.
"You already know how to cook. You need to understand the techniques and the more you read, the better you will be. I'm really happy to be here among you. Last year I've seen a lot of great dishes so I already know how good the chefs here are. Keep going," he said
Pearton meanwhile demonstrated how to prepare poultry and fish and Palmer showed the chefs how to cook the perfect omelet, also a new category in this year's competition.
"The two new categories for cooking steak and omelet is a fun thing. It's short but it tests your basic skills; technique, temperature control and timing. And you will be rewarded for them," Palmer said.
One of the participants of the masterclass, Kim Fenner, Pastry Chef at Conrad Maldives resort, said she was delighted with the experience.
"It was a good opportunity to learn from the masters. I'm not competing but my colleagues are, so I will share with them what I've learned today," she said.
Bassam Nazeer from COCO Collection echoed her sentiments.
"The class was really helpful. They really explained the fundamentals of cooking which is what it's all about. Once you have got that right, you can do amazing things. I think it's great that BBM organises these masterclasses and really focus on spreading knowledge to locals," he said.
"I think the chefs were great. And chef Klötzke was super enthusiastic and tried to get everyone excited and ready for the competition."
Mohamed Mazloom, the CEO of BBM said that it was an honour to host masterclasses with renowned chefs.
"We are really excited about the outcome of the event. The chefs here are really interested to learn from the masters and they want to attend more classes like this, so we will continue to do that."