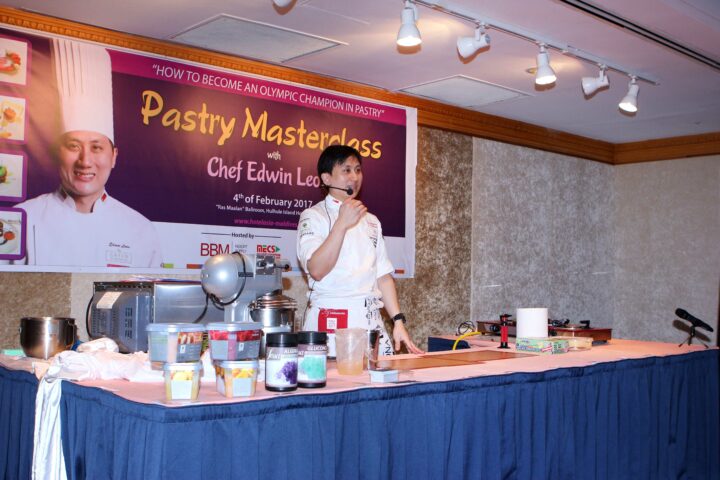 BBM, MECS host pastry masterclass with Chef Edwin Leow
A Special Masterclass in Pastry with award-winning Chef Edwin Leow has been held in Hulhulé Island Hotel. Chef Leow is a Pastry Art Champion, Singapore National Team Champion and a winner at the IKA Culinary Olympics 2016.
The event held at the "Ras Maalan" ballroom of HIH was jointly hosted by Maldives Exhibition and Conference Service (MECS) and Best Buy Maldives (BBM) – the main sponsor of Hotel Asia 2017. Around 125 participants from 60 resorts attended the event, held ahead of the Hotel Asia Exhibition and International Culinary Challenge 2017.
"It is important to hold these special classes," said Alan Palmer – Project Director for the Culinary Challenge. "We plan to hold such cooking classes regularly for Maldivian chefs in order to dispense useful information and cooking techniques and trends."
The special masterclass saw Chef Leow share his knowledge on participation at international culinary competitions and a presentation on "how to become an Olympic champion in pastry". He also distributed his 4 award winning recipes to the participants.
BBM is one of the leading F&B suppliers in the country. "We believe in infusing knowledge to the hospitality industry, especially in F&B," said Mohamed Mazloom – CEO of BBM. "From time-to-time, we conduct training programmes on diversified sectors in F&B in the Maldives and host chefs to travel abroad for training. As such, winners of Hotel Asia 2016 will participate at HOFEX in Hong Kong this year." He added that such programmes would enhance the industry to be in-line with the best in the world.
BBM also officially launched three products at the function; Dankotuwa tableware, ProMed Ozone Generator and Unilever cleaning and personal care solutions. Dankotuwa tableware is world-class, made from the finest imported raw materials in one of the most technologically-advanced factories in Sri Lanka. The product designed by European designers is food safety assured and conforms to USA Food and Drug Administration standards.
The ProMed Ozone Generator is a solution for food safety standard and odour control. "It is the only green solution to odour control, and permanently kills germs and viruses – including H1N1, E. Coli, and Salmonella – in addition to bacteria, fungus, mould and mildew," Nasha Nasheed – Secretary to CEO, Sales and Distribution at BBM – explained to Hotelier Maldives. "Unilever provides dedicated professional solutions for surface cleaning, laundry and personal care for restaurants, hotels and coffee shops in addition to personal use."
The Hotel Asia International Culinary Challenge is divided into 20 categories; dress the cake, fruit and vegetable carving, novelty cake, plated dishes, desserts (display), hot cooking fish fillet, hot cooking beef, hot cooking seafood, hot cooking poultry, hot cooking lamb, dessert, hot pasta appetizer, creative Asian dish, cold pasta salad, team challenge, Maldivian dish, the perfect steak & omelette, young chef and tea challenge.
Main awards of the competition include Individual Class Winners, Most Outstanding Chef Award, Most Outstanding Pastry Chef Award, Top Maldivian Chef Award, Best Culinary Establishment, the "Alan Palmer Challenge Trophy", and the Judges Special Award. The 13th edition of Hotel Asia Exhibition and International Culinary Challenge 2017 will he held from September 17 to 20 at the Dharubaaruge Exhibition Hall.