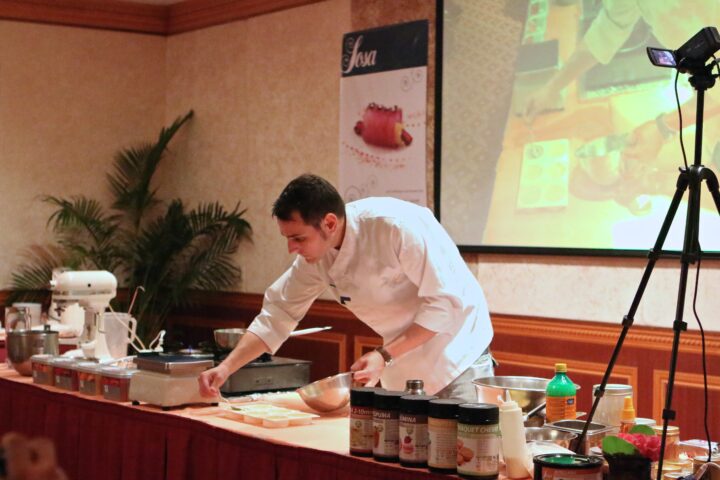 BBM holds Knowledge Sharing Forum on Molecular Gastronomy and Sosa Products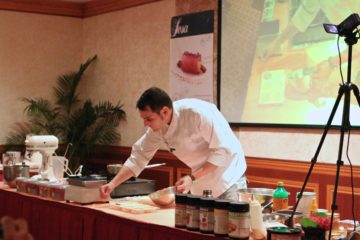 On Wednesday 6th May, Best Buy Maldives (BBM) hosted a knowledge sharing forum on the concept of molecular gastronomy at Hulhule Island Hotel. Chefs from the Spanish company Sosa presented their range of texturising products and demonstrated their usages in modern gastronomy.
The purpose of the forum was not only to promote the Sosa products but also to create awareness about molecular gastronomy amongst chefs and restaurateurs working in the Maldives. The event was attended by over 70 chefs from 32 resorts, including Four Seasons Kuda Huraa, Sheraton, Anantara and Adaaran to name but a few.
Molecular gastronomy – the investigation into the physical and chemical transformations that ingredients go through when combined and cooked – takes advantage of technical innovations from the scientific disciplines and applies them to modern cuisine. Sosa specialises in supplying products (which are 100% natural) that cause these chemical reactions and in doing so make it possible to create incredible dishes with very little effort. What's more, these products often eliminate the need to add fatty or sugary ingredients to achieve these results.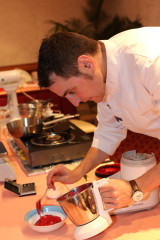 Guillem Corral, the company's Technical Advisor led the demonstration. Whilst the company sells a whole range of products for modern gastronomy, the chef focussed on demonstrating the benefits of their texturising products. "I am very happy and proud to share what is 'Sosa' with you all today. I'm especially grateful to BBM for making this forum possible," he said at the start of the demonstration. "These products are created with modern cuisine in mind. What I mean by that is a way of cooking that uses less fat and less sugar but with a great deal of respect for the flavours of the ingredients."
During the demonstration it became clear that these products provide chefs with a great deal of versatility. They allow chefs to ensure texture in foods that might otherwise not be stable. They manage to change the structure of certain foods without compromising on taste. What's more, many of the products have been designed to allow freezing and heating, where traditional recipes could not withstand these changes in temperature and would either melt or lose water.
Throughout the 3.5 hour demonstration, Corral cooked up a number of recipes. The first product he used was a gelling agent known as Gelburger, which is made from 100% ingredients – an algae and a calcium. Using the product he was able to set some apple patties without using gelatine. The result was firm, compact apple 'burgers' that did not have that 'chewy' gelatine texture.
He went on to demonstrate many more ingredients. Amongst which were the 'gelcrems' which allow chefs to produce custard that resists very high temperatures in the oven and never loses water. An excellent choice for buffets, he mentioned. Albumine was also a product which many were impressed by. A structuring protein, the ingredient allowed Corral to produce a firm, stable mousse within minutes.
All participants were able to taste each recipe and the results were impressive. All the chefs were provided with a folder that set out the theory behind the products, their specifications and also detailed the recipes that were cooked on the day.
Leonardo Ricci, who is responsible for Sosa sales to the region whilst also being a culinary advisor, also attended the forum. "If I could give this seminar a title, I call would it 'I have a dream'. We want chefs who dream of cooking something, of achieving a certain result, to approach us. We'll make it happen for them!" he said. "We like chefs to be in touch, we want feedback so we can produce new ingredients," he said.
The reaction to the demonstrations was overwhelmingly positive. Executive Chef at Chaaya Island Dhonveli, Mr N.T Alupotha expressed what many were feeling during the seminar. "This way of cooking is very convenient. It's more than just cooking – it's science! What's even better is that all the products are 100% natural and often replace unhealthy ingredients such as fat and sugar," he said. "Our training plan for next year already includes the goal to implement more molecular gastronomy in our kitchen but we want to learn more. We want to learn about the chemical reactions and about new recipes. So this seminar has been wonderful."
Mr Alupotha was not alone in his enthusiasm for the products. Executive Chef at Adaaran Prestige Vadoo, Shanaka Wijetunga also raved about the products, saying "Molecular gastronomy is the future of the culinary sector. This isn't just about cooking; it's about invention and creativity."
During the closing remarks, BBM's Business Development Head, Mohamed Rikaz thanked everyone for attending and for having confidence in BBM as a supplier. He announced that BBM were planning exciting, unique things for the upcoming Hotel Asia expo in August. He stressed that the event would not have been possible without the support of Hulhule Island Hotel. Not only were they central to the smooth running of the forum, they also provided all the equipment for the demonstrations.
Later in the evening, Mohamed Rikaz explained some of the challenges they faced when attempting to host an event of this scale. "It's always difficult to host an event like this in the Maldives because it's just so hard for people to actually get here. Boat transfers need to be arranged, operations need to be considered." Despite these challenges, and despite the weather being bad, more than 70 chefs made it to the event, which is testament to the buzz surrounding these products.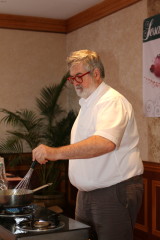 The two European chefs will be in the Maldives for a further three days. During that time, they will be conducting demonstrations for the chefs at Soneva Fushi and Dusit Thani, who were unable to make it to the forum but who still expressed great interest in the products.
Leonardo Ricci also expressed his desire to hold another seminar in the Maldives before the year is out. "We hope to showcase more products and recipes in the next seminar. This time is about introducing the concept but we hope next time people will be more familiar with this way of cooking. Then, we'll be able to work on presenting new recipe ideas," he said.
After the forum, attendees were treated to a sumptuous buffet dinner in the HIH ballroom. The Sosa chefs mingled with the guests and were enthusiastic about answering all their questions.
BBM is the sole distributer of Sosa products in the Maldives. For further information about Sosa products and the concept of molecular gastronomy, visit www.sosa.cat or watch one of their many thousand videos on their youtube channel called Sosa Ingredients. These clips explain the products, concepts and recipes that contribute to making Sosa the leading producer of products for molecular gastronomy.