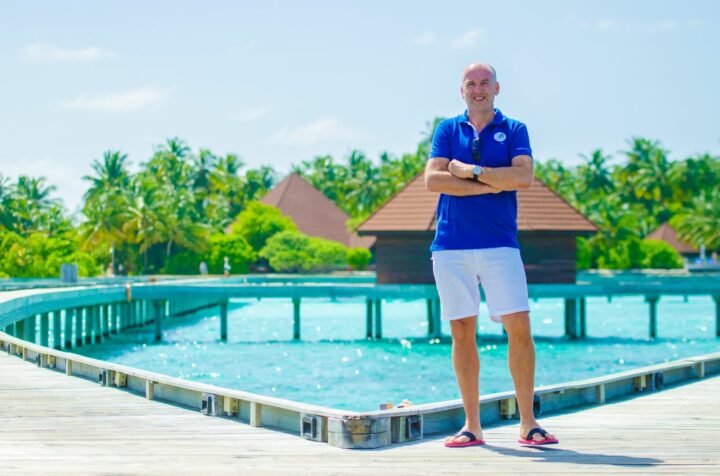 Bert Goebel appointed new general manager at ROBINSON Club Maldives
ROBINSON Club Maldives has announced the appointment of Bert Goebel as the new general manager. Born and raised in Germany, Bert chose a career in the hospitality industry at an early age, and today considers himself as a "cosmopolitan in the industry" with nearly 30 years of experience in high-end hotel, resort and cruise ship business worldwide.
Bert started his career in the industry in 1989 on the culinary side and gained his postgraduate degree in Hospitality and Culinary Art after which he worked as the Executive Chef in well-known hotels in Europe and Asia. In 2006, Bert joined the international cruising industry and played a substantial part in developing and establishing one of Germany's major Cruise Lines.
After his MBA in Hospitality and Tourism, Bert continued his career into top management, and from 2004 until 2018 had served in different levels and positons such as F&B Director, Hotel Manager and General Manager in high-end five- and six-star international established companies all around the globe.
"I always have been a true believer in the fact that how we treat our staff is the way they will treat our guests in return. Speaking five languages myself has opened great potentials to step deep into people's understanding of modern work life and its aligned challenges which has supported my leadership style over several decades," said Bert.
"Having joined ROBINSON Club Resorts several months ago, I am excited for my new appointment in the Maldives, where I will be able introducing to our guests the world natural wonders of these beautiful Islands in the Indian ocean."
Robinson Club Maldives will be celebrating a decade since establishment in the Maldives next year, and the Club recently saw a number of renovations including the addition of 20 new water bungalows and renovation of the terraces of all existing bungalows. Robinson International has further shown its commitment towards the region with the recent opening of ROBINSON Club Noonu – the second property in the Maldives opened late 2017.
"On my years to come I would like to contribute to further elevating the Maldives' reputation as a great tourism destination for international holiday seekers. Being fascinated with its marine life and a professional scuba diver, I also would like to make my share in preserving these natural wonders for our future generations to come," Bert added. For more information about ROBINSON Club's resorts in the Maldives, visit robinson.com/maldives.