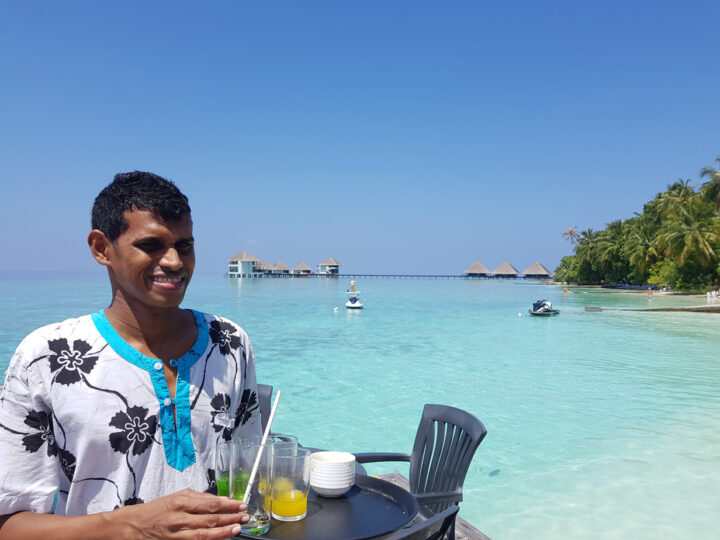 Hassan (Speedy) Waleed, Bartender at Adaaran Club Rannalhi
It was late afternoon when I reached Adaaran Club Rannalhi (ACR) and I was a little tired and dizzy from the long wait at the humid airport because of delayed flights, followed by an hour long speedboat ride to the resort. So I ordered a fresh orange juice when a bartender appeared at my side, flashed a warm and welcoming smile and asked me what I wanted to drink. He disappeared as soon as I replied, and reappeared with my drink in a few minutes. I was impressed with the speed at which he operated and for the next 15 minutes, I watched him in his element, clearing tables, taking orders, making drinks, delivering drinks and rearranging furniture to suit the ambience of the bar.
During my chats and interviews with the Resident Manager and F&B Manager, I kept watching the flurry of activity that was Hassan, constantly zooming around, always on his feet. Seeing my amusement and interest, the Managers commented on it. It seemed Hassan was a favourite among his colleagues, and they referred to him as "Speedy Gonzales" because of his quick pace in catering to his guests. The guests, themselves engage with the bartender quite often as he is known as the man who always finds a way to accommodate all their requests when it came to beverages. His dedication and enthusiasm for the job was broadly acknowledged, appreciated and respected.
Hassan began his career in hospitality at Rannalhi in 2011 as a Waiter. He worked in Eriyadhu for a brief spell but returned to Rannalhi in 2013 and became the Bartender that he is now known as, and in 2017, he received the award for Employee of the Year, which Hassan cherishes and worked hard for.
Before his entry into the hospitality industry, Hassan played an active role in his family retail business in S. Maradhoo, which includes multiple shops that sell various items such as groceries, cosmetics and apparel. In 2000, Hassan moved to Male' for further studies and worked part time at local shops and after completing his studies, did some resort supply and retail work as well.
After joining and working at Rannalhi for the past 5 years, Hassan has earned his reputation and has received commendable feedback on online platforms for his efficiency and enthusiasm in doing what he does. "A special thanks to Hassan (Speedy Gonzales) at the main bar, he was truly amazing with his speedy service." wrote one guest on the review of ACR on TripAdvisor.
Hassan received Bartender training and learned much of his work online as well, studying how different varieties of drinks are made, what compliments what beverage and the art of making Hookahs to make the guest's experience at the bar as pleasant as possible. Hassan's job entails more than just bartending duties, though. He also promotes drinks and assists with decorations on special occasions, to name a few.
Hassan's dream is to own his own business in Addu, a convenience/retail store just like that of his family business and what he grew up being a part of. "I invest all of my savings in that dream and wish to see it grow and prosper someday. "
Mohamed (Didi) Abdullah, the F&B Manager, has been Hassan's mentor throughout his employment at Rannalhi. Didi's encouragement and guidance has helped Hassan immensely and he wishes to thank Didi, Mohamed Ahmed; the Resident Manager and his best friend Hassan (Beto) for their support through the years.
Hassan believes that the field of F&B is perfect for someone to begin their career in hospitality in and being a bartender has brought him many opportunities for self-development and taught him to engage with foreigners on a whole different scale. "Once you start working and know your limitations and work well, it's a good field to be in."
Later that evening, sitting by the bar sipping on my juice and listening to the band croon out a lazy tune, I watched Hassan in action again. The smile rarely left his face. His limbs never stayed still for long and he was always the one guests turned to for their requests, which he never denied or rejected and accommodated as well as he can to the best of his abilities. I smiled and waved as he zoomed past my table, flashing one of his bright grins in my general direction and spent the rest of the night living up to his well-deserved nickname; "Speedy Gonzales".