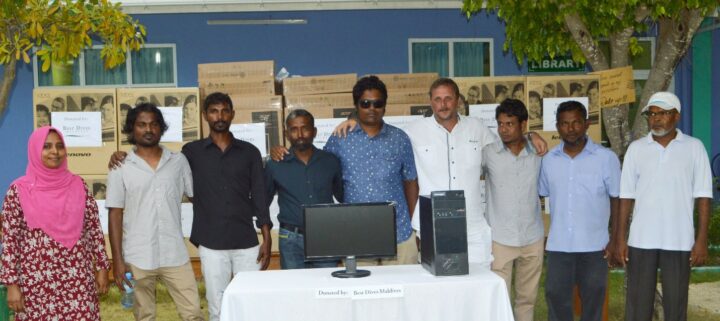 Best Dives donates computers to Makunudhoo School under CSR
Best Dives Maldives has donated 20 computer sets to Makunudhoo School in Makunudhoo Island of Haa Dhaalu Atoll, as part of its Corporate Social Responsibility, further upholding its commitment and support to local communities. The computer sets were donated to Makunudhoo School to assist in the growth and progress of the school, said Best Dives.
"For us, it's an opportunity to give back to the society, we have had a number of CSR activities earlier and will continue to do so," says Eric van Melis, General Manager of Best Dives Maldives Pvt. Ltd.
Earlier this year, the company donated 2 pallets of cosmetics and toiletry items to the Special Needs Centre in Guraidhoo Island of Kaafu Atoll. Later this year, Best Dives will be donating 10 computer systems to Kudakudhinge Hiyaa in Villingili, it said in a statement.
Best Dives Maldives, founded in 2003, operates several Dive and Water Sports Centers in popular resorts of the Maldives including; Jumeira Vittaveli, Outrigger Konotta, Centara Grand, Centara Ras Fushi, Madoogalu and Vagaru with another dive centre set to open later in the year in Fushifaru.
Best Dives Maldives has also been upholding its responsibilities in the preservation and protection of the fragile marine environments of the Maldives by leading coral restoration projects with the resorts where they operate.
Similarly, Best Dives is also an official member of "Green Fins" coordinated by Reef-World which host the only recognised environmental set of standards with a comprehensive management approach to providing guidance and support to business owners and national authorities in order to promote best practices.
With continuous efforts to aid the advancement of community welfare, Best Dives pledges to continue its CSR initiatives in giving back to the community.