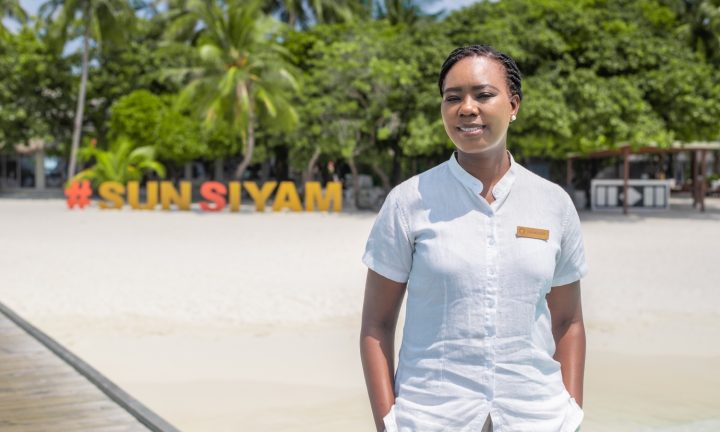 Women in Hospitality: Sun Siyam Iru Fushi's Director of Operations Dorothy Bahati
Sun Siyam Iru Fushi's Director of Operations Dorothy Bahati is a firebrand in the hospitality industry where she has developed her career for the last 19 years or so, having spent most of that time in the Maldives.
Her journey has been that of resilience, persistence and utmost dedication coupled with passion for what she does. Her motivation comes from creating solutions for the various challenges she faces day by day in the hospitality industry.
"I was involved in the pre-opening phase with the local management. Subsequently, when Hilton assumed management and later departed, I participated in the 'de-branding and rebranding' process for Sun Siyam Iru Fushi. Throughout my career, I've been a key contributor to major projects, including the implementation of market metrics, the development of butler service principles, and the establishment of quality assurance standards, among others. Notably, I also served as a task force member for the pre-opening team at Siyam World for nearly a year," she recalls.
"Through these diverse experiences, I've acquired a comprehensive understanding of the global hospitality sector, all in a single location."
Dorothy's daily routine reflects her unwavering dedication and commitment to her profession. She starts her day with meditation, responds to emails, then attends a management briefing, checks on the quality of services and facilities, visits different departments for operational support and also makes sure to visit all the outlets during lunch and dinner to greet the guests and staff. She ends her day at around 9:30pm, but is always still available on call.
Dorothy's main objective on a daily basis is to ensure quality and consistency in everything she does. She also knows that planning is very important, especially when working on an island resort where resources are limited. She demonstrates meticulous planning and execution in her duties to achieve success in her responsibilities, with a strong emphasis on valuing teamwork above all.
She began her journey in the Maldives as a Guest Relations Manager in the year 2008 pre-opening team, after being poached by the first general manager of the then Iru Fushi Beach & Spa Resort Maldives, and has since been a great pillar and played vital roles in the transformation and ultimate growth of the resort.
Her initial job as a restaurant hostess in her native country Kenya, gave her the impetus to serve in the hospitality industry anywhere around the globe with zeal, commitment and passion, having received very good training in hospitality Management.
She observes that the Maldivian culture and the African culture, especially the cuisine and music are very closely associated with each other.
"For me, it is a very good experience to land and work in the Maldives, and I feel that Maldivians and Africans are more closely related than any other nationality. We share a lot of cultural practices and that made my culture adaptation easy," she says.
Dorothy is aware of the challenges women face in the hospitality industry and especially as a foreigner, but she has always faced them with her head held up high. She happens to be the only woman in the management team and "it's an uphill task", but she is always up to the task and not afraid to voice her ideas and opinions in a male-dominated field.
Dorothy is a strong advocate for women in the hospitality industry. She urges women to follow their dreams with confidence, patience, zeal and commitment.
"My job in the Maldives has been very easy for me because I love my job and I love developing and mentoring people. I love what I do," she says.
Her dedication has yielded remarkable results, with 90% of guests who initially approached her with complaints returning to the resort, transformed into repeat guests.
"Complaint handling is a journey and an opportunity to bond with our guests. A genuine passion for hospitality will invariably shine through in your work, leaving a lasting positive impact on your guests," she says.
Dorothy's extensive career at Sun Siyam Iru Fushi serves as a compelling example of unwavering commitment, resilience, and an enduring passion for the hospitality industry, inspiring numerous individuals to emulate her path.