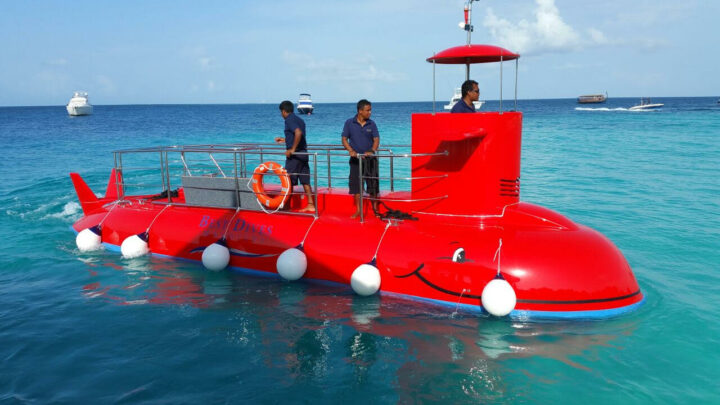 Best Dives Pvt. Ltd. unveils Semi-Submarine at Jumeirah Vittaveli
Best Dives Maldives unveiled a semi-submersible vessel, one of the first of its kind in the Maldives, at Jumeirah Vittaveli on 26 July. The vessel can accommodate a maximum of twelve passengers and its cosy interior boasts large windows and air conditioning.
"It's a concept for a wider audience, for families, especially those with small children," explains Best Dives' General Manager Eric van Melis. "We're focussing on the growing market of non-swimming guests. Through the semi-submarine we can showcase the underwater beauty of the Maldives to such guests and make them curious about it so that they would want to try other water-related activities."
Jumeirah Vittaveli's General Manager, Amit Majumder, added: "We are happy to partner with Best Dives Maldives on this exclusive new facility for our guests. One of the biggest attractions of the Maldives is its colourful underwater life, and with our new semi-submersible, this world is now open to everyone – even experienced snorkelers and divers will find this new way to explore the marine environment exhilarating."
Several guests took part in the vessel's maiden trip, a twenty-minute journey along the resort's house reef. The semi-submarine's generous windows offered arresting views of corals and thriving marine life. A member of the crew was on hand to point out and name particularly intriguing coral formations.
"This is an expansion of our portfolio of excursions," says Trevor Bowden, Operational Manager at Best Dives Vittaveli. "It's focussed on safety with measures in place that allow us to be in control at all times. The idea is to put guests at ease so that they can relax and take in the surroundings."
The vessel makes three trips every day including one in the evening, opening up the opportunity for guests to see the underwater world at night.
Best Dives has plans to expand the service to other resorts in the near future. The company operates diving and water-sports centres at four resorts. For more information: info@bestdivesmaldives.com.