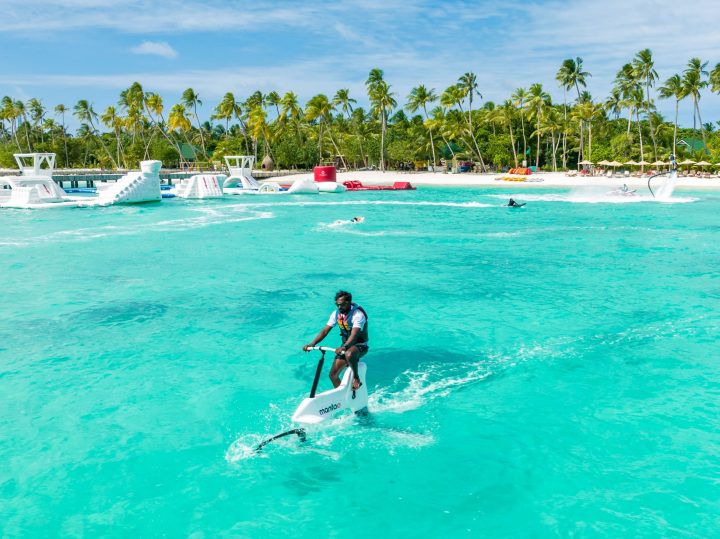 Bike Across Maldives' Lagoons on the Manta5 Hydrofoiler XE-1
Cycle across Maldives' crystal clear lagoons on the world's first water bike, the Manta5 Hydrofoiler XE-1. Siyam World is home to the Maldives largest collection of Manta5 Hydrofoils with three water bikes. Siyam World was the first resort in the country to introduce this cutting-edge watersport. SeaGear is the only authorized distributor of the Manta5 Hydrofoiler XE-1 in Maldives
Sea Gear Supplies Cutting Edge Watersport Products
For the past ten years, Sea Gear has supplied the Maldives with high-quality boating, watersport, safety and lifestyle products. Sea Gear identifies cutting edge boating and watersport products, like the Manta5 Hydrofoiler XE-1, to introduce the latest innovations to the local market. Sea Gear provides customers with boating solutions, operational expertise, and high-quality sustainable products.
Riding the Manta5 Hydrofoiler
The whole family can ride the Manta5 Hydrofoiler. The ergonomics of the bike's handlebars, seat and pedals are adjustable to suit a family of different sized riders. Anyone who can bike and swim can ride the Hydrofoiler, no special skills required!
There are three different ways to launch the bike, from a floating dock, shallow water or deep water. The first two options are straightforward and most can master it instantly. Deep water starts take practice to raise the bike out of the water. The friendly watersport staff at Siyam World will provide the training to get the bike started and out on the water.
"Guests are intrigued when they see the bikes on the water! Our team provides training for beginners. When starting out, falling off and getting wet is part of the fun. In less than an hour expect to go from novice to confident. Even in choppy conditions falling is rare. Guests can try epic new experiences to fulfill their soulful adventure seeking side at Siyam World," commented Ausy Waseem, Siyam World Resort Manager.
The riding experience is smooth and similar to a road bike. Even in choppy water, the Manta5 Hydrofoiler remains stable because the foils are submerged underwater. Turning is intuitive, lean and slightly turn the handlebars. The Hydrofoiler has seven levels of electric assist to propel you forward. Speed 7 activates the motor at full power and provides 450 W of assistance. At speed 1, the motor essentially shuts off and you power the bike independently. The Hydrofoiler's top speed is 21 km/h but cruises around 9 km/h. A single charge can provide up to 4 hours of ride time. The body of the bike is made from aircraft-grade aluminum and the foils are made from strengthened carbon fiber set with high-performance epoxies, making the bikes buoyant and easy to carry.
Hydrofoil Technology 
The water bike glides across the water using hydrofoil technology. The hydrofoils to hover the bike above the waterline. The hydrofoil technology was developed in 1869 to reduce the drag to increase the speed of military boats. The physics of hydrofoils are based on Bernulli's Principle, if fluid speed increases, its pressure decreases. As you cycle through the water and pick up speed, the pressure on top of the wing decreases and the pressure under the wing increases. Recently, motors have been added to hydrofoils to help achieve lift and propel the rider forward.
Featured Image: Siyam World