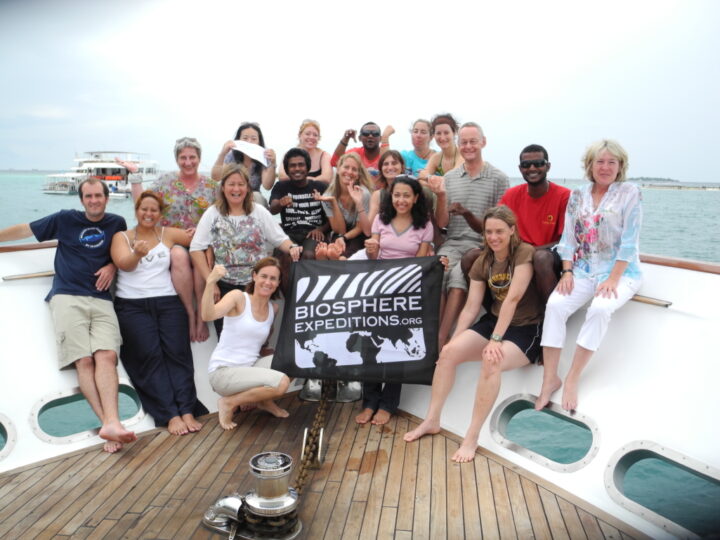 Biosphere Expeditions
Rafil Mohamed
During the first week of January 2012, I came across an advertisement on "Facebook" offering scholarship opportunities for Maldivians to be trained as "Reef Check EcoDivers" and subsequently to take part in a volunteer based reef surveying expedition. I was intrigued, being a PADI Divemaster myself at the time and having a deep fascination and love for marine conservation, I felt this was a once in a lifetime opportunity not to be missed. After all, who wouldn't miss an opportunity to spend a week cruising aboard a luxury yacht in the Maldives, whilst receiving the knowledge and expertise that would be utilised to aid our collective marine conservation efforts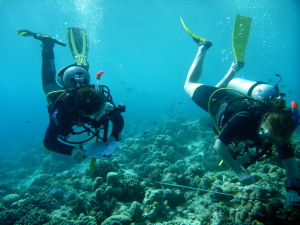 The scholarships were being offered by an NGO called "Biosphere Expeditions", which according to them is "an international non-profit wildlife volunteer organisation, founded in 1999, that runs conservation expeditions all across the globe (Biosphere-Expeiditons.org, 2014)". Their conservation holidays consist of an eclectic mix, ranging from the monitoring of elephants, leopards and cheetahs in Namibia to assisting in the local management of marsupial species in Australia. These expeditions generally consist of a time period of 1 to 2 weeks.
I believe that their business is part of a revolutionary new breed of eco-tourism termed "Green Holidays". Green Holidays are vacations centred on a theme of environmental conservation, which require the holidaymakers to take part in some form of environmental conservation activity during the course of their trip. In a world faced with increasing ecological challenges such as global warming, deforestation, disappearing coral reefs, dwindling wildlife populations, etc., this is, arguably, a highly creative initiative to boost people's awareness regarding these realities and offering them a chance to take action.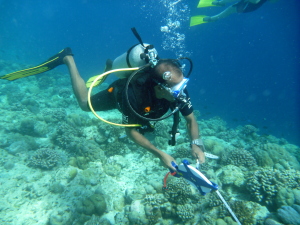 So what did their "Green Holiday" targeted towards the Maldives exactly involve? After being informed that I was one of the recipients of their scholarships, which by the way was one of the happiest moments of my life, I was e-mailed an online brochure outlining a rough itinerary, agenda and study materials for the trip. The itinerary consisted of 2 – 3 days of study, training and testing with the intention of certifying all of the volunteers as "Reef Check EcoDivers". The remaining 4 – 5 days entailed visiting 2 – 3 atolls and surveying the house reefs of various resorts and a popular dive site using the "Reef Check" methodologies which we have learnt.
By this point you might be wondering what exactly is "Reef Check" and what does a "Reef Check EcoDiver" do. Well, "Reef Check" is an international non-profit organisation founded in 1996 by an American marine ecologist named Dr. Gregor Hodgson dedicated to conservation of two ecosystems: tropical coral reefs and California rocky reefs (reefcheck.org, 2014).
 In addition to working with marine biologists around the world on a diverse range of international marine conservation projects, they also maintain an extensive database with valuable information and primary data concerning the health and condition of coral reefs worldwide, which are constantly fuelled by input from marine biologists, other similar organisations and "Reef Check EcoDivers".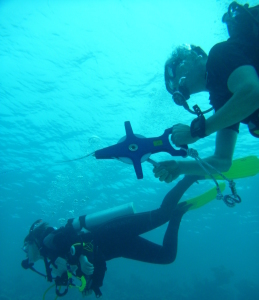 Another aspect to their organisation is the offering of training outlines, materials and courses with the objective of training laymen to become these "Reef Check EcoDivers". The course consists of learning to identify and distinguish between selected groups of fish species, invertebrates, substrate, types of coral diseases and man-made as well as natural damage that befalls coral reefs.  The practical component involves the use of 100 m transect tapes and underwater slates to assist in surveying and putting the theory to practice.
The following is a summarized version of the trip diary that I maintained during the course of the expedition. I hope it offers you more detail and insight with regard to the nature of the expedition.
 SUMMARISED TRIP DIARY
02/09/2012
Arrived at Nasandhura Palace Hotel early morning for the initial meet-up. Met up with a diverse mix of volunteers from different nationalities and we settled in for the introductory briefing by Dr. Matthias Hammer, the expedition leader and the founder of Biosphere Expeditions. Once we finished up with the formalities and initial paperwork, we made our way to the diving dhoani (boat) of MV Carpe Diem (live aboard) which took us to the main vessel. We were greeted by Dr. Jean-Luc Solandt, a marine biologist and our Reef Check Instructor who was going to lead the actual survey effort. After listening to his briefing regarding the format of the course and the surveys, we made a fun dive later that day to Baros House Reef and settled into deep study.
03/09/2012
A course lecture followed breakfast and we were delighted to hear that we were going to get our first-hands on experience with surveying later that afternoon. We made a crossing from North Male' atoll to South Male' atoll and the south-eastern section of Biyaadhoo's house reef was chosen as the site to be surveyed. This was an invaluable training type survey dive and we were all amazed at the speed and ease with which we were able to survey using Reef Check's materials and methodology. We had no time to rest after the training as our first theory exam awaited us.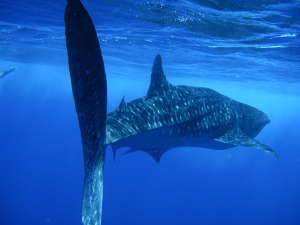 04/09/2012
Thankfully, everybody passed their initial exam yesterday. Two more exams awaited us today while we made the crossing from South Male' to North Ari atoll and after that we had an in-water practical test. A slightly stressful day due to a day filled with exams, but everybody passed with flying colours and we were able to relax at night.
05/09/2012
We had our first proper survey today. Ellaidhoo house reef, a favourite dive site of mine, did not disappoint in the morning, nor did the second site we did later that afternoon called Orimas Faru. Morale and energy levels reached a high today as everybody felt we had significantly changed gears. Add a fun night to the famous Maaya Thila dive site later that night and everybody was really pumped up.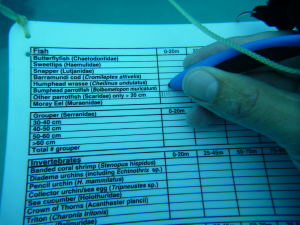 06/09/2012
The north-eastern and south-western sections of Angaga's house reef were on the menu today. Yes two surveys, one in the morning and one in the afternoon were dedicated to this site. We welcomed surveying the same reef system twice as we all felt this was the best in terms of coral cover and fish life so far. WHALE SHARKS tomorrow!!!
07/09/2012
Unfortunately our cruise for whale sharks proved uneventful and we consoled ourselves with the beauty of Vilamendhoo's house reef, which was the last site to be surveyed for the trip. Cruise back tomorrow.
08/09/2012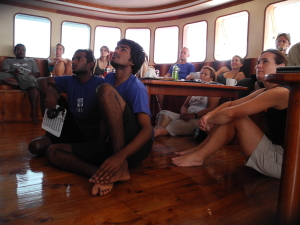 We started the cruise back to Male and it was generally a chilled out day. Dr. Solandt did a presentation regarding the results of the entire expedition, which to our delight confirmed that reefs were healthy and showed great recovery after the bleaching event of 1998.
Final Note
If you want to know more about Biosphere Expeditions and Reef Check, visit biopshere-expeditions.org and reefcheck.org. Complete reports of expeditions as well as the report for this particular expedition are available online via www.biosphere-expeditions.org/reports for viewing by the general public.
Biosphere Expeditions still run their placement programme for locals and information regarding the application process is on www.biosphere-expeditions.org/placements.
Rafil Mohamed is a PADI Master Scuba Diver Trainer currently working as the diving operations manager for Holserv Pvt Ltd (Yacht Maldives) aboard their twin liveaboards, Dhoni Stella 1 and Dhoni Stella 2. He started his scuba diving career with the iconic Black Pearl safari which was cut short prematurely due to a fire accident that completely destroyed the boat. He has also worked aboard the luxurious Scubaspa vessel during its maiden voyages. In addition to scuba diving, he works as a freelance writer with many significant publications under his belt which include the Maldives Visitors guide 2012 and the Maldives Surf Guide which is yet to be published by MMPRC. He is also an avid researcher of ancient Maldivian history, culture and mythology with many traditional poems (banndhi/lhenn) written by him paying homage to these subjects