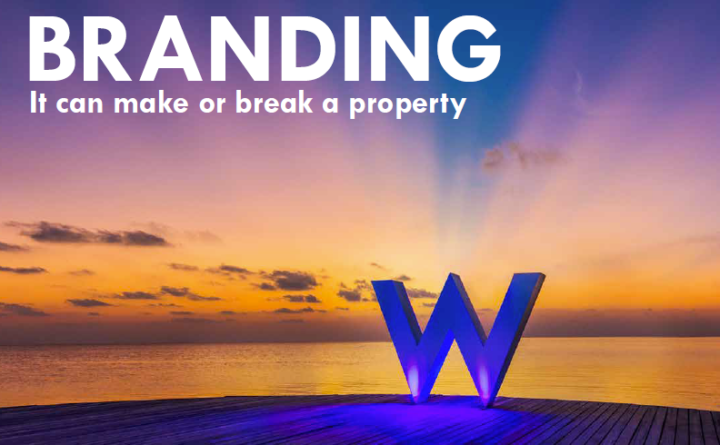 Branding – It can make or break a property
Brands are ubiquitous. In our everyday life we're confronted with a plethora of them; there are those that fulfil our most basic needs, like milk, and others that we indulge in every now and then, like a treatment at a particular spa. Branding is part of the process that gives tangibility to something that is abstract. It makes consumers associate experiences – the quality of service, food, and entertainment – with a particular name.
So brand names operate as a 'shorthand' for quality, providing consumers important information about the product or service. A brand's value, then, depends on potential consumers' awareness of the brand, its quality and overall customer satisfaction. Thus hotel executives view brand quality as a key company asset and a potential source of strategic advantage.
Building and managing a brand
It is not just about a snazzy name and logo; Brand creation has become increasingly complex and sophisticated. There are several systematic steps involved in the creation of one.
Brand building begins with a research-based audit of customers' purchase motivations, your firm's capacities and systems and the activities of your competitor. Once you know how the brand experience addresses customers' needs and wants, you can then come up with the brand's core elements, express a brand promise that encapsulates your brand, and choose brand touchpoints.
Let's go over the steps in a bit more detail.
Identify customers and their motivational factors
You need to identify your target customers as you develop your brand. Are they young (millennials) or older (baby-boomers)? What are their purchase motivations (whys for buys)? Finding out whys for buys in the early stages of the strategic branding process can lead to big gains later on. How? Because your consumers' whys for buys can be translated into brand elements that form the foundation of the brand promise.
Evaluate your value proposition
In this step you examine customers' expectations and their perceptions of product performance relative to those expectations.
Sources of customer expectations could be websites such as Tripadvisor and web forums where customers talk about their expectations, their experiences and their overall assessment of them. Another source of customer expectations is your firm's marketing communications including sales materials and website.
An analysis of the value proposition must take into account the firm's sources of value (i.e. physical service environment, the service provided by employees and the process by which service is delivered) as well as the customers' input to value co-creation such as service expectations, price paid for service and the effort required of customers to obtain that service. Evaluating these aspects can help align your brand communications with the promised experience.
Assess Competitive Brand Positions
Customers compare your brand's value to that of competitors so your product has to be differentiated. To do this you must assess key competitors' value propositions. Points of differentiation can be particular features or a focus on a different experience.  You need to find positioning points: weaknesses in aspects of your competitors' product that your customer research shows are important for "whys for buys". You should find some aspect of your product, such as design, service, technology or a combination of them that customers value, that are aligned with the brand.
Develop Core Brand Elements
Core brand elements can be condensed from research on customer motivations. They should address why they seek your brand, what they want from the experience and what your brand promises to deliver. Motivations must be linked to the brand through brand elements. Brand elements form 'plot points' for brand communications and clear brand elements help ground the brand promise by focusing it on the customer, being based on customer motivations.
Build a brand promise
Developing a brand promise is a bottom up process, it follows organically from the steps that preceded it. The brand promise speaks to the consumer; it tells her about an experience that she desires, one that is deliverable by your firm. In case study 1, the brand promise of Atmosphere Kanifushi is "The joy of giving" and this follows from its brand elements and touchpoints.
Select brand touchpoints
These are tangible aspects of your brand, ones that the customer interacts with. They convey your brand's meaning to customers and make them imagine how a service will deliver a certain experience.Case studies
Atmosphere Kanifushi
Kanifushi is billed as an entree level five-star hotel, suitable for travellers who seek refinement but are price sensitive. Their brand promise "The joy of giving" is demonstrated through the elements of the brand that include F&B, Activities and Culture.
| | | | |
| --- | --- | --- | --- |
| Brand Promise | The Joy of Giving | | |
| Brand Elements | F&B | Activities | Culture |
| Touchpoints | Just Veg vegetarian restaurant | Snorkelling | Trip to inhabited island |
| | Fine dining restaurant | Motorised Crafts | |
| | Fine wines and spirits | | |
The above touchpoints, together with the brand elements help ground the brand promise. Kanifushi offers an all-inclusive package for its guests, which includes complimentary fine wines and spirits, fine dining, water-sports and cultural tours of a neighbouring local island. Moreover, it has a welfare fund for its staff from which team members can borrow without interest. It promises a five-star experience that it is able to effectively deliver through its brand elements and touchpoints.Case study 2
W Maldives
W Maldives is an upscale property located in Ari Atoll. It is the first retreat and spa property within the brand. The W brand promise is Whatever/Whenever as long as it's legal. It has a relatively young customer base and as such it seeks to deliver an experience that befits such customers.
Like other W properties, W Maldives holds Happenings, events scattered through the year that help differentiate it from competitors. This year's Happenings include 'We Are Handsome': a collaboration with Australian designers to create an exclusive swimwear collection, hosting the award winning glow-in-the-dark artist Tom Bacher, conducting a fitness program with Yoga Rebel Tara Stiles.
Another key brand element is the W Insider, who is the brand ambassador. The Insider is person who is in the know, a connecting point between the guests and the hotel. At W Maldives, the Insider fulfils special requests for guests, which may include notifying the F&B about special dietary requirements, arranging excursions, and gives them tips on where to go and what to do.
| | | |
| --- | --- | --- |
| Brand Promise | Whatever/Whenever | |
| Brand Elements | Happenings | Service Culture |
| Touchpoints | Music | W Insider |
| | Fashion | Can-do-attitude across all departments |
| | Design | |
W Maldives sets itself apart through its activities, which revolve around hip, youthful and vibrant acts that involve music, fashion and design. Its service culture is exemplified through the W Insider who acts as a connecting point between the hotel and its guests. He fulfils guests' special requests, embodying the Whatever/Whenever philosophy.
With these core elements, W is able to stand out from its peers in the Maldives' competitive luxury tourism market. They speak to the customer, and help the delivery of the hotel's brand promise to guests.
Branding needs to be done strategically; it involves inspiration but also methodical thinking. You must think beyond a logo and a name; while they are essential they are hardly the be all and end all of the process. To create a good brand, you have to bear in mind the processes outlined above. They will help differentiate yourself from the competition by exploiting gaps and, through a thorough understanding of your customer base, deliver a product that is in line with customer expectations. A good branding process will go a long way towards creating a profitable venture.
Source:
Sturman, M. C., Corgel, J. B., & Verma, R. (2011). The Cornell School of Hotel Administration on Hospitality: Cutting edge thinking and practice. Hoboken, NJ: Wiley.