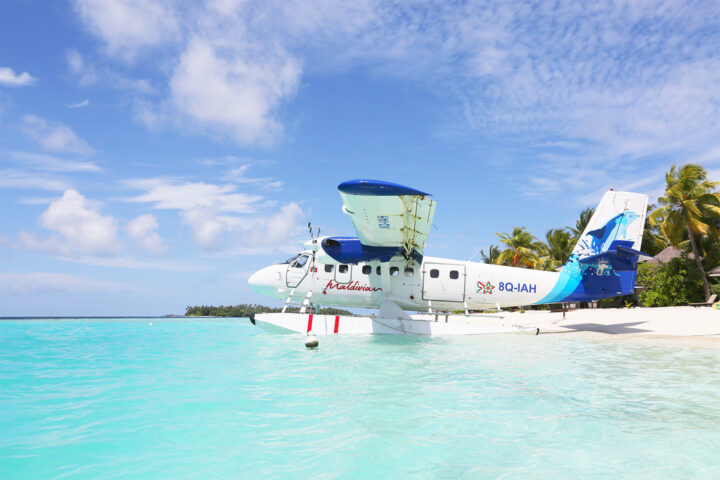 Bridging the Gap – Maldivian
National Carrier Maldivian is owned and operated by Island Aviation Services Ltd and is the leading domestic carrier of the country. Graduating from its role as the dominant domestic carrier in the country; Maldivian commenced its first regional operations on 25th January 2008 with the first flight to Trivandrum, India.
Today, Maldivian the nation's carrier operates daily frequent flights to 10 airports within the country. In addition to daily flights to Trivandrum, the flag carrier added 2 more destinations to its regional network by commencing flights to Chennai – India and Dhaka – Bangladesh in 2012.
In 2013 Maldivian further expanded its network by starting flights to Chongqing, China. A second destination in China – Wuhan was added to the Maldivian network in July 2014 followed by three additional points, Xi'an, Nanjing and Changsha in 2015. A sixth point, Chengdu was added to the network in July 2016. Maldivian further started operations to Bangkok effective 2015.
Hotelier Maldives sits down with the Managing Director of the airline Abdul Haris, to look back at the company's milestones and endeavours ahead.HM: Maldivian has come a long way since its establishment as a domestic airline. What are some of the most notable milestones for the company in the last few years?
IA: In the last few years we have started jet operations, expanded to China and have started float operations. We have increased our fleet fivefold.
HM: Your service portfolio is diverse with international, domestic and seaplane transportation, handling, maintenance and as well as cargo, travel service, and airport operations and management. What was the idea behind this diversification?
IA: To be competitive in a fast growing market in order to mitigate the business risks and to ensure better financial performance sustaining a competitive advantage.
HM: What sort of opportunities did you see in the market, and how do you plan to expand on it in the future?
IA: As the flag carrier of the country, there is plenty of scope for growth and we are constantly studying routes and avenues to better serve our customers and partners and specifically monitor the tourism development of the country.
HM: Can you briefly outline Maldivian's growth?
IA: When the company started, tourism was mostly concentrated in Male atoll and the vision of then chairman, now the President, Abdulla Yameen Abdul Gayoom's  was to establish a strong network that allows tourism to be dispersed to all parts of the country ensuring equivalent development of the nation. With this vision in mind our mission has been to bridge the gap between Male and the islands. Consequently, this has led to the economic development in rural areas in terms of employment opportunities, ease of medical tourism, agriculture and all other aspects of development. This connectivity has had a positive impact within the country and it is evident from the changes we see today. The company started with one Dornier aircraft and 1- Dash 8 aircraft. Today our fleet has grown to a mix of jet, propeller and float operations. We are the only company in the country who operates 03 types of aircrafts and this is a huge feat by itself.
HM: You began seaplane operations recently in a market dominated entirely by TMA. What was the rationale behind this? 
IA: As the national airline of the country it is natural that we too tap into this market as more players would bring in efficiency and growth.
HM: Who are the main clients for the seaplane segment of Maldivian? 
IA: Tourists, celebrities and those who are interested in photo flights.
HM: As a number of new resorts are under development, do you plan on expanding your seaplane operations? 
IA: As tourism and aviation goes hand in hand, to cater to the demands of the market we are always looking to expand both our wheel and seaplane operations
HM: What gives you an edge over your competition (seaplane)? 
IA: We are the flag carrier and have pioneered ourselves in diversifying our business to operate 3 types of aircrafts giving our customers flexibility to choose as per their travel needs.
HM: What other plans do you have for the future?
IA: With the ongoing development in the country and opening of new airport, there is scope for growth and as the national airline of the country we plan to spread our wings to all parts of the country.