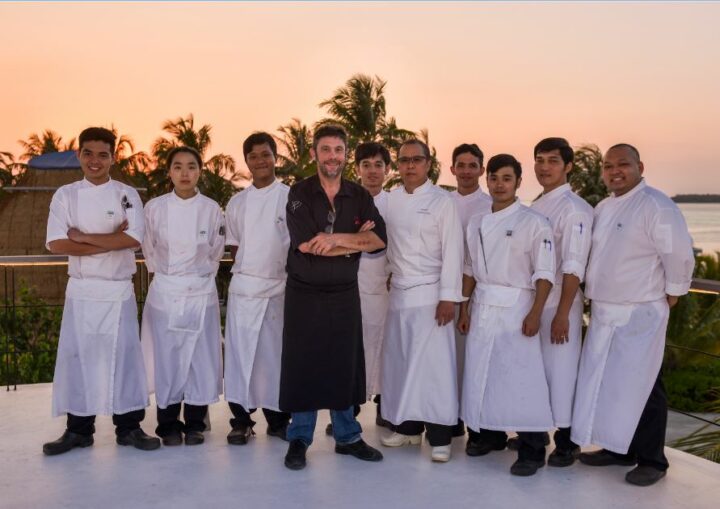 Bruno Menard weaves his Michelin magic at Holiday Inn Resort Kandooma Maldives
Legendary French chef Bruno Menard has hosted a "Wine and Dine" evening at Holiday Inn Resort Kandooma Maldives. The former executive chef of the three Michelin starred "L'Osier", chef Menard presented an exquisite six-course menu paired with a selection of wines by "Grape Expectations" at THE KITCHEN Restaurant – in a relaxed ambience, with sweeping ocean views and an interactive show kitchen.
Among other dishes, the six-course menu reflected his passion for Asian ingredients, such as Maldivian lobster with carrot and orange blossom water puree combined with curry madras and kaffir lime leaves, and Japanese wagyu tenderloin served with red wine onion chutney and smoked mustard and mole.
One of the highlights of his guest chef menu was foie gras with almond and ginger candy with cacao vinegar. The dish defied the usual expectations of goose liver, by being a light tasting dish with the cacao vinegar cutting through the richness. The dessert was 'Baba', soaked in a light lemon pepper syrup, lime, guava and pineapple. The saturation of citrus and spice syrups was topped with a beautiful glazing made with passion fruit.
Chef Menard has been in this part of the world (Asia) for over 20 years. "Those flavours are used in my cooking, so it's part of my everyday life," Menard says. He had spent his time in Japan, where he relocated from France in 1995 to open his own restaurant, Tatou Tokyo, before joining the Ritz-Carlton Osaka two years later. Menard then headed to the United States for a spell at The Dining Room in the Ritz-Carlton, Atlanta, for four years where he gained five stars and five diamonds. In 2005, Menard returned to Tokyo at L'Osier, a restaurant opened by cosmetics maker Shiseido in Tokyo.
Tattooed on the left forearm of chef Bruno Menard are three Michelin stars, an indelible souvenir of his culinary achievement at L'Osier. "It's a token of appreciation of one moment in my life," he says. "It's neither the beginning nor the ending. It's a non-ending process of learning, caring and sharing the experience with the younger generation. That's what we're here to do today."
For the past five years, Menard has been in Singapore where he started his own consultancy work, which has led to several interesting projects. In 2015, he created the Bocuse d'Or Academy Singapore and was nominated as President for Singapore by the Bocuse d'Or International Organization Committee (I.O.C.).
Joseph Della Gatta, General Manager of Holiday Inn Resort Kandooma Maldives said: "I am delighted that the first in our calendar of dining events designed to further underline Holiday Inn Resort Kandooma's deserved reputation for culinary excellence and creativity was hosted by Chef Menard. Not only were our guests blown away by the gourmet menu, it was an opportunity for our culinary team to learn from a truly inspirational master chef."
The Kitchen is Holiday Inn Resort Kandooma Maldives' signature restaurant creating an exquisite dining experience with the best view on the island. Diners at The Kitchen can choose to sit in elegant comfort looking out over Kandooma channel, out on the beach or engage the chefs in conversation by reserving a seat at one of the two main kitchen ranges. To learn more about Holiday Inn Resort Kandooma Maldives and its offers, please visit ihg.com/holidayinnresorts/hotels/us/en/south-male-atoll.