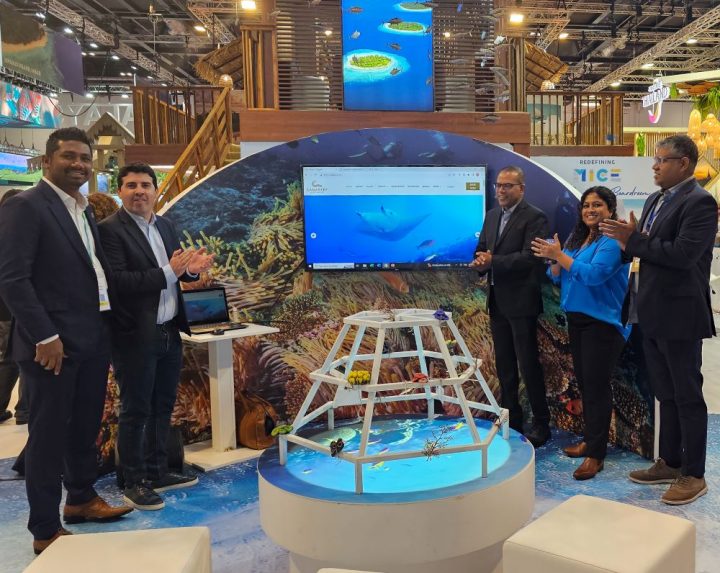 Canareef Resort Maldives unveils captivating new website at WTM London
Canareef Resort Maldives, renowned for its unique charm and breathtaking natural beauty, launched a revamped website on 8th November 2023 at WTM London. The website was launched by Mr. Maxime Rousseau, Purchasing Director of Voyage Privé, one of the key partners of the resort. This exciting upgrade was a testament to the resort's commitment to providing an enhanced online experience for its guests and potential visitors.
The new website offered a refreshing take on showcasing the resort's allure. With a focus on user-friendly navigation and stunning visuals, Canareef Resort aimed to create an immersive online journey, captivating travelers who appreciate the simple, unspoiled elegance of nature.
Key Highlights of the New Website Included:
Mesmerizing Visuals: The new website was a visual treat, allowing visitors to explore the resort's pristine beauty through vibrant images and captivating videos, vividly representing the natural splendor of this charming destination.
Seamless Navigation: Navigating the website became easier than ever. The intuitive layout ensured that visitors could find the information they needed effortlessly, from accommodation details to dining options and activities, all just a click away.
Informative Content: The website showcased detailed information on the numerous activities available, the exquisite dining options, and the resort's commitment to environmental sustainability.
Booking Made Simple: Booking a dream Maldivian getaway became just a few clicks away. The new website streamlined the booking process, allowing visitors to secure their stay quickly and easily.
Stay Connected: Visitors could stay updated with the latest news and offers through the Canareef blog, a valuable resource for travelers seeking the inside scoop on what was happening at the resort.
As Canareef Resort prepared to launch its upgraded website, it was clear that the focus was on providing visitors with an authentic, unpretentious, and immersive Maldivian experience. It wasn't about luxury; it was about being close to nature, embracing simplicity, and finding tranquility amidst the pristine blue waters and lush tropical surroundings.
Canareef Resort Maldives invited everyone to explore the new website and embark on a journey celebrating the untouched beauty of the Maldives. It promised to be an exciting event for travelers seeking an authentic Maldivian escape.
You are invited to explore the new Canareef Resort Maldives website for yourself simply browsing www.canareef.com.