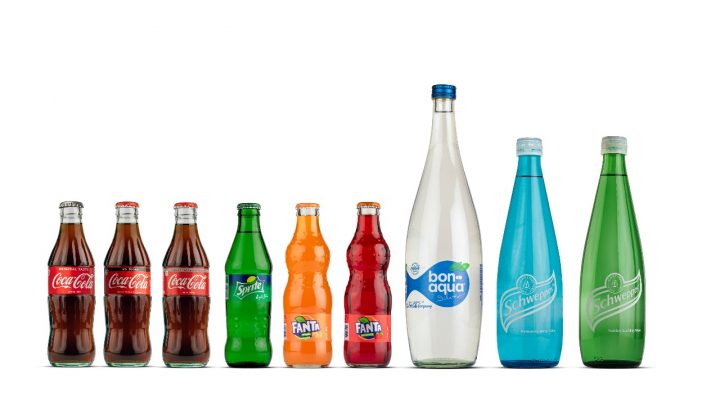 Bubbles in the Glass
One of the most famous shapes in the world is the iconic contour fluted lines of the Coca-Cola bottle. Renowned as a design classic and described by noted industrial designer, Raymond Loewy as the "perfect liquid wrapper," the bottle has been celebrated in art, music and advertising. When Andy Warhol wanted a shape to represent mass culture, he drew the bottle and when Volkswagen wanted to celebrate the shape of the Beatle, they compared the car to the bottle.
How did the bottle become so iconic?
It began with the desire to protect brand Coca-Cola and was a cooperative project between The Coca-Cola Company and its bottlers.
The Coca-Cola Company is present in almost every beverage category, and produces more than 500 brands in 200 countries including the Maldives. Over 700,000 people work in their system to help deliver those brands to its customers and consumers every day.
Today, the world we live in is surrounded by plastic. Everywhere we look, from bottles, bags to wrappers, we have become a society addicted to disposable plastic. The beverage industry is now accused of being one of the biggest contributors to this global problem as the plastic PET bottles used by the industry leak into the natural environment.
Plastics, and especially PET, can be viewed as something that is of a paradoxical nature. It is versatile, can be molded into any shape and color, is resistant to moisture, is lightweight and cheap and doesn't corrode. These are qualities that make it particularly suitable for hygienic food packaging and drove an enormous appetite for its use globally. However, these are also the very qualities that make it nearly impossible for nature to fully decompose items made of these materials.
As the environmental consequences of unmanaged plastic waste dawned on the general public there was a turning point in 2019, when we saw a global revolution against plastic pollution. Voices were raised, and a growing resistance started to be felt across the world. In 2019, at the UN Environmental Assembly in Nairobi, more than 170 countries pledged to take action on reducing the production and consumption of single use plastics. The Maldives, being a country highly sensitive to environmental changes, and where the backbone of the tourism industry is its unique natural beauty, has now joined this list as well, recently announcing the enactment of banning the import of single use plastics to the country from June 2021.
With the increasing public awareness on environmental issues and the ever-growing desire from the public to do something about plastic pollution, major corporations are now taking significant steps in answering this call. Coca-Cola, as a major stakeholder in the chain, has been in the forefront of this movement. Sustainability has been a fundamental component of the company's philosophies for many years, addressing a wide spectrum of issues, from water replenishment, gender equality, human and workplace ethics, environmental protection, sustainable agriculture and sustainable packaging.
When the company first introduced its iconic "contour" glass bottle design in 1915 this brought forth a distinct identity that set this bubbly black drink apart from its competitors and quickly became a design classic that is still with us today. A hundred years into the future, it is gaining even greater popularity in modern society as today's generation sees glass bottles as a means to addressing environmental concerns sustainably due to their reusability and recyclability.
Today, the Male`Aerated Water Company (MAWC), the manufacturer of Coca-Cola in the Maldives, has expanded its glass bottle production facility and has launched all their products in glass bottles to address the problem of plastic pollution.
With an increased capacity for glass bottling, the company is now able to offer its glass range to all customers, including the resort segment, which is by far the biggest consumer in the market. They are also encouraging businesses to opt for glass over the PET bottles and have initiated an incentive scheme providing financial benefits for each bottle returned. The company has all its main brands – Coca-Cola, Sprite, Fanta, Schweppes Tonic, Bitter Lemon & Soda, and its Schweppes Premium Still and Sparkling water available in 250ml glass bottles today, and will be re-launching its popular Bonaqua brand in both 1.5L and 330ml glass bottles in March.
At the same time the company has come together with other local manufactures and NGOs to create systems for collecting used PET bottles for recycling and generate awareness amongst the general public on the need to responsibly segregate their waste for sustainable disposal and recycling. Milind Derasari, the General Manager of Operations at MAWC emphasized the company's commitment to supporting the local communities and stakeholders in every way possible to embrace a more responsible and environmentally sustainable business model. "The problem is not with PET in its own right, it is with how we handle the bottles after we have finished using them. It is everyone's personal responsibility to ensure that their waste is taken care of in such a way that is not harmful to the environment. As a company we are committed to setting up infrastructure and educating people so that all our PET bottles can be collected and recycled."
One fundamental question still exists on whether the shift will be possible and that is society itself. How willing is the community as a whole to adapt and embrace change? Quite often, there is a premium in terms of cost and the matter of practicality for enhanced products that carry "eco-optimized" packaging. How many of us are willing to spend the extra dollar? And what would it take to narrow the gap between "intention" and "action"? Sure, a lot of us talk about doing our part by joining the green revolution and supporting brands that embrace sustainability. But how many of us are actually doing it? It will be a long and difficult road ahead. It will take strategies and tactics that would invoke consumer behavioral changes to bridge this gap. Through hyper tailored awareness campaigns to strengthened education systems, this is going to be a long game, but one that will certainly be worthwhile.