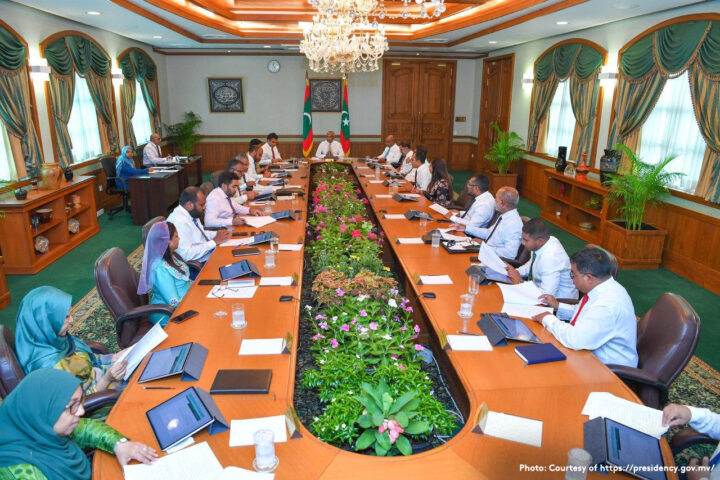 Cabinet deliberates on additional measures to tackle COVID-19
President Ibrahim Mohamed Solih has met with his cabinet on 13 April 2020, Monday, at his official residence Mulee'aage to deliberate on the response and recovery measures implemented by the government of the Maldives with regard to the global pandemic COVID-19.
According to the President's official website, the discussions centred on the interventions in place to contain the spread of the virus in the Maldives. Additionally, the cabinet also discussed the socio-economic impacts of the global pandemic on the Maldives and the steps taken by the government in order to build Maldives' resilience and minimize projected losses.
The efforts to contain and curb the spread of coronavirus in the Maldives has been coordinated by theHealth Protection Agency (HPA) and the National Disaster Management Authority (NDMA).
Some of the steps taken by the Maldives' government in response to COVID-19
The Minister of Health declared a State of Public Health Emergency for a period of 30 days (the period was later extended to 30th April 2020).
The government bans use of all public parks and grounds in Male', Hulhumale and Villimale until further notice.
Except for tourists coming to stay at resorts (guest houses and city hotels are not allowed to check-in travellers), all other passengers arriving to the Maldives by air are required to undergo a 14 day mandatory quarantine at a facility designated by the government.
Temporary suspension on issuing on-arrival visa for all passengers arriving to the Maldives by air and sea, except for individuals with special permission granted by the government of Maldives (effective from 27th March 2020 onwards).
Government announces MVR 2.5 billion Economic Recovery Package; which will include;

Arrangements to provide relief for loans taken from banks, and secure working capital funding for businesses
Principal and interest amount of loan repayments to BML to be deferred by 6 months to businesses and people who have been negatively impacted as a direct result of COVID-19
To reduce price of oil sold by State Trading Organisation (STO)
20% discount on demurrage charges on the goods cleared from Male' Commercial Harbour and Hulhumale' Terminal
50% discount on demurrage charges on the goods cleared from Kulhudhuffushi Port and Hithadhoo Port
50% discount on bonded warehouse license fee
Ban on all yachts, safari vessels and other similar vessels from coming to the Maldives and berthing at any island in the Maldives effective from 19 March 2020 onwards until further notice
All transportation from resorts to local islands and vice versa and from one resort to another suspended for a 10 day period commencing from 2100 18th March 2020 (transfer of tourists to airport, accompanying staff, suppliers of goods to resorts were not included in this but their movements to be limited to; staff accompany tourists to the airport to return to the resort and a record of this to be maintained, suppliers of goods can do so only up to the jetty and not allowed to come on to the island).