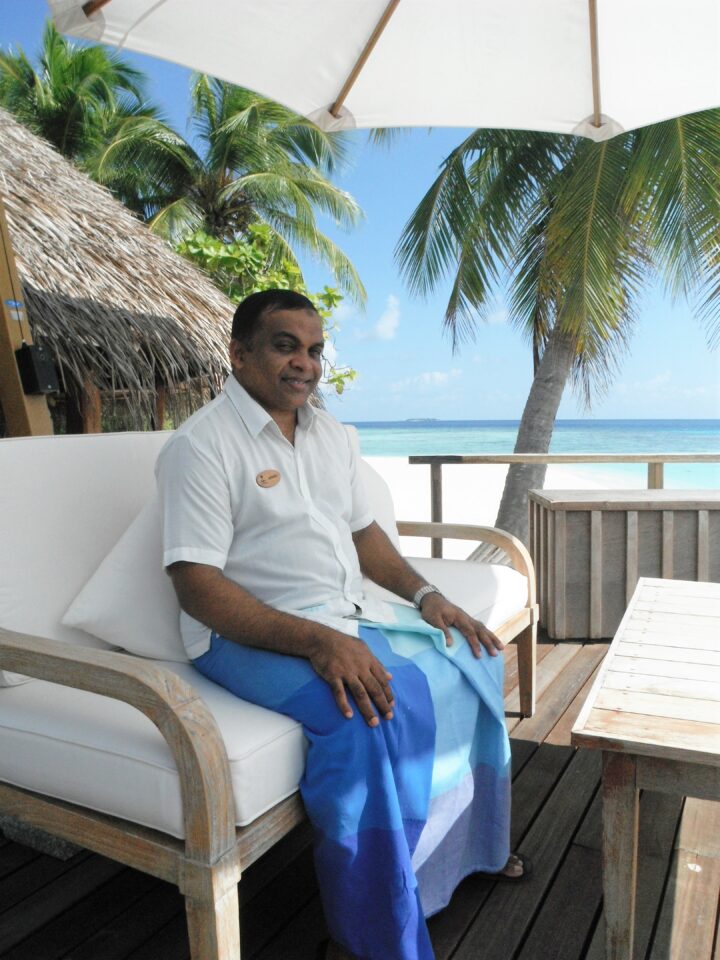 Careers: Ahmed Hussain – Restaurant Supervisor at Makunudu Island
Ahmed Hussain hails from Fuahmulak and has spent most of his life in hospitality. 2016 marks the 34th year since he joined the industry, yet he seems as eager to carry on as a man half his age.
Ahmed's schooling was completed in the early 80's on his native island. Tourism was expanding its footprint in the country and a lot of young people were drawn to this new vocation. "I was 17, fresh out of school and looking for a job," Ahmed recalls. "Working in the tourism sector seemed attractive, especially for a single young man." Soon he found work at Biyadhoo Resort as a pantry boy.
At Biyadhoo Ahmed began to learn the tricks of the trade from the waiters. He picked up languages and techniques and helped the wait-staff. "Back then I earned a salary of 300 Rufiyaa a month," Ahmed laughs. "It may not sound like much but I worked hard for it, and I was constantly looking to improve myself to succeed in this line of work."
Within a year he transferred to Hembadhoo Resort, this time as a waiter, and stayed with the resort for several years. Then, he joined the team at Giraavaru, again as a waiter. "They offered a more attractive salary and better accommodation, hence the switch," Ahmed explains.
In the late 80's Makunudu Island Resort announced that they were hiring and Ahmed left Giraavaru. "Makunudu was known as a place that was a bit classy, appealing to a higher segment of the market," says Ahmed. "So I considered it a good move." He joined as a waiter and by the time the management changed in 1989, Ahmed was already head-waiter.
He held the post for six years, and during that time, he endeared himself to guests and the management received positive feedback about his performance. He spent six years as a head waiter and was finally made Restaurant Supervisor. It's a title he still holds at Makunudu Island, where he has worked for over 20 years. "The management here is excellent," he says. "Especially Mr. Shabeer, and that was a tremendous incentive to stay put."
Ahmed's greatest achievement, he believes, is the opportunity to work with and train young people over the years, several of whom hold high posts in the hospitality industry today. He wants more youth to be involved in the field, which he believes is an immensely rewarding one.