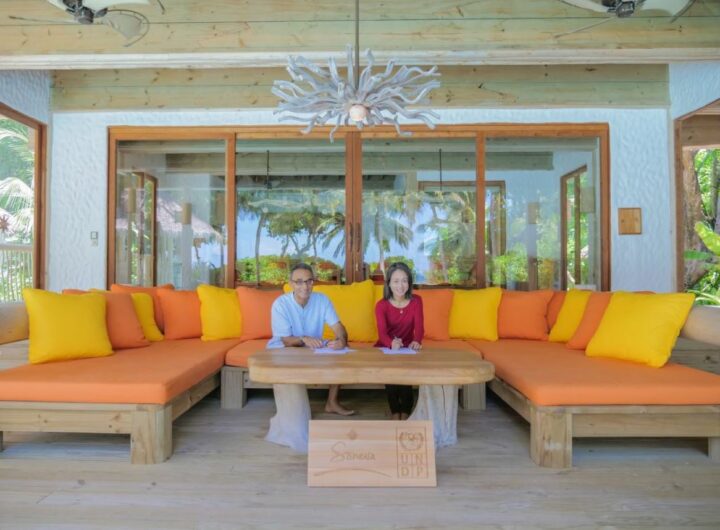 Soneva, UNDP partner to collaborate on UN Sustainable Development Goals
Soneva has entered an official partnership with the United Nations Development Programme (UNDP)  to increase collaboration on events and projects conforming to the objectives of the United Nations Sustainable Development Goals (SDGs). The partnership was signed at Soneva Fushi by Sonu Shivdasani, founder and CEO of Soneva, and Shoko Noda, UN Resident Coordinator and UNDP Resident Representative to the Maldives.
"I am thrilled to formalise our relationship with the UNDP. For many years, Soneva has strived to break down traditional barriers and encourage greater partnership and collaboration between the business sector with communities and environmental organisations," said Sonu, commenting on the partnership.
"We've altered our business model to ensure that we consistently support our local communities and the environment, and we are very proud of our results. This partnership with the UNDP will allow us to work more effectively to improve environmental and social issues from waste management to female empowerment, access to clean water to the protection of our oceans, and much more. We are excited to work with and learn from the UNDP and to share our knowledge and experiences with our new partners. The world will only get better if individuals, businesses, and governments work together."
Commenting on the new partnership, Shoko Noda said: "At UNDP, we believe that creating new partnerships between local communities and the private sector is the stepping stone for development.
"Through the Make My Island platform we hope to create stronger bonds with private sector companies who are committed towards sustainable development. I look forward to our partnership with Soneva Resorts in addressing local challenges with innovative solutions."
In recent years, Soneva has conducted numerous programmes to alleviate the impact of climate change and to assist local communities with various issues. Soneva Ocean Stewards (SOS) programme has taught hundreds of children how to swim and encourages local communities to appreciate the fragile marine ecosystem surrounding them.
Likewise, the Soneva Foundation's Myanmar Stove's Campaign has provided around 13,000 clean-burning cooking stoves to families in Myanmar, preventing over half a million tonnes of CO2 from entering the atmosphere and providing 60,000 people with access to a safer cooking method.
Soneva is a privately-owned group of companies with over 20 years of operational success in the development of sustainable luxury resorts and private residences. They own and operate all their properties, ensuring the consistency of the outstanding standard which Soneva is known for.
For more information about Soneva, please visit soneva.com, and to learn more about the UNDP in Maldives, please visit mv.undp.org.