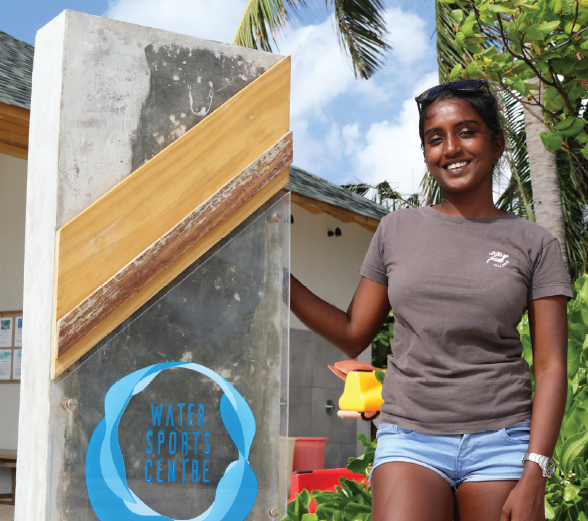 Careers: Masha Ahmed, Excursions Supervisor, EuroDivers
The sea is not something alien to Maldivians, in fact, it has been the way of life for many many generations. But, the women making a living by working at sea or even close to the sea every day is something you seldom see.
Masha Ahmed is one of the handful of Maldivian women who's ventured to making a living of the adventurous life in hospitality. After a morning snorkel, Masha sat down with me to give a lil' bit of insight to her story – an inspirational one for girls who has their eyes on the deep blue horizon.
"I always knew I wanted to work in hospitality. It never appealed to me to sit in front of a computer in an office," Masha noted with enthusiasm. This young female employee of EuroDivers noted that adventure was always in her blood and knew it was what she wanted to do as she pondered on a career after school.
Masha is a pro in water. She conducts daily excursions with the EuroDivers team, and takes guests out on snorkels and sea excursions a couple of times a day. But she wasn't this friendly in water before. "I started at Kurumba Maldives, as a kid's coordinator at the kid's club. While I was working there, since it's under the recreations department, I started going on snorkeling excursions. I was really shy of the water at first, but then, I did a little of teaching to kids, teaching them how to snorkel and it all kicked off into this.""I always knew I wanted to be a dive instructor, and that's where I see myself in the future," she said.
For a Maldivian woman, working away from home, far from the comfort and watchful eye of their family keeps a lot of women from seeking careers in hospitality. Luckily for Masha, her parents were real supportive. "My parents were really happy I finally had a job after school. I had been slacking off since finishing school."After her employment with Kurumba Maldives, Masha got the opportunity to work with EuroDivers to be an excursions supervisor.  "I will always be very thankful for everyone in Kurumba, I got a lot of experience and opportunities. When I started I was very shy in the water. But Since I started in Kurumba, I started swimming, and snorkeling and diving and I've come a long way since then, to someone who was afraid of the water to someone who is now in the sea every day."
For Masha, working in a male-dominated industry wasn't a huge obstacle. The welcome and support she received into the industry is something she is very appreciative of. But for her, the greatest challenge was to make an impression in a male-dominated industry.
"I've not had a major challenge and struggle, but at times you have to put in double the effort to make your voice heard around all the male' coworkers as you are all trying to achieve the same goal and be the best amongst the team," she said.
"Euro Divers has been really helpful, and very supportive and even as a female staff, I don't feel discriminated or left out." In her opinion, what keeps women away from the industry is the lack of awareness and how society has perceived it throughout.
She also says it maybe because women tend to pursue more stereotypically feminine careers and tend to work indoors. "I want to see more women go into the industry, it's about more awareness," she says.
"If you put your head into it, you can do it no matter how old or who you are. If you put your head into it, you will be supported as this is a very team oriented industry where everyone is really helpful to each other."
Masha aspires to be a dive instructor, and explore the world not being limited to a single destination. But, for Masha, her biggest career goal is to be someone young girls are inspired by. She says, "As there are only few Maldivian women doing what I do, when girls see me I want them to be inspired."