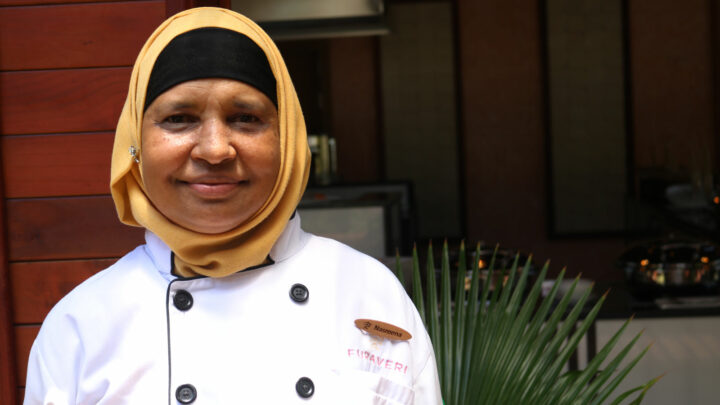 Careers: Nasreena Ali – Demi Chef at Furaveri Island Resort & Spa
Nasreena Ali has spent a great part of her life in pursuit of the culinary arts. She even ran a Male-based takeaway business in the 90s through to late 2000s though she's virtually unheard of in town. Today she's the Demi Chef at Furaveri Island Resort & Spa, a newly opened resort in Raa Atoll. Hotelier Maldives sits down with her to find out more about her, to discover why she does what she does, the highpoints of her career, and whether a woman needs to sacrifice family to become successful.
Can you tell me a bit about your early life? Did you have an interest in cooking back then?
Yes, I did. I remember wanting to cook at a very young age and I was very much into making local desserts back then. As for my early life, my mother died soon after I was born, and I was raised by my sister.
I got married in 1988. I was asked by the President's Office to work for them, to repay my bond, but my father-in-law said he'd pay off the bond so I could be a housewife. I never wanted that.
When did you seriously consider a career as a chef?
It was right around the time my husband finished studies in the UK. We returned to the Maldives, there were three of us then, we had a son. I soon went to Sri Lanka to get a hotel school degree, and I also completed a diploma in cake decorating. I knew by then that that's was what I wanted to do for a living. And I'm not the kind of woman who'd only take what was given to me, you know. I wanted to make my own living. So I started a takeaway business, around '92. I cooked and with the aid of some helpers I ran the business till I left for New Zealand in 2008 with my husband.
You've worked abroad in New Zealand. What was that like? How does it compare to working here in the Maldives?
In New Zealand, I started out at a fish and chips shop in a food court. A couple of months later I started working for a five-star hotel, CGP, in Auckland. Then I landed a job at a major catering firm, the Compass Group through trademe.co.nz (a popular New Zealand website similar to eBay). I really liked how they treated me, they wouldn't make a big deal if I made a mistake, I felt loved. It was while I was with them that I got the chance to cater to U2 and AC/DC and Linkin Park. I was able to meet Bono face to face. Definitely an exciting period of my life. Home is nice as well. Especially here, you're looked after, you feel like part of a family. I've got a very good team here and I'm especially grateful to Nicholas, our GM, and my colleagues chefs Riyaz and Jamal.
Can you talk about your current position? Is it fulfilling? Do you think your past experience comes into play here?
I'm the demi chef, and I specialise in a la carte. I make special orders for in room dining. I also deal with special requests from guests, for example guests with allergies. I work at the live counter at the buffet. I had a man once who wanted to eat classic Maldivian food like handulu bondibai (rice pudding), kirugarudhiya (a yellow curry), kandu kukulhu (a type of spiced fish). I made them to the best of my ability and he was overjoyed. It's incredible when you get appreciated like that. So yes, it's very fulfilling.
I'd say my previous experience has helped me a lot, especially in dealing with guests. I had to deal with many kinds of people over the years so that's been a big help in preparing me for this kind of work where you have to interact with all kinds of people on a daily basis.
What do you consider the highlights of your career?
I won bronze, silver and gold medals at a few Hotel Asia Expos. I won a gold medal for cake dressing at a New Zealand culinary exhibition. I was also part of the team that cooked for the Rugby World Cup held in New Zealand in 2011. I've also cooked for invitees at the Berlin Trade Fair last year and this year.
Do you think a woman needs to make certain sacrifices if she wants to have a career, especially in hospitality?
I don't think so. Things have changed now, and the resorts are always looking for female staff and they're treated very well. They can even be with family after accumulating leave. It's not that hard anymore.
Do you have any advice to women who want to pursue a career in hospitality?
I'd say work hard, nothing good ever comes easily. Hospitality is a great field, especially for educated young women. There's a future for young women in this industry.