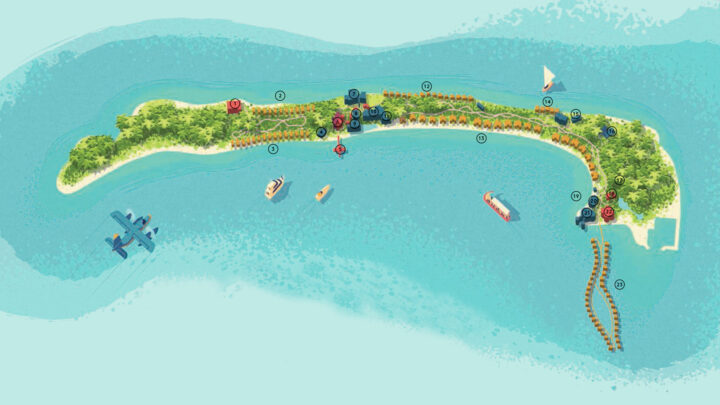 Kandima Maldives to open in December
Hospitality and lifestyle brand, Pulse Hotels & Resorts has announced the opening of its new property, Kandima Maldives, in December.
The contemporary lifestyle resort in Dhaalu atoll will cater for guests of all ages; couples, families and groups of friends.
Kandima offers 274 stylish studios and villas, with eleven room categories to choose from. The rooms are located at different points along the 3km long island, making the accommodation suitable for both honeymooners seeking privacy and families looking for activities. All the rooms come with a private terrace offering great views.
The two-storey villas named Beach and Sky Studio, are situated along the main beach and comes with their own private terrace or balcony. Guests can choose between a Sky or a Beach studio from 138 studios.
The Family Sky Studio offers 6 interconnecting sky studios with a separate living room, and can accommodate up to 8 people.
The island's 30 spacious Beach Villas with Jacuzzi comes with their own private deck, Jacuzzi, and endless ocean views.
The Beach Pool Villas offer a private pool, Jacuzzi and private deck.
Kandima's Aqua Villas are over-water with a private deck, offering endless views of the beautiful Indian Ocean. Guests can opt for an Aqua Villa with Jacuzzi or an Aqua Pool Villa.
The island also offers a large selection of food and beverage outlets, offering Chinese, Japanese, Mediterranean, and authentic Maldivian cuisine with ten restaurants and bars to choose from.
The island also boasts the longest pool in the Maldives, tennis courts, an art studio, marine biology centre, kids club, games room, a library, gym, yoga studio and spa.
An endless array of activities and events are  also on offer, including  watersports, diving or snorkelling near the house reef, yoga, Zumba, bicycles, beach volleyball, petanque, arts and crafts lessons to name a few.
Established in 2015, Pulse Hotels & Resorts is owned by Deep Blue Private Limited, an investment company specialising in tourist resorts and other tourism related businesses in the Maldives. Founded in 2005 and with a proven track record of delivering innovative and complex development projects in the Maldives, Deep Blue Private Limited brings decades of experience, expertise, insights, established values and a solid financial base to Pulse Hotels & Resorts.
For more information, visit www.kandima.com