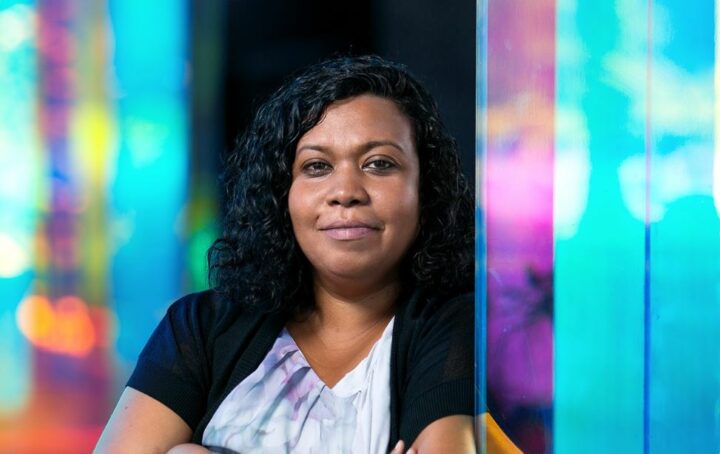 Careers: Rifaa Saeed, Director of Sales and Marketing at Kandima Maldives.
Growing up, Rifaa Saeed didn't really consider getting into hospitality industry. That all changed when, in the 10th grade, she won a chance to go to Rangali Island Resort in a raffles draw. Seeing the amazing atmosphere, hospitality of the staff and most importantly the attention given to the guests by Maldivian staff convinced her that this is what she wanted to do."All I was thinking about was getting to know them and their stories if I chose this as a career. However, it didn't work out well in the beginning and I ended up doing my diploma in IT and learning how to do basic software programming."
The call to join the hospitality industry stayed with her since then."At that time, it was considered a taboo for women to work in the industry and my mom wasn't really in favour of it. It was those early days when tourism was just starting off and there were all these opportunities for Maldivians to be part of it," she said. "But as this was the 'unknown' for a lot of Maldivians and because of the speculations that followed, our culture wasn't ready for it, especially not for women. Our parents didn't really understand the whole thing behind it – it was just about the fear of sending their girls off to an island and to the 'unknown'."
Rifaa comes from a large family of seven sisters and one brother. Her mother, Rifaa says is one her biggest supporters now.Rifaa's foray into the hospitality industry began when, pushed by her husband, she applied for a vacancy for Sales and HR coordinator at Huvafenfushi during the pre-opening phase. To her surprise, she got the job and went on to learn the ins and outs of sales and marketing.She said that if her husband didn't encourage and back her up in every single step, she wouldn't have been able to make it to where she is now. "His dreams for me was bigger than my dream for myself"
After a brief stint, Rifaa left Huvafenfushi wanting to learn more about the industry. So when she had an opportunity to join Kerzner International Limited in the project of building One & Only Reethi Rah, she accepted immediately. She started off as Project Coordinator and was later promoted to Site Office Manager, acting as a liaison between Kerzner and the construction companies while overlooking the site to see whether each area was done as per the designs.
After a year at One & Only, Rifaa left for W Maldives. "Although Huvafenfushi was the stepping stone of my career, W Maldives gave me my wings," she said. She joined W Maldives as an Office Coordinator for their pre-opening. She notes the support she received from then General Manager, Damon Page. "He was the one who encouraged me to go back to Sales and Marketing and promoted me as the Business Development Manager. It is the constant push and support I received from him that made me who I am today."Fast-forward one year and Rifaa was promoted to Leisure Sales Manager. She started working under Director of Sales and Marketing; Sarah Bisa. "Working with Sarah, really evolved me into a confident person. She is the most patient, humble and supportive person I have worked with," she notes."One thing I always appreciated at that time was when she started asking for my opinion during the first few months she joined. That belief, trust and her way of working together as a team where every one of us had to play a part in meeting mutual sales goals is something that really inspired me and I try to adapt all I had learnt from her to my role even now. When Rifaa left W Maldives, she was the Senior Sales Manager for both W and Sheraton Maldives.
After a brief personal break, she joined Velassaru to further advance her career assisting with the resort's rebranding as Sales Manager. There, Rifaa assisted the sales team in developing new accounts and managing the existing ones. She was then offered the Sales Manager position at Dusit Thani. After five years in Dusit Thani, Rifaa started to find it difficult to balance her work and personal life. She left the resort deciding to leave her career and stay home. "In the end, as my career was one of my passions, I couldn't stay away from it, so I started working again," she said. Rifaa joined Kandima as Deputy Director of Sales and Marketing and was soon promoted and is now the Director of Sales and Marketing.
Rifaa notes that she did not face any challenges being a woman in the hospitality industry. "I was lucky enough to have worked with mentors who saw me and my potential not based on the gender but the capabilities I had," she said. "I did, however, face slight challenges being a Maldivian, especially when I worked in international brands where a lot of times priority for promotion are given to expats who had worked within the brand for a long time," she added.
Rifaa says her whole philosophy and method of leading her team is based on bits and pieces she picked up and learnt from her mentors through the years. As her personality evolved and grew around her career, Rifaa says she is lucky to now be in a position to contribute the same to her colleagues. "I truly believe in the saying that you are as strong as your team. I don't think we would be able to get the best results by dictating our authority as a leader. Sometimes there are ideas and things that we can still learn from our juniors."When asked about her future plans and goals, Rifaa said, "My future goal and aspiration lies in the future of my daughter now. I want her to grow up to be independent and most importantly happy.
"In my career, I want to be in a corporate position managing Sales and Marketing for multiple resorts."I also want to go into training to develop more locals to further grow in their careers. As for Kandima Maldives, I think we are on the right track in building a brand that will be a trend setter as well as a game changer. Kandima's mission to contribute to the local community by developing local talents through projects such as "Kula" which is focused on creating a platform for young artist to develop as well as showcase their talent internationally is really inspiring. Moving forward, we just need to work as a team to meet the financial goals and make a path for the team to develop along the way. "