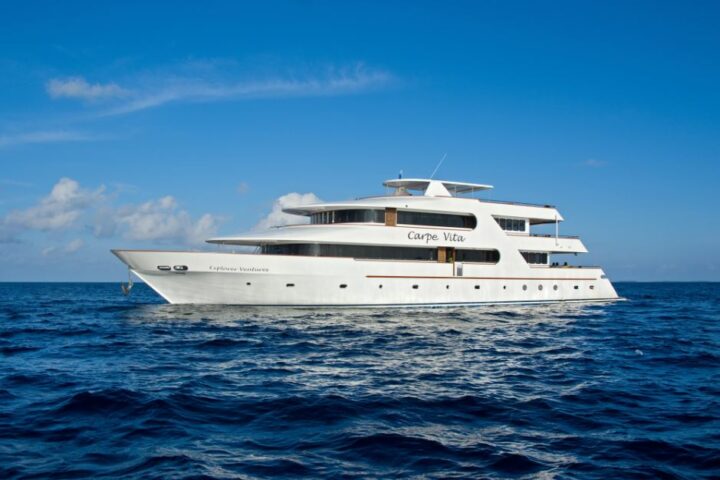 Carpe Diem Maldives launches second "Dive with a Purpose" Marine Expedition
Carpe Diem Maldives Pvt. Ltd. has announced the second "Dive with a Purpose" marine conservation expedition in collaboration with Coral Reef CPR. From September 10 to17, 2017, up to 20 recreational divers can join Chief Scientist Dr. Andrew Bruckner and his team of researchers as they conduct a Crown of Thorns Starfish (COTS) removal, quantitative reef surveys, and data analysis while staying on board our Carpe Vita liveaboard cruise, it said.
"We are thrilled to be part of this crucial marine environment research programme, conducting hands-on conservation to rescue and protect the reefs in The Maldives," says Agnes Van Linden, Director of Marketing and Operations, furthering the research support Carpe Diem Maldives began with Coral Reef CPR last year.
"Our guests, our crew and I thoroughly enjoy working with Dr. Bruckner and his team. His extensive knowledge makes each dive all the more rewarding while at the same time acting on our responsibility to take care of our reefs."
The first collaboration between Carpe Diem Maldives safari cruises and Coral Reef CPR saw a dedicated crown of thorns starfish removal in May 2017, involving seventeen recreational divers from nine countries. Over a one-week period the Carpe Diem safari vessel collected a total of 900 COTS from 15 reefs on North Malé and South Malé Atolls. The team was able to remove all of the starfish seen on twelve of the reefs, while three reefs with larger outbreaks require additional return clean-up efforts to fully eradicate these predatory starfish.
To join September's second dedicated "Dive with a Purpose" trip with Carpe Diem Maldives and Coral Reef CPR, divers must have an Advanced PADI qualification, excellent buoyancy control and ideally a minimum of 70 dives to assist with COTS removal. Priced at just US$700 per person for the week, the trip in September includes; seven nights aboard Carpe Vita, three meals daily, plus between-dive snacks, and up to four dives daily (except for on the day of arrival and day before departure) including one or two night dives.
It also includes the use of tanks, weights and belts, and non-alcoholic beverages, airport transfers, workshops on marine ecology, coral reef importance, marine life and interactions with the on-board marine biologists, it said.
Divers with an avid marine conservation interest should not miss out on this unique opportunity to work alongside expert marine biologists. For further information please visit carpediemmaldives.com/carpe-vita-rates-schedules.