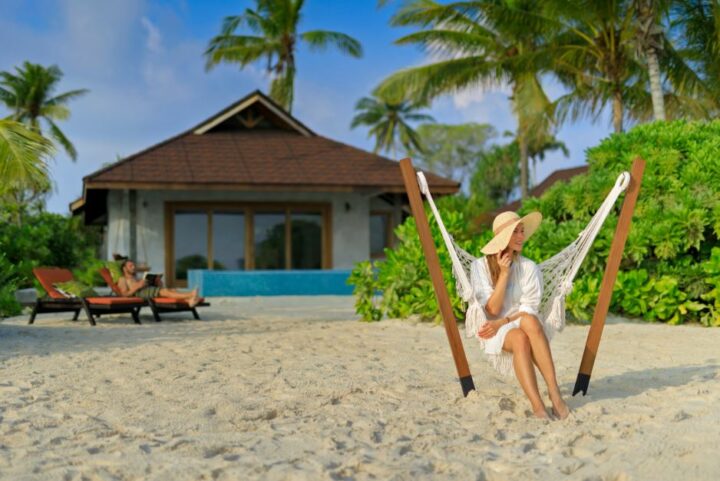 Carpe Diem Beach Resort & Spa set to open June 2018
Since 2008, the award-winning hospitality group Carpe Diem Maldives Pvt Ltd has been growing its fleet of luxury dive and surf liveaboard cruises, sharing the beauty of the Maldivian waters with adventurous travellers. Adding to the existing three high-end liveaboard cruise vessels, the private island Carpe Diem Beach Resort & Spa is scheduled to open June 2018 in Raa Atoll, northern Maldives. With the emphasis on an activity-driven atmosphere, the resort's tagline 'Social by Nature' reflects an easy-going travellers' finesse against the backdrop of a healthy house reef and a significantly large lagoon.
Each of the 115 private pool villas at Carpe Diem Beach Resort & Spa has sliding doors leading on to a large deck with a shaded seating area and a sun-drenched plunge pool. Ten accommodation choices have been designed with a modern and social traveller in mind to offer a vibrant addition to this revered Indian Ocean destination.
Introducing a new room category to the Maldives market, five Over Water Pool Villas are dedicated to solo travellers looking to share twin bed accommodation, omitting the need for a single supplement. A full-board stay for all guests at Carpe Diem Beach Resort & Spa includes house wines and beer, as well as access to an inflatable water park in the private lagoon.Bespoke and signature dining choices, a contemporary Spa, and an overwater tapas and sunset club with a transparent dance floor combine with a myriad water sports experiences to create a truly unique, forward-thinking resort, according to a statement by Carpe Diem Maldives."From our first boat a decade ago, Carpe Diem Maldives has grown to become a collection of three unique liveaboard dive and surf cruises, each catering for 20-22 guests. We are the only liveaboard operator in the Maldives to offer diving adventures with a team of all-Maldivian Dive Masters," says Amir Mansoor, the managing director of Carpe Diem Maldives, commenting on the expansion.
"With the expansion into resorts, Carpe Diem Maldives becomes the only hospitality brand in the country to offer year-round liveaboard cruises that can be combined with a resort stay. This vibrant new offering and collection of activities bring a fresh approach to holidays, one that also meets the changing traveller demographics to this popular destination."Renowned for delivering a sense of discovery, adventure and excellence, Carpe Diem Cruises have established a solid relationship over the years with the top echelons of the diving & leisure travel industry, says the operator."Our guests now have a wider array of choices – go diving or surfing on a luxury cruise for a few days, or stay in one place with a naturally soft, white-sand beach, spa and a multitude of dining options where like-minded travellers meet… Even better, do both!" explains Agnes van Linden, Assistant Managing Director at Carpe Diem Maldives."We've taken the knowledge and experience gathered over the last ten years, listening to our guests' preferences, observing the changing demands from global travellers, to create a resort with a social and vibrant personality."
Located on the cusp where Raa and Baa Atolls meet, the area is rich in marine diversity; Baa Atoll, renown for the annual Manta Ray migration from May to November in Hanifaru UNESCO Marine Biosphere Reserve, is just 15 minutes away by speedboat.The home base of Raa Atoll is teeming with wildlife and a survey in June this year by US-based marine organisation Coral Reef CPR identified an extraordinary array of rare coral species, some of which are 500-1000 years old, attracting over 215 fish species to the house reef at Carpe Diem Beach Resort & Spa.The resort's General Manager, Socrates Alvaro comments:  "At Carpe Diem Beach Resort & Spa the emphasis is on a social holiday where like-minded travellers meet.
"Today's holidaymakers are seeking a more engaging environment paired with adventure and excitement, rather than a romance and honeymoon emphasis, and Carpe Diem Maldives is set to deliver on that rising market demand. With new budget airline routes into Male, and the new travel trends to this destination, it means the Maldives is now more accessible to a much wider demographic than previously, and that's very exciting."
Carpe Diem Beach Resort & Spa is a 40-minute seaplane ride from Velana International Airport, or a 20-minute flight to Dharavandhoo Domestic Airport in Baa Atoll combined with a 25-minute speedboat ride. The resort is already accepting bookings for stays from June 1, 2018, onwards. For more information, please visit carpediemmaldives.com/carpe-diem-beach-resort-spa.