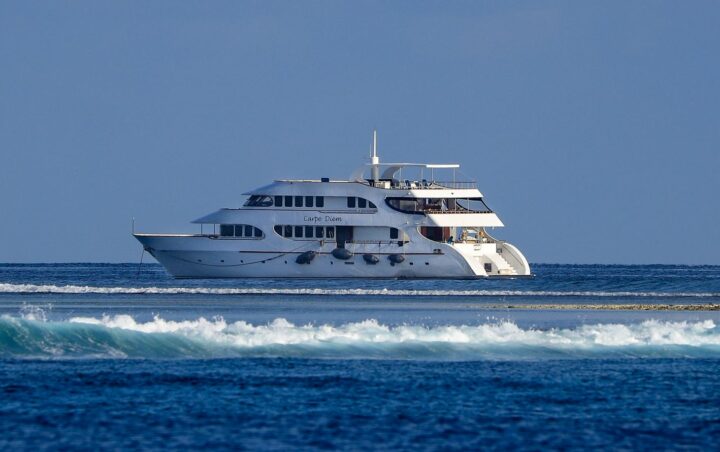 Carpe Diem Maldives voted sixth in the Top 10 Dive Liveaboards in the World
Carpe Diem Maldives has been ranked sixth place in the Top 10 Dive Liveaboards in the World by Dive Magazine. All three liveaboard vessels in the Carpe Diem Cruises fleet were shortlisted in the final 25 at this year's DEMA dive travel fair held in the U.S.A. Carpe Diem, Carpe Diem Maldives' first boat, was placed highest in the sixth position, according to a statement.
The awards are endorsed by readers and general public voting, and as the only Maldives liveaboard operator to receive the accolade for two consecutive years, Carpe Diem Cruises has become known as the 'must-go-to' dive safari operator for any novice or serious diver planning on visiting the Maldives.
Since 2008, Carpe Diem Maldives Pvt. Ltd. has been growing to create dive and surf experiences with the mission of experiencing the excitement and anticipation of the Maldivian waters.  From the first boat, Carpe Diem, the fleet has grown to become a collection of three luxury liveaboard dive and surf cruises, serviced by three teams of passionately dedicated crew. Carpe Diem Cruises are the only liveaboard operator in the Maldives to offer diving adventures with all-Maldivian Dive Masters.
"When we began our dive safaris with the Carpe Diem vessel in 2008, this sector of tourism was still quite young and undeveloped in this destination," said Amir Mansoor, Managing Director of Carpe Diem Maldives. "I am delighted that our boats have been acknowledged with this global award for two consecutive years, giving recognition also to the local boat building industry. Carpe Diem, Carpe Vita and Carpe Novo were all designed and built at our shipyard on Innamaadhoo Island in Raa Atoll, with the specific intention of catering to the growing diving and surfing tourism sectors."
Agnes van Linden, Assistant Managing Director of Carpe Diem Maldives has overseen and developed Carpe Diem Cruises over the last 10 years. She said: "From the very beginning, we believed great scuba diving, wave surfing and tailor-made trips needn't cost a fortune and should always be respectful of our natural environment. The friendly service and expertise of our crew is a key reason why our guests return time and again for another adventure-filled cruise. With the rise of surfing tourism to The Maldives, in 2019 we have added four dedicated surf safari weeks catering to this growing interest from independent travellers. In those weeks, the guide will also be an experienced Maldivian surfer who knows the breaks and shares his local knowledge."
Each of the three vessels has 10-12 cabins, cater for a 20-22 guests, who can also enjoy the time onboard snorkelling, paddle boarding or simply relaxing on the top deck when not diving. Each cruise has a PADI certified dive centre and offers diving courses from novice to advanced and specialty skills. Offering year-round cruises, the itineraries cover central atolls, routes to the south and crossing the equator, as well as to the north where lesser known dives sites offer unique encounters with the underwater world. For more information, visit www.carpediemmaldives.com.