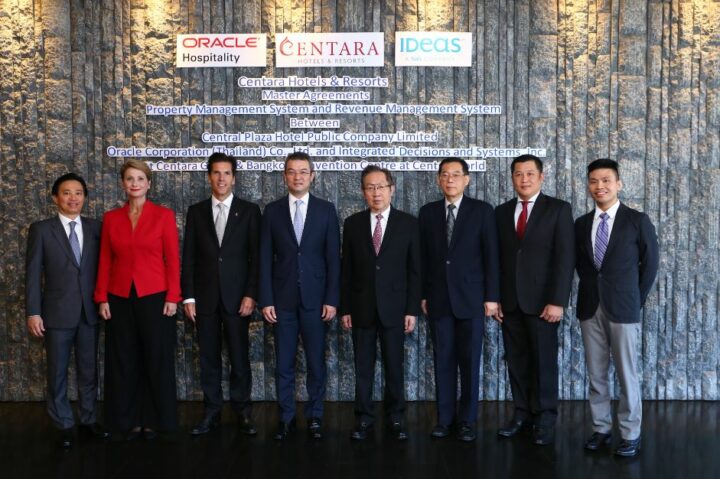 Centara partners with Oracle and IDeaS to introduce top reservations and revenue mgmt. systems
Thai-based hotel operator, Centara Hotels & Resorts, has announced it will migrate to Oracle's Opera, a comprehensive, enterprise-level property management system (PMS), and industry leading IDeaS Revenue Solutions for its G3 Revenue Management System (G3 RMS). This is a move that strengthens and centralises its operating platform, replacing separate solutions for each Centara property and supporting the company's ambitious five-year growth plan, according to Centara Hotels & Resorts.
Formed by one of Thailand's leading retail groups–The Central Group–Centara Hotels & Resorts has a substantial presence in its home country Thailand, including Sri Lanka, the Maldives, Vietnam and Oman. Under the agreements with Oracle and Opera Cloud, the rollout of the platform to Centara's 38 operating properties will commence in 2018, according to the hotel operator.
"This technology upgrade is a significant part of our growth plan," says Thirayuth Chirathivat, Centara CEO, commenting on the agreements.
"One of the three strategic pillars of the plan is to develop best-in-class infrastructure for operations, revenue and customer relationship management. Oracle's enterprise PMS platform will provide the foundation from which to transform our business processes and the simultaneous introduction of IDeaS' sophisticated revenue management capabilities will allow us to better optimise our inventory and pricing. It is a key investment in improving our efficiency and effectiveness for guests, employees, and other stakeholders."
Commenting on the agreement, Rachel Grier, IDeaS managing director in the Asia Pacific, says: "Our partnership with Centara highlights the value that a unified, integrated technology brings to hotels. Our world-class client success programme, award-winning learning system and unparalleled technology integrations combine to support Centara's ambitious growth plans."
The Oracle solution will unify Centara's guest and reservation information in a single, cloud-based platform. Its rollout will support integration with the IDeaS revenue management software to maximise income and revenue yield across Centara's over 7,000 rooms, food and beverage outlets and spas.
Oracle's cloud-based, open-source architecture also provides better security and continuous upgrades and improvements in the platform, according to Centara Hotels & Resorts. Centara expects the integrated PMS platform to improve its operational efficiency by streamlining processes, eliminating laborious and time-consuming manual tasks, driving automation and integrating back-office functions, reservations, reporting and more.
When it is implemented, it will also pave the way for a state-of-the-art customer relationship management (CRM) system that will enable a single customer view, advanced segmentation, personalisation and sophistication in guest communications, and in turn increased customer loyalty and retention.
Centara hopes to complete the rollout across all its hotels within 2018. Centara opened its first property in the Maldives—Centara Grand Island Resort & Spa—in 2009. Centara currently operates two properties in the Maldives; Centara Grand Island Resort & Spa Maldives and Centara Ras Fushi Resort & Spa Maldives.
In April, Centara signed a new hotel management agreement for Centara Grand Muthaafushi Resort & Spa Maldives. Located in the Baa Atoll Biosphere Reserve, Centara Grand Muthaafushi Resort & Spa Maldives would be the fourth beach resort managed by Centara Hotels & Resorts.