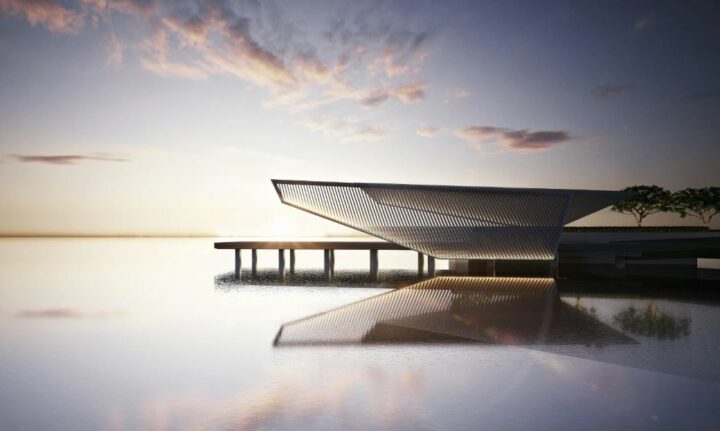 Country's first multi-island integrated resort project kicks off with Emboodhoo Lagoon
The ground has been broken for the country's biggest tourism project – the development of Emboodhoo Lagoon. It is set to be a multi-island integrated leisure and recreation destination resort concept, designed to significantly expand the Maldives' appeal as a multifaceted tourism destination.
The project is contracted to Thai-based Singha Estate Public Company Limited, a subsidiary of Boon Rawd Brewery. Singha Estate is a leading Thai real estate developer operating in commercial, residential and hotel development and management sector.
"The development of the Emboodhoo Lagoon project is set to redefine the Maldives vacation experience as the country's first integrated leisure and recreation destination," says Naris Cheyklin, Chief Executive Officer of Singha Estate. "It will attract and captivate the international family-leisure markets."Phase One of the Emboodhoo Lagoon project, worth US$311.5 million, will see the development of three islands resorts, and a core island Township bringing a veritable wealth of world-class F&B, retail, entertainment, recreation and leisure-lifestyle experiences to the Maldives for the very first time."Singha Estate sees a great opportunity in creating the company's biggest and most exciting project to date in the Maldives," says Chutinant Bhirombhakdi, Chairman of Singha Estate.
"The overall development which, when fully completed, will ultimately extend across nine islands, has been conceived to meet the leisure-destination desires of the world's large and rapidly-growing medium to upscale leisure segment."
Upon the completion, the project will provide accommodations of 1,300 rooms and create over 5,000 job opportunities. It is set to 'redefine' the Maldives' as a leisure and tourist destination and is set to re-ignite and stimulate the country's tourism economy, says the company.
The Emboodhoo Lagoon project has partnered with world-class developers namely Camper and Nicholsons, renowned UK-marina management specialists, for a luxurious international-standard 50-berth marina at the Township; Café Del Mar, an internationally-renowned beach club operator; a world-class travel retailer; Hard Rock International Hotel Group to open a 'new DNA' resort concept featuring Rock Star suites; and a secluded upscale lifestyle resort offers guests highly-exclusive water villas.According to Singha Estate, it aims to create the sustainable value to all stakeholders and is pledged to supporting the Maldives' ecological environment, the living quality of local community and economic growth.
As part of the overall project, Singha Estate will be establishing a Maldives cultural and Indian Ocean marine learning centre. Working closely with the local community and marine biologists, the cultural centre will promote life and crafts of the islands nation and introduce global practice marine conservation schemes dedicated to preserving and enhancing the biodiversity of the Maldives' prestigious marine ecosystem.
The Township and Phase One are anticipated to be complete by the third quarter of 2018, while the second phase is set to complete within the next five years.