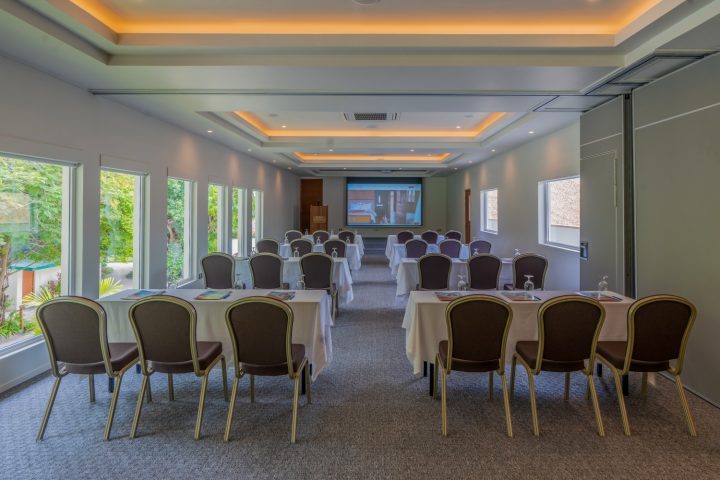 Champa Maa Conference Hall: Modern meeting, hybrid working space
Champa Maa Conference Hall breaks out of the traditional event room settings, finding its way to being equipped to hybrid work patterns and is ready to accommodate meetings, incentives, conferences and exhibitions.
This modern space located in Meeru Maldives Resort Island is not just another rectangular table with a formal seating arrangement. In fact, this 132sqm Conference Hall, boasts a 17sqm stage and a stylish lectern giving a professional touch to the entire spacious structure. To collaborate more, the hall is also equipped with a state-of-the-art technological upgrades and electronic gadgets including LCD Projector & Screen, surround sound and audio equipment's, flipcharts, Free WIFI & Internet access along with other accessories like notepads and pens.
They say indoor-air matters while being holed up with colleagues inside a meeting room for hours. Excitingly, the fully air-conditioned Meeru conference Hall has it all covered, with excellent ventilation points and windows overlooking the island's football field and lush vegetation.
The tables and chairs come in different sizes, and can be taken out completely to be replaced with standing cocktail tables and even sofa, coffee tables and faux plants to decorate the place, depending on the vibe of the event. Moreover, the conference hall can morph in to various shapes and sizes using the movable partitions, flexible to the tailored needs of the attendees.
Furthermore, there are phenomenal packages offered, and the ones for half day meetings and the full day delegate conferences are inclusive of tea/coffee, still or sparkling water, chilled juice, pastries, chef special selection of homemade snack bar, cakes and tropical fresh fruit. For those who prefer wholesome meals, Meeru daily international buffet lunch is ready to be deliciously devoured. In additional to that, the stay -in guests' package is inclusive of other enticing offers embedding the meals, accommodation and transfers. Considerate to long events and meal times, there is an adjacent pantry, acquiring comfort to the participants and catering staff alike.
Those who are interested in booking Champa Maa Conference Hall, for further information, they are welcome to directly contact Meeru reservations at +960 6643267, or email: reservations@meeru.com, where depending on the availability, the final pricing will be shared subject to the number of participants and the group requirements.