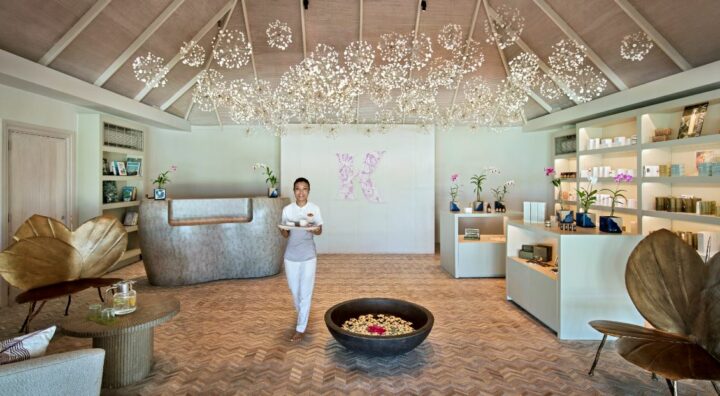 Channelling the butterfly at Kokaa Spa, Kanuhura Maldives
Re-opened in December 2016 after an extensive US$42 m renovation, Kanuhura Maldives is serving its very own slice of laid-back luxury with a twist of bohemian spirit. Introducing guests to the gypset (gipsy meets jet-set) lifestyle, the vibe of Kanuhura is created for the free spirited, wild hearted soul looking for an island escape where they feel at home.
Whether it be the spacious villas laced with soft colours and glam touches, to refined dining outlets fit for an epicurean, or experiences designed with immaculate attention to detail, Kanuhura has created something deeper than just a luxury resort. Something that is as soulful as it is elegant.
And what am I doing here you ask? Lucky moi, I'm headed to Kokaa Spa at Kanuhura for my treatment consultation. Kanuhura is one of the larger islands in the Maldives and each villa is provided with its very own bicycles. Having absolutely no clue as to riding one (sadly, you read that right), I stroll the quiet pathways at a slow island pace. I feel no desire to rush and stop for plenty of Insta-worthy moments on the way.As I enter the cool welcome lounge of Kokaa Spa, a warm smile greets me at the door and guides me to a seat. Kokaa, from the local Maldivian language Dhivehi, translates into butterfly. The first sign of relevance to the name? My seat is in the shape of a golden butterfly! I am happily obsessing over the surroundings when the receptionist sits down with me to discuss my needs, what I hope to get out of the treatment, and my problem areas.
After a quick chat (with me sipping a cool glass of refreshing Roselle water throughout) she introduces me to the wellness experiences and products. Kokaa Spa offers three of some of the best skin and body care products in the market; Subtle Energies, Terres d'Afrique and Voya.
An Australian brand founded in 1993 and certified by Cruelty-Free International, Subtle Energies creates results-based aromatherapy, natural skin care and wellness solutions based on authentic Ayurveda principles. The range is created with the intent to address multiple skin and body concerns and the process for each product starts from sourcing the highest grade of oils, through sustainable and ethical trade using artisan distillers that produce rare, pure and quality active ingredients.
Launched in South Africa in 2013 and certified by Ecocert, Terres d'Afrique has created a range of products all about the passion for Africa and nature. For centuries, African people have used powerful botanicals as traditional healing elixirs and Terres d'Afrique has studied how people use these relatively unknown ingredients and evaluated their potential to create products incorporating the restorative power of many African plants.Founded in 2000 in Ireland, Voya started out as a small family-run seaweed bath that later on introduced the benefits of their organic seaweed products to the world. An indigenous treatment of Ireland, seaweed bathing is a 300-year-old tradition, and Voya's seaweed is handpicked and uses the world's highest standard of organic certification by the Soil Association.With all this information up my sleeve, it is my turn to choose from over 60 different treatments and rituals from an extensive menu which had something for everyone. Literally. I do not need to flip through as much as I thought I would before booking the signature Terres d'Afrique crystal massage. After a couple of minutes, I am escorted to one of the nine treatment rooms at the spa.
Here, I am introduced to Yeshey, my therapist from Bhutan, who sits me down for the next step of the journey; picking my crystals from three choices. Septaria stones carry spiritual properties of absorbing and transmitting energy into strength when needed. Petrified wood is known to create balance and calm scattered energies. And Jasper stones, valued since ancient times for strong grounding powers and carrying a strong connection to the Earth's energy, are renowned for stability and strength.Yeshey immediately senses that I am a bit overwhelmed with my choices and quickly gives her recommendation. Having already spoken with me about my work schedule and the past frantic weeks, she suggests I try the petrified wood to calm my nerves and to stop worrying about the small stuff.
Count me in! All robed up after a quick moisturising foot bath of milk and essential oils, I lay down on the massage table, close my eyes, and wait for the usual gong and a soothing voice to ask me how the pressure was. Instead, I hear Yeshey's cheerful voice asking me to inhale and I breathed in a minty aroma that cleared up my sinuses. I am good to go.
The massage begins with long deep strokes to release my tense muscles, accompanied by Terres d'Afrique's crystal massage oil combining the super-hydrating Marula, Vetiver and Katrafay oils. After my body is stretched and the oil had absorbed a bit, I feel warm crystals being placed on my back, channelling my key chakras.
Soon after, a cool sensation hit my skin, and I hear Yeshey tell me it is the blue lace agate balls. I feel cool long strokes alternating with warm circular motions, and within minutes, I doze off, going in and out of naps for the duration of the massage.Following the full body massage with the blue lace agate, an invigorating scalp massage pretty much put me back into a trance. After an hour and thirty minutes, Yeshey takes off my eye mask and asks me how I feel. To be very honest, all I could muster was a smile.All robed up again, I take a walk with Yeshey around the spa to have a look at the other wellness facilities; gym, steam bath and dry sauna, cold plunge pool, Jacuzzi and the next door salon with one of the most impressive bridal rooms I have seen on an island resort. After a brief tour, I am ushered into my very own cocoon, curtains were drawn, and served with a hot, zingy fresh ginger tea. Taking my sweet time, I sit there sipping my tea until I realise that it must be time for my sunset cruise. I get up, draw back the curtain and step outside.It hit me then. The butterfly that Kokaa Spa represents is a symbol of hope, life and beauty. The human form has so many similarities to the natural kingdom and sometimes in life, all we need is a moment to reconnect and embrace it. Where better than at Kanuhura, where you are at home with the elements and your free spirited self, to truly find peace and reconnect with the life around you.Ishrath is a Contributing Editor specialising in wellness at Hotelier Maldives. She is also a freelance writer and content curator from the Maldives, with a passion for travel writing. With a Bachelor's in International Tourism Management and a Master's in Business Administration, Ishrath is keen to keep exploring the Maldivian travel and hospitality scene. Four things she is obsessed with; sunny days, quiet beaches, lone hammocks and coconut palms!