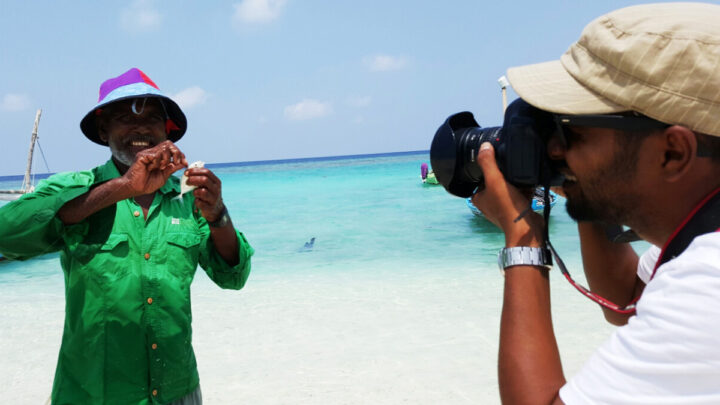 Obofili – Ahmed Shuau
Ahmed Shuau, or Obofili as he is more popularly known, has been my good friend for many years. I have always known him as a creative and ambitious person who has let nothing stand in his way of going after his dream.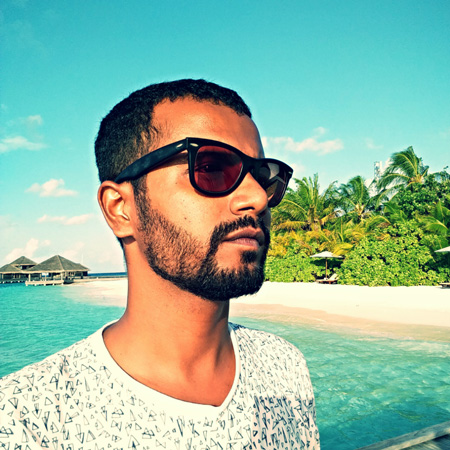 Having developed an interest in photography when he was a teenager, Shuau has worked tirelessly for many years to come as far as he has today.  Along with the many challenges came lessons and experiences. Presently, he is one of the most sought after photographers in the country. He's gained international recognition for his outstanding work as a photographer, and he continues to shine in the world of social and digitial media.
2016 marks his tenth year as Obofili. Obofili is the 'O' sound in the Maldivian script. Written as a circular X, this character was chosen as a tribute to the company where he worked as a graphic designer before. "I chose Obofili as a way of showing my appreciation to the company and it's people," Shuau explains. "For their confidence in me, for helping me get this far today."
Sitting across from me in a small café in Male', he talks to me about how his career took off. "It was in 2002," he recalls, "I borrowed a friends' film camera to take some photos – just for fun – and haven't been able to stay away from cameras since then."
"I remember I used to just walk around the island taking photos of people, of road side scenes and getting them developed. I think that was when I became very interested in photography," he says. "I felt I was able to capture a little bit of people's everyday lives on camera," he continues.
"In 2004, I borrowed a digital camera from my then-office, Group-X, and began experimenting with it." He went on, "the internet became a great platform for me to showcase my work to the world." Pausing for a bit, he says, "I just happened to be at the right place at the right time, in a lot of situations. With the Flickr taking over the internet, I was active on it, posting photos, gaining a lot of recognition for my work," he explains. "I was able to make the name 'Obofili' a household, familiar name amongst my generation."
Shuau is a self- taught photographer. Creating a name for himself in the Maldivian photography community, Shuau began taking up projects such as covering events, architectural photography and documentaries in 2006. "Like I said, I didn't have my own equipment then, and I depended heavily on fellow photographers, and my friends who were very helpful and willing."
Also in 2006, Shuau was chosen as the official photographer for FasyLive, one of the most famous rock bands in the country who's played in many concerts national and international.  He was the official designer of the band's album cover and posters till the year 2009. This gave him a lot of exposure as a photographer.To date, some of his biggest accomplishments include designing the 'Maldivian' – logo of the Maldivian national air carrier. In addition to this, he's won the Ten Outstanding Young Person Award, Junior Chamber International (Maldives) in Cultural Achievements, Design & Music in 2010, 3rd place at Amateur Category –CEDAW photography contest held in Asia-Pacific by UNIIFEM in 2009, Best Logo Design  – Maldives Film Association in 2006 and Best Logo Design – Sonee Hardware 35th Anniversary in 2006.
More recently, his accomplishments include his instagram account 'Obofili' being affiliated with the famous account Luxury World Traveler. LUXWT is listed as the 8th top accounts on Forbes list of '10 Impressive Instagram Profiles to Follow'.  Shuau was also involved in setting up the Maldives Photography Association.
Since 2002, Shuau has explored his interests within the photography and discovered a passion for photos of nature. Presently, he's focussing on taking photos of the islands and their naturalbeauty and the architecture.  "Maldives is a breathtakingly beautiful country. Being able to show this beauty to the world, well, it's been a treat," he says. "Scattered across the deep blue, the shimmery turquoise waters, the emerald green specks of islands … it's hard to describe really. What better way to show the world the natural beauty we are blessed with than through photographs," he smiles.
Some of his most recent work in 2016 include architectural and commercial photography for AAA Resorts & Hotels
(Filitheyo Island Resort and Medhufushi Island Resort), and Reveries Diving Village. He's also completed a project on taking aerial photos for Dhigufaru Island Resort, M/Y Dhainkamba, in addition to working on a video production for Eternal Pictures. He has also taken the cover photo for Lets Go Maldives Brochure 2016.
Talking to me about his future plans, Shuau says he's very interested in showcasing his photographs at a gallery in the Maldives and is working on making this dream a reality. I don't have a single doubt that he's going to make it happen. Shuau has always been a man of his word.
The talented photographer said," I wouldn't have come this far without the help of my close friends, my family and colleagues. And given the opportunity, I would like to thank all of them for believing in me, for helping me out, and for being by my side throughout my journey to get to where I am today."
To view his work on Instagram, please visit: www.instagram.com/obofili