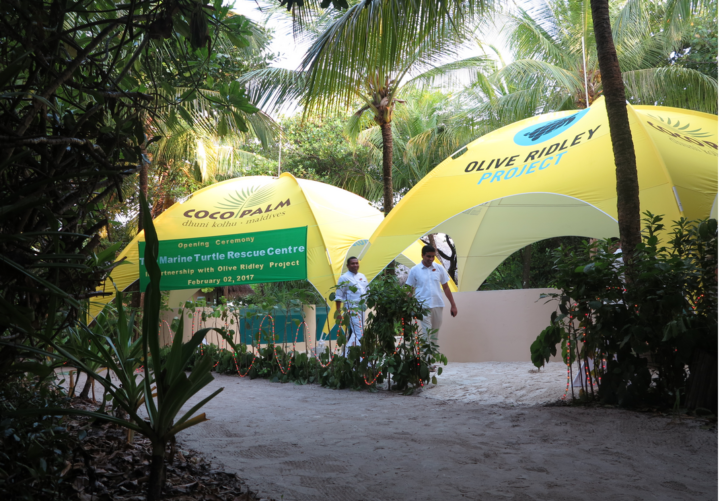 Coco Collection, ORP welcome country's first fully-equipped Turtle Rescue Center
Coco Collection and Olive Ridley Project (ORP) inaugurates the country's first fully-equipped Marine Turtle Rescue Center with a resident veterinarian in Coco Palm Dhuni Kolhu.
The center, equipped with laboratory and surgical facilities, was officially inaugurated by Nasrulla Ali – Resident Manager at Coco Palm Dhuni Kolhu. The center is headed by Dr. Claire Petros, a veterinarian, and is the country's first turtle rescue center to feature a resident vet.
"I will be leading the turtle center here. My main role will be to care for the injured turtles that we find around the country," Dr. Petros told Hotelier Maldives.
"The turtles, mostly with severe injuries to their flippers and necks after being entangled in abandoned fishing nets, will be transported here, and nurtured back to health before being released into the ocean." Prior to its opening, the center has already received three patients (turtles), and already have some on their waiting list, ready to be transported to the center.
Coco Collection was first introduced to the Olive Ridley Project (ORP) – a UK-based charity – in 2013 through their former Marine Biologist Chiara Fumagalli. "Since then, we have been working closely with ORP to rescue sea turtles that have been found entangled in ghost nets – abandoned fishing nets," said Nasrulla.
"Coco Collection's Maldivian roots are important to us. Working with keen, like-minded individuals to protect our fragile natural environment have always been a core pillar of our brand philosophy." Coco Collection also holds events at its resort properties to educate guests and associates, and plans excursions to search for marine debris with their dedicated teams.
Following a partnership forged in January 2015, the turtle rescue center opened its doors with Evo – the center's first official patient – a malnourished hawksbill sea turtle with a buoyancy-related deficiency.
The project was funded through generous donations by guests of Coco Palm and Coco Bodu Hithi, and other partners. "Guests have been supporting the project by purchasing toy turtles that you see in the villas, donating at the time of the booking, and with generous donations during their stay at the resorts," said Nasrulla.
"By mid-2016, we had received the target funds required to start construction. Our heartfelt gratitude goes out to all of you, and our partners for their kind support and unwavering generosity," he said.
The center has a fully-automated water-flow regulation system which allows pre-programmed procedures; and was developed by Mohamed Didi – Chief Engineer at the group. Nasrulla said, "the project could not have been a success without the passion and charitable contributions of ORP's Martin Stelffox, Dr. Jillian Hudgins and the ORP team; the key role played by Chiara Fumagallli in establishing this partnership and our other marine projects, and our guests and partners, in addition to the unwavering dedication of our invaluable staff."
In terms of engaging with the local islands, together with the team, Dr. Petros will also be working with students in neighbouring islands of Thulhadhoo and Hithaadhoo; teaching them turtle husbandry, ecology and medicine.
"Students will also be involved in field visits to our turtle center. I will also be working together with a local intern who will be trained in turtle physiology, anatomy, ecology, and medical treatments," Dr. Petros explained to Hotelier Maldives.
"Together with the resort team, I will also be involved in training a local Maldivian project coordinator on turtle first aid and handling."
The ORP – founded in 2013 by Biologist Martin Stelfox and Marine Biologist David Balson – works towards preventing entanglement of Olive Ridley's and other marine organisms. Apart from actively removing nets and helping any entangled marine life, they compile data identifying types of nets, fishing methods being used, and entanglements in order to figure out why so many nets are drifting in the Indian Ocean. It aims to educate school children, local communities and all those who depend on the Indian Ocean about the detrimental effects of ghost nets.
Coco Palm Dhuni Kolhu plans to establish a similar initiative at its sister property – Coco Bodu Hithi – at a later stage of the collaboration. This initiative is another milestone in the endeavors to protect the fragile environment and marine life, and ensure sustainable tourism.