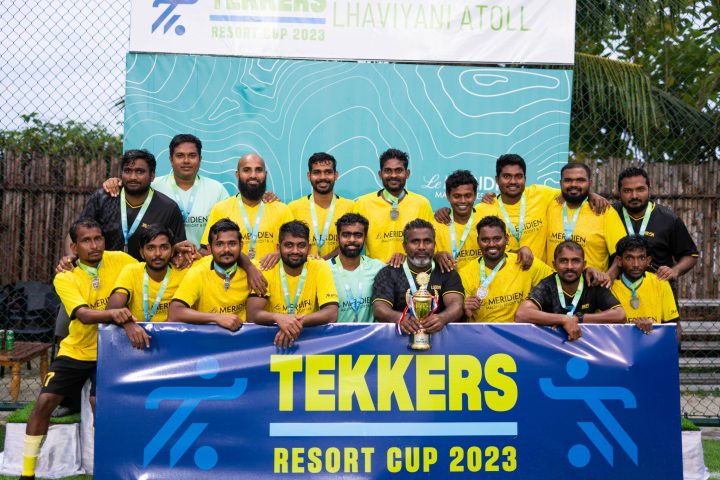 Cocoon Maldives crowned champions of Tekkers Resort Cup 2023 Lhaviyani Atoll
Tekkers Maldives concluded the Lhaviyani Atoll zone final of the Tekkers Resort Cup on Monday. A heated final match against Le Meridien saw Cocoon Maldives dance their way to victory.
For the Lhaviyani Atoll Final, Cocoon Maldives and Le Meridien Maldives senior management joined together to witness the showdown.
In the first half of the final match, it ended 1-1. In the second half, Cocoon Maldives jersey number 16 Mohamed Nabeel took the lead, followed by a late equaliser from the hosts. Cocoon Maldives went on to win the finals in a heated penalty shootout which ended by 5-4
Cocoon Maldives Mohamed Shuhail is awarded the game's man of the match. The top 5 players in this zone were Mohamed Shuhail from Cocoon Maldives, Hassan Zarir from Cocoon Maldives, Ahmed Haanif from Le Meridien Maldives, Akbar Ali from Le Meridien Maldives, and Ali Gusham from Cocoon Maldives. The top scorers of this zone were awarded to 2 different players with 2 goals each. They are Mohamed Nabeel from Cocoon Maldives, Ahmed Haanif from Le Meridien Maldives. Best Coach of Lhaviyani Atoll went to Mohamed Abdul Ghanee of Cocoon Maldives. The best player of Lhaviyani Atoll is none other than Mohamed Nabeel from Cocoon Maldives.
Tekkers Maldives Resort Cup Noonu Atoll zone will begin on the 15th of July 2023 at Siyam World.