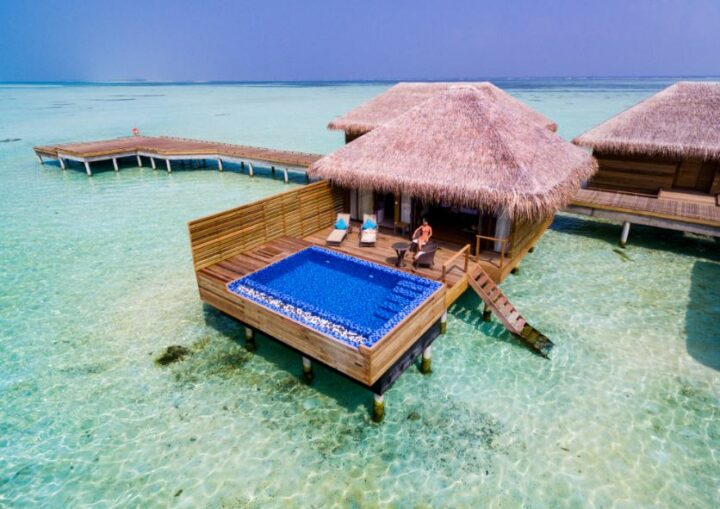 Cocoon Maldives; A warm embrace of nature and nurture
You arrive in the sunny archipelago of Maldives, walk down a pier of sun-kissed wood and down a white sandy beach under the shade of palm trees lightly swaying in the wind. Moments later you're led to your Villa, seemingly just a thatch-roofed white building almost disappearing into the environment of white sand and palm trees.
The door opens and you gaze upon a large king size bed seemingly floating in mid-air with a warm glow emanating from below, beckoning you. You pull your eyes away to the right and there's no wall, just large glass planes letting in the sunlight and the foliage beyond the porch. You turn to your host who presses a spot on the multicolour striped wooden wall to your left; the stripe opens out – it's your wardrobe!I've digressed though – this is no review and I am no critic. What I attempt to describe is the feeling of true luxury – a juxtaposition of modern design and natural perfection – that the Italian design firm Lago was looking to offer with Cocoon Maldives. "A designer is like a doctor," Danielle Lago began when asked how Italian design translated into the Maldivian environment.The designer – he elaborates – need only focus on making the existing organisms function to their utmost efficiency. When it comes to developing Cocoon as the Maldives' first design resort he says, 80% of the design was already done in the form of our white sandy beaches, turquoise lagoons and swaying coconut palms.His philosophy of adding to nature rather than attempting to replace it is visible all around the property; The bed that beckoned you so, is a combination of 200-year-old Wildwood and clever glass supports which melt away into the background. The table we meet around at the Manta restaurant is topped with the same Wildwood.The designer's touch is extremely subtle. It was on my departing look that I realised the beautiful shadows of porta fenestra cast on the wall were merely imaginary shadows painted into the inconspicuous cream wallpaper. The swing in my bathroom area whilst looking contemporary, evoked feelings of the traditional "joali" swing found on the Maldivian isles.With more than a hundred resorts offering premium quality accommodation on white sandy beaches at the Maldives, every resort is looking to differentiate. Cocoon has its own twist on the island paradise by throwing in modern Italian design, proving that top-notch design itself can provide the philosophies on which to grow a bastion of superior guest experience.