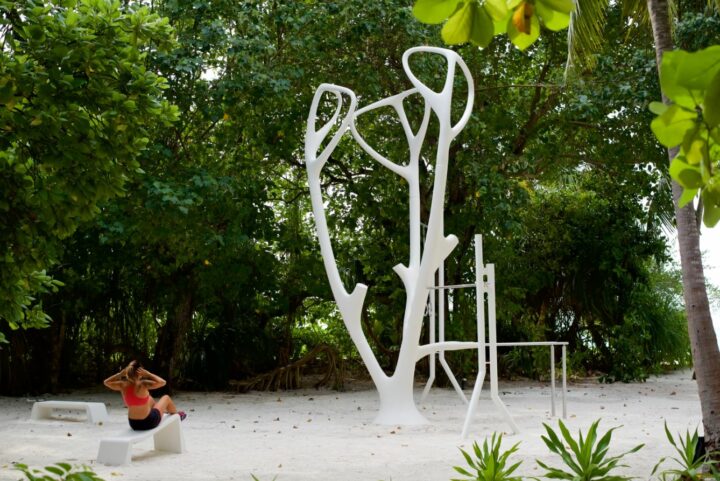 Cocoon Maldives, MyEquilibria opens "Tree of Wellbeing" outdoor gym
Cocoon Maldives, in partnership with MyEquilibria, has opened the "Tree of Wellbeing" – an outdoor gym located under a canopy of lush tropical trees, overlooking the beach and the shimmering azure lagoon. According to Cocoon Maldives, the outdoor gym was opened following findings of a survey where 85% of the people questioned responded that they would work out and use gyms outdoors.
The Tree of Wellbeing is provided by MyEquilibria, a ground-breaking new concept of physical fitness based on instinctive body movements. At first glance, Tree of Wellbeing looks more like a work of art than a place for exercise. Engineered around the biomechanics of instinctive training, the Tree of Wellbeing was created by innovative designer Vito Di Bari.
Vito is an innovative designer who is changing the world through his cutting-edge design solutions. He has been defined as one of the three most important futurists in the world and uses scientific methods to develop creative solutions based on next-generation technologies and the newest materials, aimed to increase the quality of our everyday lives.
MyEquilibria is the perfect place to exercise, whether you are new to the gym or an experienced bodybuilder. "As soon as I saw the MyEquilibria installation I immediately fell in love with it," said Alex Azzola, the Managing Director of Cocoon Maldives. "It has an incredible six-metre tree-like design, which creates a unique open-air space. Cocoon is the first design hotel in the Maldives, and so it's natural that we have the first open-air design gym in the Maldives."
According to Seara Sports Maldives – the official distributor of MyEquilibria products in the Maldives – with MyEquilibria's unparalleled products, properties can provide guests with an exclusive wellness experience that stays with them long after check out – and an excuse to keep returning for years to come. To learn more about MyEquilibria, please visit hoteliermaldives.com/myequilibria-seara-sports-systems.
Located in Ookolhufinolhu Island, Cocoon Maldives blends the best of Italian design with the Maldives' stunning natural beauty, all set against the backdrop of the Indian Ocean. Cocoon's interiors are exclusively designed by Lago, one of Italy's finest design companies. For more information about Cocoon Maldives, please visit cocoonmaldives.com.