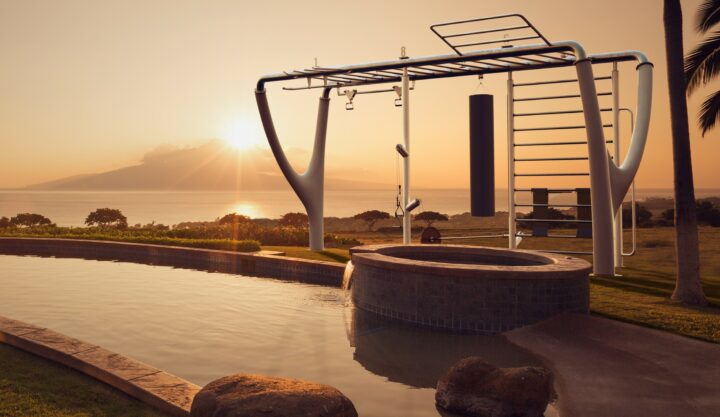 Seara Sports Maldives introduces MyEquilibria by Seara Sports Systems
MyEquilibria, hailed as 'the world's first outdoor fitness system based on instinctive body movements', has its roots in the link between nature and human innovation. The products represent the evolution of outdoor fitness, characterised by a unique design, cutting-edge production technologies and a focus on eco-sustainability.
The units provide a complete callisthenics exercise platform that perfectly combines and leverages body weight and gravity so the workout becomes intuitive, fun and functional.
MyEquilibria was designed in collaboration with key partners, METALCO, known across 32 countries for its award-winning outdoor and landscaping products, and BELLITALIA, a leading producer of ultra-high performance concrete worldwide.While each installation is a unique work of art, the result is always the same one-of-a-kind experience guaranteed by the timeless sophistication of design, innovative functions, and personalised workout support.Travellers these days are becoming increasingly health conscious and are reluctant to sacrifice their wellness regime simply because they are on vacation or a business trip. This demand has seen more and more hotels and resorts placing a far greater premium on onsite fitness facilities.
With today's travellers expecting out-of-the-norm unique experiences, outdoor spaces add a significant value by providing guests a means to exercise in the open air and enjoy an active lifestyle closer to nature."People across the Globe are increasingly embracing the time-proven functional training used by the Spartans of ancient Greece and US Special Operations troops alike, to maximise strength, build muscle, boost cardiovascular fitness and burn fat," said Seara Sports Maldives representative."At the same time, outdoor fitness is becoming one of the most exciting growth areas in the health and fitness market."
With MyEquilibria's unparalleled products, properties can provide guests with an exclusive wellness experience that stays with them long after check out – and an excuse to keep returning for years to come.
MyEquilibria is distributed in the Maldives by Seara Sports Maldives.