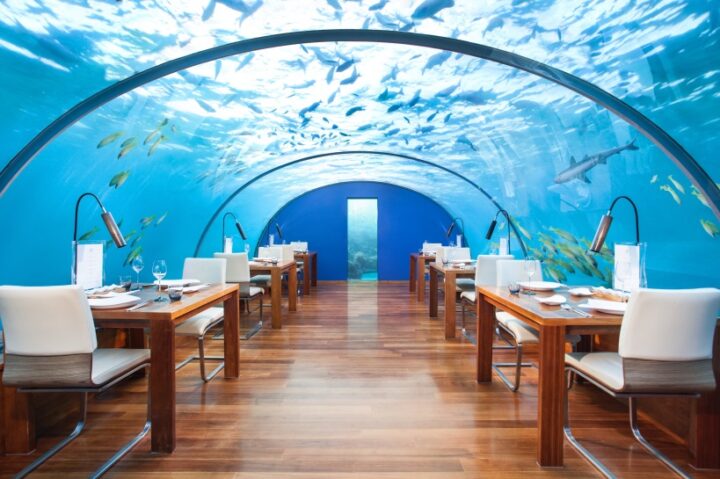 Conrad Maldives announces events to celebrate underwater restaurant's 10th anniversary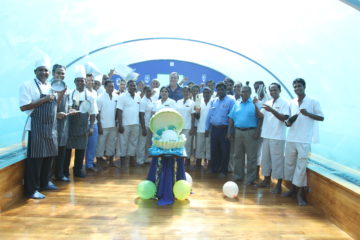 Conrad Maldives Rangali Island has announced a series of events to commemorate the 10th anniversary of its world-famous underwater restaurant, 'Ithaa', which takes place next week on Wednesday April 15.
On that day, it will have been ten years since Conrad Maldives Rangali Island defied physics by 'sinking' the world's first underwater restaurant to five metres below the surface of their crystalline lagoon. A submarine cavern nestled amongst curious aquatic life, 'Ithaa' instantly became an icon of architectural achievement, haute cuisine and extravagant dining.
To celebrate the restaurant's decennial anniversary, Conrad Maldives Rangali Island has announced a programme of commemorative events and has invited their patrons to join the festivities from around the world via Twitter. Rather than only sharing the momentous occasion with in-house guests, the resort wants all patrons from the last decade to celebrate with them. "We are all excited to be celebrating the 10th anniversary of such an iconic restaurant," said Lyle Lewis, the resort's general manager. "I can think of no better way to celebrate such a momentous occasion than by sharing it with the whole world." In that spirit, on Wednesday April 15 2015, at 3pm GMT (10am EST) the resort will be hosting a live Twitter chat. In addition, between April 13th and 15th all guests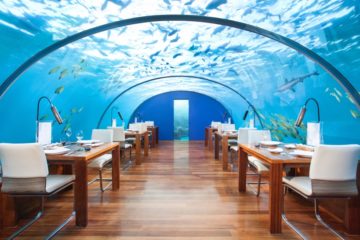 , past and present, are invited to join the hotel's 'Memories of Ithaa' campaign by sharing their memories and photographs on Twitter, Facebook and Instagram  using  #IthaaTurns10.
More locally, the restaurant will be hosting their 'Exclusive Winemaker Dinner', which will be presented by wine estate Château Margaux. As famous for its prices as for its wines, the estate is renowned for selling some of the world's most expensive wines. This will be the first time that the château's sommeliers partner with Conrad Maldives to hold such an exceptional event.
To join the live twitter chat, follow @ConradMaldives on Twitter and use the hashtag #IthaaTurns10.