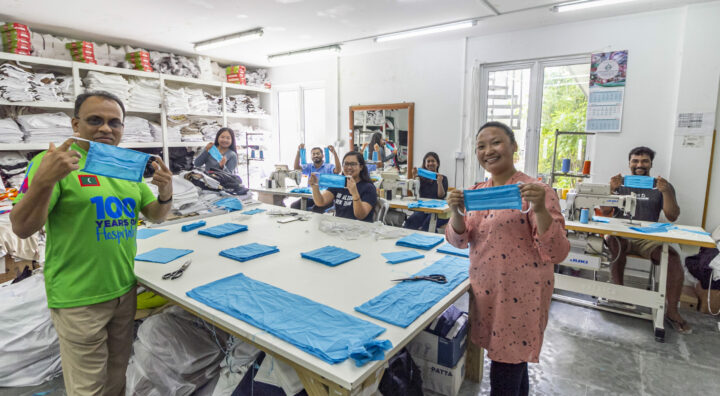 Conrad Maldives is Sewing Face Masks for Donation
In light of the global pandemic, Conrad Maldives Rangali Island has inspired its team members to get involve in a face mask sewing initiative where these will in turn be donated to selected local communities and healthcare workers in Maldives.
This initiative was launched earlier this month, where the resident tailors and volunteering team members are aiming to complete 1500 face masks for donation. Located in the South Ari Atoll, the resort plans to distribute the face masks to local residents and healthcare workers of nearby local islands as well as in Male, the countries capital.
"During this challenging time, we are looking at unique ways to help communities in our neighboring islands. We know there is a need for masks right now and hoping that our efforts will be a positive contribution to those who need these extra layer of protection." said Alex Traeger, Director of Operations.
About Conrad Maldives Rangali Island:
A celebration of design and human spirit, Conrad Maldives Rangali Island expresses an accord of form, function and innovation in driving hospitality trends that has set the benchmark in its style. Rejecting trends in design to create a space that invites and inspires with a distinctive design that sits in perfect harmony with the natural environment. Conrad Maldives Rangali Island is an inspirational backdrop featuring intuitive service, infinite connections and a distinctive mix of once-in-a-lifetime experiences making it an extraordinary destination for couples and families to discover paradise. Join the conversation, visit Instagram @conrad_maldives, Facebook @conradmaldivesrangaliisland or conradmaldives.com
About Conrad Hotels & Resorts:
Spanning five continents with 35 properties, Conrad Hotels & Resorts has created a seamless connection between contemporary design, leading innovation and curated art to inspire the entrepreneurial spirit of the globally connected traveler. Conrad is a place where guests can experience service and style on their own terms – all while connecting with local and global culture. Connect with Conrad by booking at conradhotels.com or through the Hilton Honors mobile app. Learn more about the brand by visiting newsroom.hilton.com/conradhotels, and follow us on Facebook, Instagram, and Twitter.