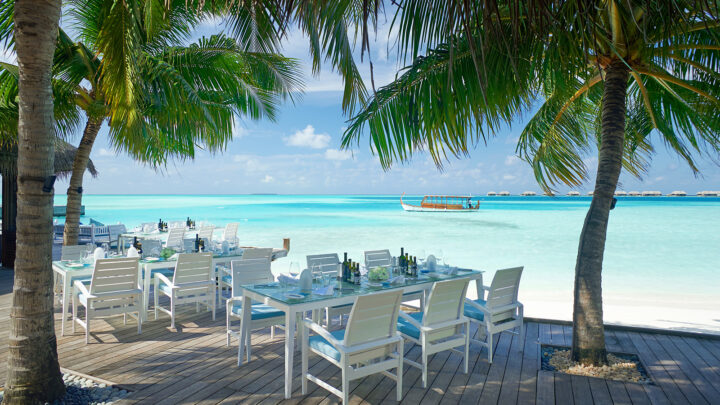 Conrad Maldives Rangali Island wins big at World Luxury Restaurant Awards
Conrad Maldives Rangali Island has been recognised for its world-class food and beverage offerings by the World Luxury Restaurant Awards, held at the Grand Kronenhof Hotel, Pontresina Switzerland on Saturday 18 June 2016 .
Five restaurants from Conrad Maldives were awarded with several accolades including the Global Winner for Luxury Scenic Setting which went to Ithaa Undersea Restaurant. Ithaa also received the Country Prize for Fine Dining Cuisine.
Other wining outlets include Mandhoo Spa Restaurant as the Country Winner for Luxury Scenic Setting, Vilu Restaurant as the Country Winner for The Best Wine Selection and Koko Grill as the Country winner for Ambience/Romantic Atmosphere. Ufaa by Jereme Leung, the resort's newest restaurant pioneered by celebrity chef Jereme Leung was also honoured with the Country Prize for Chinese Cuisine and the Continent Prize for Best Head Chef.
"We are very honoured to have so many of our restaurants honoured at the World Luxury Restaurant Awards," said Lyle Lewis, general manager of Conrad Maldives Rangali Island.
"The awards are a testament to what our outstanding chefs and team members deliver to guests on a daily basis- the best and most varied food and beverage offering in the Maldives.
"Our 12 restaurants and bars aim to set the trend for fine dining in the country, ensuring that a remote location needn't prohibit fine dining and good wines," he added.
In lieu of these awards, the resort is also celebrating anniversaries for two of its most distinguished restaurants this year. Ithaa, the world's first undersea restaurant – which helped the resort to achieve global renown as a dining destination – celebrated the 11th anniversary of its opening this past April with an exclusive winemaker dinner hosted by Mr. Marco Caschera from Domaine Vincent Girardin, one of the most celebrated wine families in Burgundy.  Meanwhile Ufaa by Jereme Leung, the Maldives' first authentic Chinese restaurant, will celebrate its second anniversary in September with a special Krug Ambassade Dinner.
Conrad Maldives is a true gourmet's delight with a choice of 12 world-class restaurants and bars with the dining experience at Conrad Maldives distinguished by the diversity of cuisine and uniqueness of settings.
Conrad Maldives was the first resort to build an underground wine cellar; the first to create an undersea restaurant; the first to invite world-class chefs and winemakers to its islands and the first to establish a cheese bar. Conrad Maldives continues to offer the largest wine lists in the region with over 20,000 bottles and up to1,400 labels in The Wine Cellar, built two metres underground.