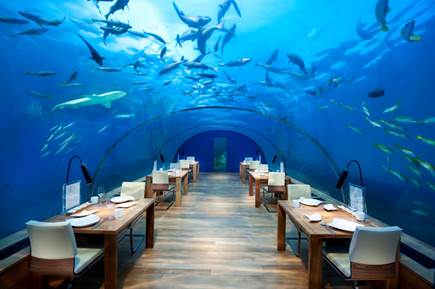 Conrad Maldives to celebrate 10th anniversary of Ithaa Undersea Restaurant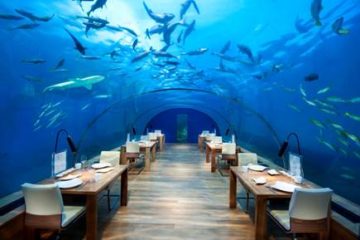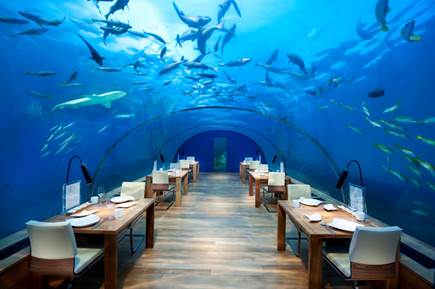 Conrad Maldives Rangali Island is gearing up to celebrate the upcoming 10th anniversary of Ithaa, the world's first aquarium-style undersea restaurant.
 The iconic restaurant will host a Château Margaux sommelier dinner on April 15 to coincide with Ithaa's opening ten years ago, Conrad Hotels and Resorts revealed in a press release on February 17.
 "Ithaa sets the trend for dining in the Maldives, being the first to understand and truly demonstrate that a remote location needn't prohibit fine dining and good wines," said Kamal Malik, head sommelier.
 "It's the obligatory choice for the gourmet traveller and has the most passionate, extensive and exclusive wine programme with more than 1,400+ labels and up to 20,000 bottles on the island. The Château Margaux sommelier dinner will add something extra special."
 The wine estate of Château Margaux dates back to the 17th Century, Conrad explained, noting that a bottle of 1787 Chateau Margaux was sold for $225,000, making it one of the world's most expensive wines.
 April's event would mark the first time Château Margaux have been invited to host at Conrad Maldives.
Past wine-pairing dinners included Château Latour, hosted by Frederic Engerer, a Pol Roger Sir Winston Churchill Verticals dinner and a memorable Louis Roederer Cristal Verticals event, which marked Ithaa's 5th anniversary.
More recently, a Dom Pérignonverticals dinner was hosted to mark the 10th year sinking of Ithaa in November 2014.
Mother of pearl
 Ithaa (meaning 'mother of pearl' in Dhivehi) was sunk five meters under the waves of the Indian Ocean a decade ago and has since been recognised consistently as the most beautiful restaurant in the world.
 Ahmed Saleem of Crown Company Pvt Ltd, owning company of Conrad Maldives Rangali Island, envisioned the undersea restaurant in 2011, struck by inspiration whilst traveling in Bali, Indonesia.
 The local tourism magnate enlisted Mike Murphy of M J Murphy Ltd in New Zealand to make his vision a reality. At a cost of US$5 million, Ithaa's construction involved sinking 85 tonnes of sand ballast in sandbags into the ocean bed of Rangali's lagoon.
 Ithaa's curved acrylic walls offer a spectacular 180-degree panoramic view of a coral garden inhabited by rich and vibrant marine life. The restaurant serves European cuisine in a six-course set dinner menu, including indulgences such as caviar, while the four-course lunch menu offers lighter fare. Also open for mid-morning cocktails, Ithaa can be booked privately for breakfast, weddings or other special occasions.
Conrad Maldives Rangali Island by Hilton
The five-star Conrad Maldives was recently awarded "The Best Water Villas in the Maldives," "The Best Suites in the World,"  "Best Spa Resort in the Maldives," and "Wine Spectator Best of Award for Excellence," for the Vilu Restaurant and Bar.
 Guests at the resort can enjoy the quintessential Maldivian hideaway on tiny Rangali Island while also having access to the facilities of the larger and livelier main island, linked to it by a 500m bridge.
 Conrad Maldives also boasts an over-water destination spa that operates as a resort-within-a-resort as well as 12 restaurants and bars. The resort offers an extensive range of excursions, diving, snorkeling, and water-sports options.
 Conrad Hotels and Resorts is a global luxury brand consisting of 24 properties across five continents and is part of Hilton Worldwide, a leading global hospitality company.
 Hiltton Worldwide's portfolio of 12 world-class global brands is comprised of more than 4,300 managed, franchised, owned and leased hotels and timeshare properties, with more than 715,000 rooms in 94 countries and territories, including Hilton Hotels & Resorts, Waldorf Astoria Hotels & Resorts, Conrad Hotels & Resorts, Canopy by Hilton, Curio – A Collection by Hilton, DoubleTree by Hilton, Embassy Suites Hotels, Hilton Garden Inn, Hampton Hotels, Homewood Suites by Hilton, Home2 Suites by Hilton and Hilton Grand Vacations.