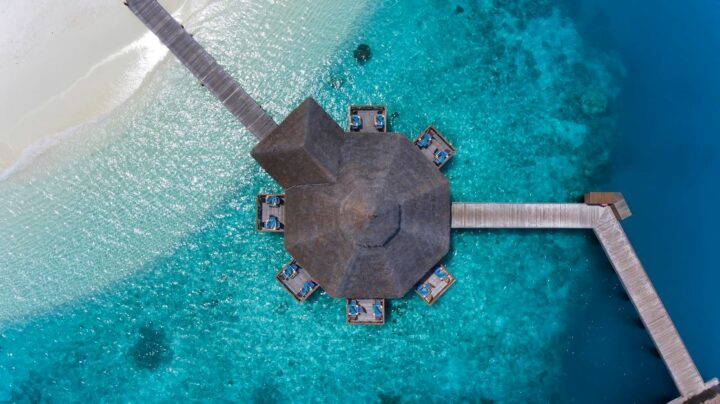 Conrad Maldives Rangali Island makes history, bags 22 titles
Conrad Maldives Rangali Island was the star of the night at the World Luxury Restaurant Awards 2017, winning an astounding record number of 22 titles. It was history in the making with the most awards won by a single hotel or resort in the history of the awards. The ceremony took place at the JW Marriott Hanoi hotel in Vietnam on July 22.
Ithaa Undersea Restaurant was conferred the grand award – the Global Restaurant of the Year in recognition of its outstanding food and beverage offerings. Ithaa, the underwater restaurant known for its stunning, unparalleled views, tourists dine under a ceiling made of transparent acrylic that offers panoramic 180-degree views where an array of tropical fish and sharks soar overhead. The title was previously held by Jahn at Conrad Koh Samui.
"We are honoured to be awarded the overall global restaurant of the year and subsequent 21 accolades by the World Luxury Restaurant Awards. These awards are a testament to what we deliver our guests every day; the most unique and inspired dining experiences in the Maldives and Indian Ocean," says Stefano Ruzza, general manager of Conrad Maldives Rangali Island.
"Our team is committed to delivering the highest level of excellence, ensuring our guests experience world-class cuisine at each of our restaurants and bars. For our resort team, the recognition from the World Luxury Restaurant awards, tourism professionals and guests worldwide lends encouragement to continually deliver the best for our guests each day."
Other awards won by Ithaa Undersea Restaurant at Conrad Maldives are;
Luxury Unique Experience (Global Winner)
Luxury Resort Restaurant (Global Winner)
Luxury Scenic Setting (Continent Winner)
Fusion Cuisine (Continent Winner)
Ambience/Romantic Atmosphere (Continent Winner)
Haute Cuisine (Continent Winner)
Luxury Interior Design/Architecture (Continent Winner)
Consistently recognised globally for its exceptional food and beverage offerings at its 12 restaurants and bars, Conrad Maldives Rangali Island is a true gourmand's delight, providing an array of international cuisines in a truly inspired setting. According to the resort, it is world renowned for setting benchmarks in resort dining in the Maldives, being the first to create an undersea restaurant, Ithaa, the first to build an underground wine cellar, the first to establish a cheese bar, and the first authentic Chinese restaurant Ufaa, spearheaded by award-winning Chinese chef Jereme Leung.
Conrad Maldives Rangali Island is also a 2017 TripAdvisor Certificate of Excellence award recipient. The resort, renowned for its exceptional hospitality and luxury setting, has been recognised as the Indian Ocean's Leading Hotel 2016 & 2015 and the Maldives' Leading Water Villa Resort 2016 in the World Travel Awards. Conrad Maldives was named the Indian Ocean's Leading Culinary Resort 2015 by the World Travel Awards and is a multi-award winner at the World Luxury Restaurant Awards 2016.