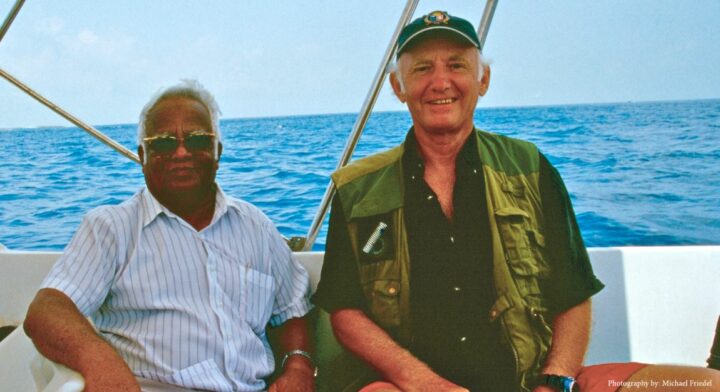 Hotel General Managers' conference to highlight history of Maldives' tourism
The history of Maldives' tourism is to be showcased by way of some of the most iconic images of the destination at the coming hotel general managers' conference organised by the Maldives B2B hospitality brand – Hotelier Maldives. A day-long event, the General Managers' Forum (GMF) was initiated in 2016 following the successful publication of Hotelier Maldives magazine; print and online, for two consecutive years.
The GM Forum proved to be tremendously popular with the core readership of Hotelier Maldives comprising of resort general managers, C level executives in corporate hospitality brands; owners, hotel suppliers and travel related concerns.
A unique but familiar narrative on the history of Maldives' tourism will be presented at the coming GM Forum scheduled for April 3, 2019, by German photographer Michael Friedel who first visited the Maldives in September 1973 and then again in December of the same year. For his second visit, he was on assignment for Stern magazine – with two million weekly copies and 10 million readers, Neckermann – one of the largest tour operators at the time, and Condor.
He was also accompanied by a journalist from Stern and a Swedish model who posed for his photos of the virgin beaches of the Maldives. Since he also took several underwater photos, he brought with him diving equipment and underwater cameras. To capture the aerial images, he rented a Cessna aircraft from the Ceylonese air force. The results of this trip are now history and comprise some of the most memorable colour photos of the Maldives just as it was discovered by European holidaymakers.
By this time, Friedel had also introduced three Indian Ocean destinations to the German and European market; Sri Lanka, Mauritius and Seychelles. As such, Friedel's project was to that of a "destination scout" for airlines and tour operators in the discovery of new holiday destinations in the tropical regions; a product for Europeans escaping the cold winter.
The publication of the photos of the Maldives in Stern was a big hit, reprinted by dozens of magazines in Germany and worldwide. It was the top story for several weeks and put the Maldives overnight on the tourist map as the place to go. This was even before there where proper flight connections and hotels. As such it created a waiting list of holidaymakers wishing to visit the Maldives as Condor only flew to Sri Lanka at the time.
Michael Friedel will be presenting a selection of his early photos of the Maldives along with a commentary at the next GM Forum. He will also take questions from the audience. Registration for GM Forum 2019 will open in January 2019 and will be announced on www.hoteliermaldives.com To register interest and for sponsorship related inquiries, you can contact hotline +960 791 0858 or email: sales@167.172.155.58.
About Hotelier Maldives:
Hotelier Maldives is the market leading B2B brand for the region's hospitality industry. Available in print and online, the brand also hosts regular events and has an active social media presence. Through these multiple platforms, Hotelier Maldives has built a loyal community of qualified hospitality professionals, who are either decision makers or purchasing influencers.
Every day we provide this community of buyers with essential industry information, whether it be analysis, insights, data, or simple product news. For supply-side companies, working with Hotelier Maldives means they are part of this community, which in turn ensures their company, brand, products and services are front of mind. This drives brand and product awareness, brand and product recall, and ultimately sales. Hotelier Maldives is published by Perspective Pvt Ltd (PPL), a company based in the Maldives. PPL has interests in content marketing, custom publications and branded events.
EDITOR'S NOTE: Featured image, courtesy of Michael Friedel, shows him with industry pioneer Ahmed Adam.