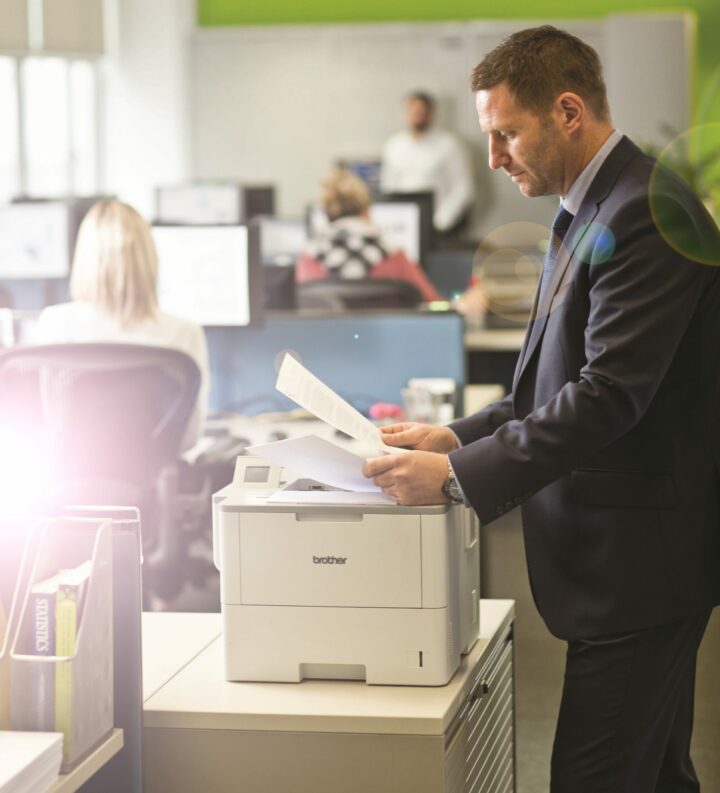 Copier Plus – Revolutionising the printing industry
Copier Plus Pvt Ltd has recently introduced the latest printing technology by Brothers Brand, the L6000 range of printers to the Maldives.
Designed in Japan, this latest product of Brother Brand include a mono laser printer (HL-L6400DW), a 4-in-1 multi-function centre (MFC-L6900DW). Managing Director at Copier Plus describes the new product as 'the unparalleled solution for your business.'
This new printer, designed in white, will help optimise workflow by maximizing productivity with a print cycle of 150,000 pages a month with the added benefit of offering new security features to protect data. The L6000 also carries a default paper tray with the capacity to hold up to 520 sheets. For high volume prints, the machine carries two additional paper trays or tower trays which allows the paper trays to carry additional papers, adding the total amount to around 2,080 sheets.
For large offices where multiple users are printing at the same time, this cool new printer provides the 4-bin mailbox with a stacker and sorter, which automatically separates the documents printed from different computers. Additionally, the paper stack full sensor also automatically stops the machine when out of paper making the whole process easy, and hassle free.
Additional features include high print speeds of up to 50ppm, scan and copy multiple pages with 80 sheets high capacity, automatic document feeder.
Large in size, the white colored L6000 series printers are the perfect technology to simplify business operations, and safeguard documents. The BRAdmin Professional Software allows customers manage any Brother network connected products from one central location. Customers can handle remote configurations, monitoring of useful information such as page count, drum status, etc, while controlling the printing cost. The new product also instantly lets you know if it's over-worked, so you can attend to the issue before it impacts productivity.
The Brother iPrint&Scan, Apple Air Print and Google Cloud Print enable users to print directly from their mobile devices. JPEG and PDF documents can be printed, while faxes and copies can be previewed.
In addition to all these features, the software also features a suite of security solutions, the Secure Function Lock 3.0, to guarantee certain documents remain confidential. It also has a print archive, saving a copy of every print on a particular location, a Near Field Communication (NFS) Card Reader, which helps to access printer without the trouble of keying in a password.
Other features include a secure reset button which removes the already stored data, in the chance you might need to protect company documents.
The Brothers newest technology offers a range of versatile choices of printers and multi-function centres which are perfect for customers in the printing business.
Brother International Corporation was established in 1954, and has been a premier provider of home office, business products and industrial solutions to revolutionise the way people work. The company is globally recognized and has won many awards for their products. In 2015, PC Magazine named Brother the winner their Readers' Choice Award and Business Choice Award for printers.
Copier Plus Pvt. Ltd is the authorized distributor of Brothers Printers in the Maldives. The company is a total solution provider for copier/printing/copying/facsimile/facsimile related services and products for businesses in Maldives, and has been in business since the 1996, gaining recognition and a loyal client base over the years.