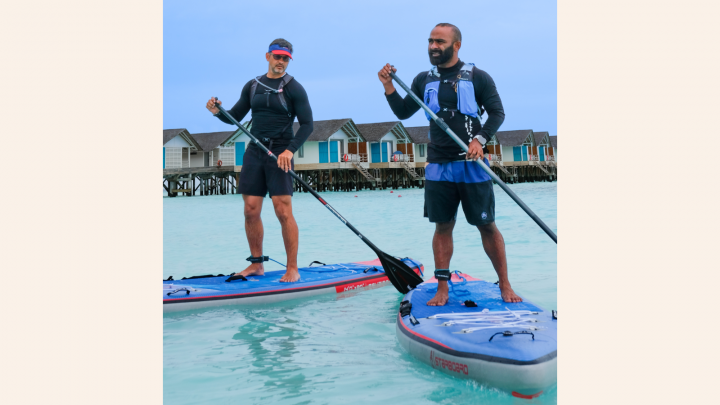 Cora Cora Maldives spearheads sustainability, cultural heritage via #ReconnectinRAA challenge
It's Freedom Time! Cora Cora Maldives, a multi-award-winning, five-star luxury Maldivian resort located in the pristine Raa Atoll, has announced the launch of the #ReconnectinRAA challenge in a groundbreaking display of unity and commitment to sustainability and cultural heritage, set to take place in 2nd to 8th of August 2023 as part of the celebration for Fifty Two years of tourism in the Maldives.
The campaign, an ambitious 186km stand-up paddling circumnavigation of Raa Atoll by the resorts' General Manager, Justin Swart, himself and Director of Human Resources, Muiz Mohamed, aims to inspire a passion for environmental conservation and cultural heritage, creating a ripple effect of positive change both locally and globally. This transformative initiative has united 18 resorts, 15 inhabited islands councils, environmental organisations, and the Ministry of Tourism, bringing the entire Raa Atoll together.
By fostering a shared vision, this campaign is breaking barriers and reconnecting the entire Raa Atoll using the threads and fibers woven by its rich culture and sustainable environment. "Through #ReconnectinRAA Challenge, Cora Cora Maldives has succeeded in uniting Raa Atoll into one powerful force, committed to preserving the natural beauty and cultural heritage of this magnificent country," said Justin Swart, General Manager of Cora Cora Maldives. "Our goal is to create a lasting impact, not just within the atoll but also by inspiring similar initiatives worldwide through our Freedom Footprints Sustainability Programme."
Cora Cora Maldives is taking its commitment to sustainability beyond the resort's borders. The #ReconnectinRAA campaign serves as a testament to their dedication, extending the Freedom Footprints Program to encompass the entire Raa Atoll and serving as an inspiration for similar endeavours worldwide. Bringing together 18 resorts and 15 inhabited islands, the campaign aims to conduct the largest-ever beach clean-up in the atoll's history, setting a powerful precedent for collective environmental action. Through Cora Cora Maldives' initiative and with the support of partners and resorts, Raa Atoll becomes the first in the region to pledge the ban of single-use plastic shopping bags. Eco-friendly alternatives, such as reusable eco bags, will be distributed throughout the atoll, eliminating plastic waste, and setting an example for other communities.
The theme of the #ReconnectinRAA campaign, "Empowering Freedom Footprints of Change," encapsulates the essence of this transformative movement. By reconnecting with nature, embracing cultural heritage, and standing together as a united community, Raa Atoll is poised to carve a path towards a greener, culturally rich future.
The #ReconnectinRAA campaign revolves around three essential aspects:
Reconnect with Nature: By promoting sustainable practices and raising awareness about environmental conservation, participants will forge a deeper bond with nature and recognize their crucial role in protecting it.
Reconnect with Culture: By celebrating and preserving local traditions, music, dance, and artistic expressions, participants will connect with the rich tapestry of Maldivian heritage within Raa Atoll.
Reconnect with the World: The event encourages participants to broaden their horizons and connect with the global community. Through the Zen Adventure of a Lifetime Campaign, people from around the world can participate, matching the distance covered during the challenge in their own communities. This global movement fosters a sense of interconnectedness and collective responsibility, inspiring individuals to make sustainable choices and contribute to positive change on a global scale. Upon completion, participants will receive Blue Tiki Coins, which will be used to plant Mangroves.
As part of the campaign, participants and stakeholders are encouraged to act and raise awareness on critical sustainability issues pledging to #BeatPlasticPollution, #SavetheOcean, and #Protect30x30.
Cora Cora Maldives offers its guests a one-of-a-kind immersive Maldivian cultural, experiential, and culinary experience while advocating for sustainability and environmental preservation. Comprising of 100 villas, four restaurants, two bars, MOKSHA Spa and Wellbeing Centre, water sports & diving centre, gym, overwater yoga pavilion, outdoor cinema, CoRa kids Club, and the Dutch Onion Museum. Cora Cora Maldives is 45-minutes by seaplane from Velana International Airport or 30 minutes by domestic flight followed by a 20-minute speedboat journey. Cora Cora Maldives is the ultimate idyllic, island escape.